Kedzie Cash Junk Cars LLC 773-985-2515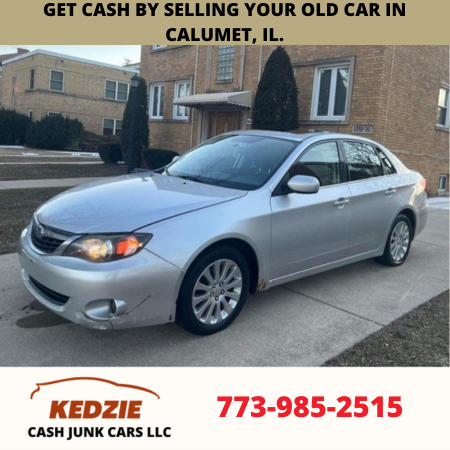 Are you tired of your old, beat-up car? Do you feel like it's time for something new? Well, we have great news for you!
If you're looking to sell your car quickly and for cash, we're the company for you! We will buy your old car from you for cash, and we will do it quickly and easily.
We buy all types of cars, regardless of their condition, and we offer top dollar for them.
Kedzie Cash Junk Cars LLC is a reliable junk car buyer that has been in business for many years, and we offer top dollar for any type of vehicle.
So why wait? Contact us today to get started!
What should you know about Calumet, IL?
If you are considering a move to Calumet City, IL, there are a few things you should know. First, it's a great place to raise a family.
The schools are excellent, and there are plenty of things for kids to do. It is also a very safe community, with a low crime rate.
Another thing to keep in mind is that Calumet City is a suburb of Chicago. That means there are plenty of job opportunities in Calumet City.
This city located in Cook County gives you the best alternatives and opportunities, including selling your old car!
Contact us if you are in Calumet and want to sell your car as fast as possible.
No matter the condition of your car, Kedzie Cash Junk Cars LLC will buy it!
Our junk car removal services offers a hassle-free way to rid yourself of that old clunker you've been dragging around for years.
We are a professional and reliable company that makes the process of selling your car easy in Calumet, IL!
We'll come to pick up your car with cash on hand, no matter where it's located!
We will come to your location and pick up your car, and you will receive cash on the spot. We accept all types of cars, trucks, and SUVs in any condition.
We're here to help you get rid of that car and pay cash for it. We buy anything from old clunkers, luxury makes and models, and even wrecked vehicles.
If you are looking for the easiest way to sell your junk car, then we are the right choice for you!
What kind of vehicle do we buy?
We buy all types of vehicles, working or not. We are also interested in cars, trucks, SUVs, motorcycles, vans, and business cars.
In addition, we are looking for:
Wrecked cars.
Junk cars.
Broken down cars.
Rusty cars.
Cars with missing or damaged parts.
Old cars.
And many more!
We are the best company to buy your car if you need cash quickly. We offer top dollar for any make or model, and we'll tow it away free of charge!
We buy any vehicle manufacturer, to name a few:
Contact us today so our experts can give an accurate quote on pricing!
How do you sell your car to a junk car buyer in Calumet, IL?
Our company will buy any type of car for cash in this city.
We have many customers that sell their old cars to us and get around $100-$500 on average! You can even make more than $5.000 if your junk vehicle is worth it!
Just follow these steps:
Step 1: Request a fast offer online or by phone.
Call us at 773-985-2515 or fill out our form.
When selling your car to a junk car buyer, you will likely be asked to provide some information about the vehicle. This may include the year, make, and model of the car, as well as its mileage and condition.
Step 2: Schedule a convenient pickup time.
When you accept our offer, you will need to schedule a convenient time for the car to be picked up. Most buyers will be able to pick up the car within the same day of contacting you.
Step 3: Receive your cash payment and say goodbye to your junk car!
This is the final step in selling your car to a junk car buyer.
Once the car has been picked up, you will receive your cash payment. Say goodbye to your old, broken-down car and enjoy the extra cash!
It's that easy!
If you have any questions, feel free to contact us. Our representatives will be more than happy to assist you.
How long does it take to get rid of your vehicle?
We pick up your car the same day you need it!
This service guarantees a quick selling process time and cash payment just for YOU according to YOUR schedule – not ours!
How much is your junk car worth in Illinois?
The current average price for a car with pickup in Chicago, Illinois is roughly $259.
When it comes to junking your car, though, there are several factors to weigh. Think about the following:
Model, year, and manufacturer.
If it's running or not.
The location of the vehicle.
Exterior and interior condition.
Mileage.
Working parts that are in high demand.
Can you sell your non-running car without a title in Calumet, IL?
Yes! You can get rid of that junk car with no title by providing documentation to match your ID in Calumet, IL.
What happens if you want to sell more than one car?
Selling multiple cars can be a great way to make some extra money, and we are here to help you get the most money for your vehicles.
We offer competitive prices so you can get the most money for your cars.
We will also work with you to ensure a quick and easy sale. No matter if you want to sell a car and a motorcycle, or a truck and a van… We'll buy it!
It's important to note that each vehicle will be priced differently depending on its condition!
What paperwork should you provide to sell your used car in Calumet?
You will need the following items to sell your automobile for cash:
1. You must be over the age of 18.
2. The title to your vehicle, if you have one.
3. Present your driver's license.
4. Your ID.
Be ready to sell it right now!
If you want to get the best deal on your car, then Kedzie Cash Junk Cars LLC should be at the top of your list.
We buy all makes and models for cash – so you don't have to worry about what type or how old it might be!
Get a free quote by calling us at 773-985-2515