Kedzie Cash Junk Cars LLC 773-985-2515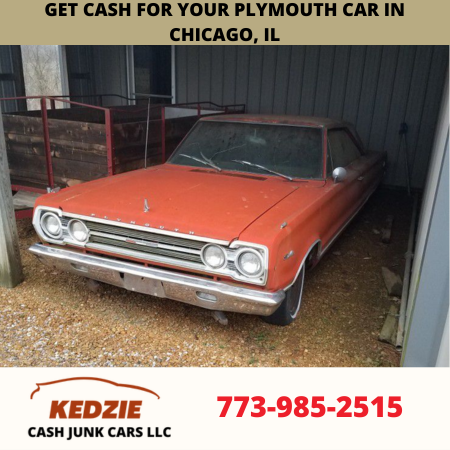 Plymouth was a car brand that was owned by Chrysler. The company produced a wide range of vehicles, from small economy cars to larger SUVs.
Plymouth had a strong reputation for quality and innovation, and their cars were popular both in the United States and around the world.
In recent years, Plymouth was struggling to compete with other car brands. In 2010, Chrysler decided to merge.
As a result, all Plymouth models were discontinued and replaced by Dodge models.
Cars, no matter their brand, do not last indefinitely. When a car wears out and can no longer be driven, the best choice is to sell it.
It's no secret that the economy is in bad shape at the moment. Selling your automobile is an excellent alternative if you're seeking a means to augment your income.
This money can be used to pay off debt, go on vacation, or put away for a rainy day.
Kedzie Cash Junk Cars LLC is the place to go if you're looking for the greatest deal on a Plymouth vehicle.
You may get a lot of cash for your automobile, and the process is quick and straightforward. To obtain a free quotation, all you have to do is a phone call or go online.
If you have a car in any condition, please contact us right away!
We can even come to you and pick up your car so you don't have to worry about transporting it.
We'll purchase your automobile in any condition so you can obtain the cash you need as soon as possible.
Call us right now to get started with the region's most dependable and highest-paying junkyard.
When is the best time to get rid of your Plymouth?
There are a few things to bear in mind while selling your automobile.
Your vehicle's condition:
If you want to sell your car, one of the first things you should look at is its condition. You'll be able to receive a better price for your automobile if it's in good shape.
After all, if your automobile isn't in good shape, it may be a safety issue and expensive to fix. This is why having your automobile evaluated by a professional regularly is important.
If you don't use the car regularly.
It may be wise to get rid of your car if you only use it on weekends or a few times a year. A car that you don't drive often can end up costing you a lot of money over time.
You'll have to service and maintain it, plus pay insurance and registration fees.
If you don't use your car, sell it and replace it with one more suited to your needs. There are many wonderful alternatives, so don't feel obligated to settle for the same car for the rest of your life.
If you don't use something, there's no reason to keep it.
If you're tight on money.
Selling your automobile may be the greatest alternative if you are strapped for cash. A car may be sold for a lot of money, and the process is typically quick and easy. All you have to do is get in touch with us!
Make a preliminary estimate of how much cash you'll need, and we'll offer you a price based on the car's characteristics!
It may be time to sell your car and buy a new one if it is already years old. Cars lose value as they age, so selling it today won't earn you as much as it did a few years ago.
It might be time to sell it and buy a new one if it's already years old. This is especially true if you don't use it often.
Check out these variables to evaluate if it's the right time to sell your Plymouth if you're considering it. Any questions or concerns can be discussed during a call to (773) 985-2515.
What documents and items do you need to sell your Plymouth?
We'll handle the paperwork; all you have to do is provide the following:
Your car's title.
It's necessary to have a valid driver's license.
Your ID.
The keys to your vehicle.
You are free to come to our junkyard without this paperwork and items, but if you want to sell your car pretty fast, you must carry them.
What's the best way to sell a Plymouth?
The following is the process for selling your Plymouth to us:
To contact us, call

(773) 985-2515

 or fill out our online form. Answer a few simple questions about your car and its condition, and one of our local junk car buyers will make you a great deal.
We will give you a high offer. You may obtain the most money by selling your automobile for cash. You have seven days to accept or accept the offer.
We'll come to you, tow your car for free, and pay you cash right away.
So make sure you don't miss anything. We're the best option if you're hoping to sell your automobile.
We will provide you with the greatest possible value for your vehicle and expedite the selling process. We'll handle the paperwork and tow your automobile free of charge.
What is the value of your Plymouth?
The typical car in the Chicago, Illinois area is presently valued at $322, including pickup.
The brand, model, age, missing components, and extent of damage determine the worth of your automobile.
Depending on the circumstances, a junkyard like ours may offer you anything from $100 to $500 for your Plymouth.
Kedzie Cash Junk Cars LLC is the best choice to get rid of your Plymouth.
Here are a few reasons why Kedzie Cash Junk Cars is the best choice:
1. We will offer you a fair price for your vehicle.
2. We buy cars in any condition, so you don't need to fix them up before selling them to us.
3. We can help you with the paperwork and make the process as simple and stress-free as possible.
4. We have been in business for a long time and have a good reputation.
If you want to sell your Plymouth in Chicago, IL, we provide the greatest rates on the market for used and damaged vehicles.
You'll be confident that when you sell your automobile to us, you'll get the best price. We purchase a variety of automobiles in addition to Plymouth.
Make sure to contact us and get your offer right away!