Kedzie Cash Junk Cars LLC 773-985-2515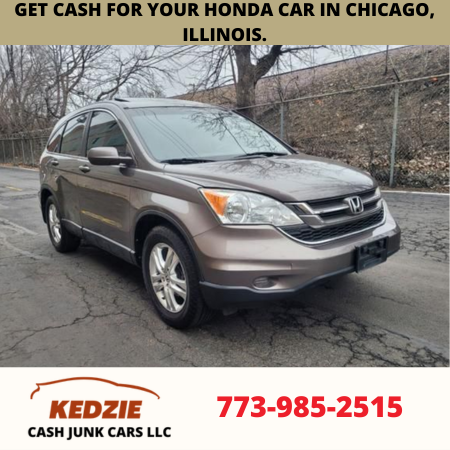 It's no surprise that many people nowadays are struggling financially. If you're one of them, you're probably looking for opportunities to boost your income.
Selling your automobile is an option that many people overlook. You can obtain a reasonable amount of money for your automobile depending on its condition and the used car market in your region.
If your automobile is a Honda and it is in high demand in your region, you might be able to sell it for several thousand dollars.
Honda is a well-known and well-respected automobile manufacturer that has been in business for almost 60 years. They manufacture a wide range of vehicles, ranging from little budget cars to huge SUVs.
Honda vehicles are always dependable and good looking, and the company continues to develop new technology and features.
A Honda can be sold to a junkyard, traded in for a newer model, or sold to a private buyer, among other choices.
Despite the upsides and downsides of each, selling it to a junkyard is the best alternative. Why? You will make more money selling your automobile to a junkyard, avoid frauds, and complete the deal quickly.
You must first locate the largest junkyard in order to do so. That is why Kedzie Cash Junk Cars LLC should be contacted!
Kedzie Cash Junk Cars LLC is ready to buy your Honda right now!
If you want to sell your Honda, Kedzie Cash Junk Cars LLC is the right place to go. We will pay the top price for any car, regardless of condition.
We recognize that selling a car may be a pain, so we strive to make it as simple and stress-free as possible.
We provide free towing and on-the-spot cash, allowing you to get rid of your Honda swiftly and simply.
We have the best pricing on all sorts of vehicles and never charge any fees. So, if you're wanting to sell your Honda, give us a call right now!
We purchase automobiles in any condition, so you can be confident that you'll get the greatest deal.
There are simply too many other reasons to be worried about in life than a junk car.
That's why we'll take care of everything from start to finish. If your car is no longer functional, you won't have to worry about bringing it to one of our junkyards.
We will tow it at no cost to you. For more information, please contact us!
How do you sell a Honda?
Here's how you do it:
Call

(773) 985-2515

or use our online form to get in touch with us. Answer a few basic questions about your automobile and its condition so one of our local junk car buyers will make you a fantastic offer.
Get the greatest offer. You have seven days to accept it or debate it.
We'll come to you, free tow your automobile, and give you cash on the spot.
So don't delay your choice anymore. If you're looking to sell your vehicle, we're the best choice.
What are you going to need to sell your Honda?
All of the paperwork is performed by us; all you need to do is provide:
The title of your automobile.
Your driver's license.
Your identification number.
The keys to your car.
You are welcome to come to our junkyard without these goods, but if you plan to sell your automobile fast, you must bring them.
Don't stress if you don't have the title to your car. In any case, Kedzie Cash Junk Cars LLC will buy it from you.
What is the cash value of your Honda?
The average car in the Chicago, Illinois area is presently valued at $322, including pickup. The pricing is determined by the following variables.
Your vehicle's make and model.
The make and model of your car.
The damage's magnitude.
Parts that are missing or aren't working.
A junkyard, such as ours, will usually pay you between $100 and $500 for your Honda.
We are glad of our company's reputation, and we make every effort to guarantee that our customers receive a fair price for their vehicles.
What are the advantages of selling your car?
There are various reasons why you may want to sell your Honda:
There'll be more space in your garage.
A parked automobile is merely taking up space. By removing items from your garage, you may make space for the items you wish to keep.
Make use of the extra room to store sports equipment, put up a pool table, or even add to your fleet of running cars.
You're going to make a lot of money in a short period.
When you get cash for cars in Chicago, you'll usually get paid the same day – and when you sell your car to Kedzie Immediately Junk Cars LLC, you'll get a fantastic deal and cash!
Checks, banks, and wire transactions will all become obsolete.
It is safe for the environment.
Automobiles that have been parked in the same place for an extended period of time represent dangers for everyone.
Toxic substances may seep into the ground and end up in the drinking water supply as a result. This is a hazard to both humans and the environment as a whole.
These cars are especially popular because of their metal, which helps to minimize pollutants from mining and the creation of new materials.
Professionally removing the automobile out of the way.
Junkyards that provide junk vehicle removal services, such as ours, make getting rid of an automobile a lot easier.
Workers from the junkyard generally come to your house to haul the automobile away (or any other area).
You will not be charged for the transportation of your junk automobile!
We are vehicle removal experts with the skills and experience to manage junk automobiles and remove them from your property utilizing cutting-edge procedures and equipment.
Your best option is to sell your Honda to Kedzie Cash Junk Cars LLC.
Here are a few reasons why Kedzie Cash Junk Cars are the ideal option for you:
1. We provide a reasonable price for your vehicle.
2. We acquire automobiles in any condition, so there's no need to repair them before selling them to us.
3. We can assist you with paperwork and make the procedure as simple and comfortable for you as possible.
4. We've been doing this for a long time and have a great reputation.
If you want to sell your Honda automobile in Chicago, IL, we provide the greatest rates in the region for old and damaged vehicles.
You could comfortably say that when you sell your automobile to us, you will get the maximum money possible. We buy a broad variety of automobiles in addition to Honda
Please get in touch (773) 985-2515 with us as soon as possible!