Kedzie Cash Junk Cars LLC 773-985-2515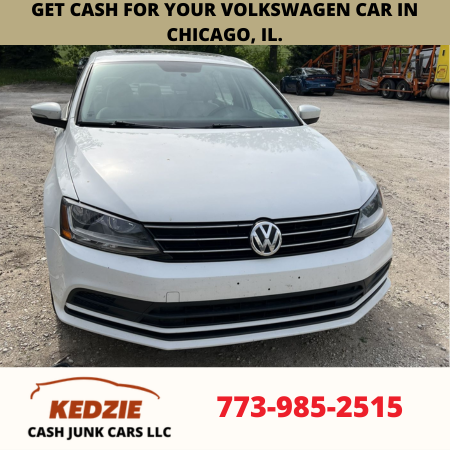 Volkswagen is one of the most popular car brands in the world. It's known for its reliable, affordable cars, and its long history of manufacturing cars. Volkswagen has been in business since 1937, and today it produces more than 10 million vehicles per year.
The company is headquartered in Wolfsburg, Germany.
Volkswagen cars are known for their fuel efficiency and affordability. Some of the most popular Volkswagen models include the Volkswagen Jetta, the Volkswagen Passat, and the Volkswagen Golf.
Volkswagen has a wide range of models available, from small city cars to large SUVs. The company also offers a range of different engine options, so you can find the perfect Volkswagen for your needs.
If you're a Volkswagen car owner in the Chicago, IL area, then you may be interested in learning about the various companies that will buy your vehicle.
Many of these companies offer top dollar for Volkswagens, so drivers can be sure they're getting a good price for their car.
Kedzie Cash Junk Cars LLC is the place to go if you want to sell your Volkswagen in Chicago.
We are one of the best and most well-known junk yards in Chicago. We are a company with a lot of experience and many satisfied customers.
If you want to sell your Volkswagen car in Chicago, Illinois, you don't have to look any further.
We pay top dollar for old and damaged cars in the area, so you can be sure you're getting the best possible deal.
We have a service designed to help people who are looking to sell their cars, and it offers a fair price for the vehicle.
All you have to do is contact the company, and we will take care of the rest.
How to know if it's time to sell your Volkswagen?
When it comes time to sell your automobile, there are some things you should keep in consideration.
The current conditions of your car.
The condition of your car is one of the most crucial factors to consider when selling it. If your automobile is in good condition, you might earn a greater price for it.
And besides, if your automobile is in poor condition, it may pose a safety threat and cost you a lot of money in repairs.
That's why it's critical to have your automobile checked by a mechanic on a regular basis.
If your car is only parked.
If you only drive your car on weekends or a few times a year, you may want to sell it. A car that is rarely used can end up costing you a lot of money in the long run.
You'll have to service and maintain it, as well as pay for insurance and registration.
If you don't drive your car, sell it and buy something more suited to your needs.
There are many excellent alternatives, so don't feel obligated to keep the same vehicle indefinitely.
There is no reason to keep anything if it is not being used.
If you need money quickly.
Getting rid of your car by selling it may be the greatest alternative if you are short on cash. A car may be sold for a lot of money, and the process is typically quick and simple.
All you need to do is get in touch with us!
Give us an estimate of how much money you will require, and we will calculate the charge based on the car's performance!
If your car is already many years old, it may be time to sell it and buy a new one. Cars lose value as they age, so you won't get as much for your car if you sell it today as if you sold it a few years ago.
If it's already years old, it may be time to sell it and buy a new one. This is especially true if you don't use it often.
If you're thinking about it, examine the following factors to determine if it's the best decision for you. If you have any questions or problems, call us at 773-395-2515
Kedzie Cash Junk Cars is ready to buy your Volkswagen today!
Kedzie Cash Junk Cars LLC is where you should go if you want to sell your Volkswagen. Regardless of condition, the greatest price will be given for any car.
We understand that selling a car may be stressful, so we make every effort to make the process as straightforward and enjoyable as possible.
We provide free towing and cash at the moment, making it easy to sell your Mercedes.
We offer the most competitive rates on a wide range of automobiles and never impose any hidden costs.
Consequently, if you're looking to sell your automobile, please contact us right now!
We accept cars in all conditions, so you can be certain that you're receiving the best deal available.
There are many more important things to be concerned about in life than a junk car.
That is why we will handle everything from start to end. You don't have to worry about getting your automobile to one of our junkyards if it's no longer operable.
We will tow it for you at no cost. Please feel free to contact us if you want any other information!
How can you sell your Volkswagen for cash?
Choosing us is the easiest way to get rid of a car.
Our purchase process is summarized below:
Please contact us at

(773) 985-2515

or use our online form. Please answer a few easy questions about your vehicle and its condition so that one of our nearby junk car buyers can purchase it.
Get an excellent offer for your vehicle! You may either accept it right away or debate it for seven days.
We will come to you and remove your junk automobile for free, as well as give you cash right away!
We give you the greatest price for your car and make the selling methodology as simple as possible for you. We handle all of the paperwork and pick up your automobile for free.
What are the requirements for selling your Volkswagen?
We will handle the paperwork and items; all you should do is give us the following items:
The title of your vehicle.
It is required to have a valid driver's license.
Your personal identification documentation.
The keys to your automobile.
You may attend without this paperwork, but they are necessary if you want to sell your automobile promptly.
Don't be concerned if you don't have your car's title. You may sell it to Kedzie Cash Junk Cars LLC in any situation!
What is the value of your Volkswagen?
The typical car in the Chicago, Illinois area is presently valued at $322 including pickup.
The worth of your automobile is influenced by its make, model, age, missing equipment, and level of damage.
Depending on the circumstances, a junkyard like ours may offer you between $100 and $500 for your Volkswagen.
We are happy with our junkyard's reputation, and we go to considerable lengths to guarantee that our customers receive a fair price for their vehicles.
We recognize that not everyone chooses to sell their automobile. As a consequence, we've come to assist you.
We buy automobiles of all makes and models, regardless of age or condition.
We provide a no-obligation estimate and same-day pick-up so you may get the cash you require straight away.
If you want to sell your Volkswagen, please contact us (773) 985-2515 as soon as possible.