Kedzie Cash Junk Cars LLC 773-985-2515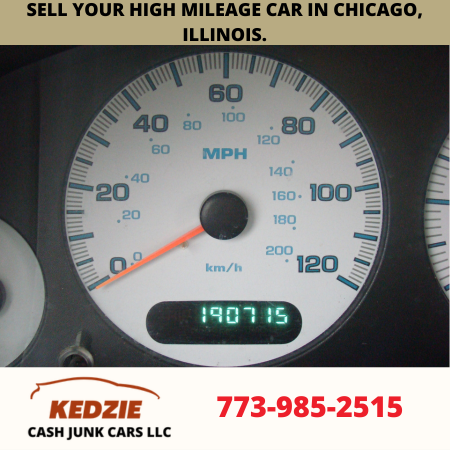 If you're looking to sell your high mileage car in Chicago, Illinois, there are a few things you need to keep in mind. You'll want to make sure that you have all the necessary paperwork in order.
You'll also need to price your car competitively and be prepared to negotiate.
When you're selling a high mileage car, it's important to find a reputable dealer that will give you the best offer for your car.
If you're looking to sell your high mileage car in Chicago, Illinois, Kedzie Cash Junk Cars LLC can help.
We buy any make or model of car, no matter how many miles it has on the odometer.
We'll give you a fair price and take care of all the paperwork, so you can get on with your life.
We provide free towing and same-day service, and we always pay the highest possible price for junk automobiles.
We recognize that selling a car may be tough at times, so we make the process as simple as possible for our consumers.
If you live in the Chicago area, give us a call now and we'll help you get rid of your high mileage vehicle!
How much does mileage affect car value?
The mileage of your automobile will influence how potential buyers see it. A vehicle with low mileage is often more tempting to used car buyers than one with high mileage.
However, selling your automobile too soon might result in a significant loss of funds.
Also, don't wait until it's too late because finding someone to buy a heavily used automobile might be tough.
As a result, it's critical to sell your vehicle at the correct mileage.
The higher the mileage, the less value the car has. This is because cars with high mileage are more likely to need repairs.
Therefore, when you're selling your car, it's important to be realistic about its mileage and price it accordingly.
When is the best time to sell your car based on its mileage?
It's ideal to sell your car before it reaches 100,000 miles since depreciation is continual.
Because dealers see these automobiles as wholesale-only vehicles to be sold at auction, you won't receive nearly as much for them at this stage.
Even if it runs fine, your vehicle will be less appealing to auto buyers if it has more than 100,000 kilometers on it.
Overly high mileage vehicles are more likely to require costly maintenance, making them a dangerous purchase.
When you're looking to sell your high mileage car, Kedzie Cash Junk Cars LLC is the place to go.
We offer top dollar for vehicles in any condition, and we're always happy to provide a free quote.
So whether your car is running or not, give us a call today. We'll be happy to take it off your hands and pay you cash on the spot!
How do you sell a car with high mileage?
In Chicago, we can buy a car in less than 48 hours.
Selling your junk automobile to Kedzie Cash Junk Cars LLC is not only simple but also quick: our sales may be completed in as little as two days!
Just follow these steps:
1. Please call us at 773-985-2515.
We'll ask you some basic questions about your car's condition, mileage, and whether or not you have the title.
It's a simple method that will get you a fair market offer for your automobile in just 2 minutes.
2. Accept our offer and we'll set up a pickup time.
Kedzie Cash Junk Cars LLC is sympathetic to your situation. As a result, we always charge our consumers a fair and honest price.
We will work around your schedule and the place where you want the automobile picked up.
Plus, our towing is free!
3. Payment on the spot.
The last step is to wait for the arrival of our junk car buyer in Chicago, IL.
You've almost completed the task, all that's left is for you to get your cash!
We will arrive at your location and after inspecting the car, you will receive your cash!
What do you need to sell your high mileage car?
We don't believe in complicating things at Kedzie Cash Junk Cars LLC. All we ask is that you do the following:
If you don't have the title, all you have to do to get rid of your automobile is make sure it's signed according to state rules. Then you must remove any personal belongings from the car and hand over the keys and title.
Why should you choose Kedzie Cash Junk Cars LLC to sell your car?
We are a popular alternative for customers who want to sell their cars for a variety of reasons.
For starters, we never strive to undersell our customers. We will give you exactly what your car is worth, plus a portion of the proceeds from replacement parts.
Furthermore, we never use unethical methods, such as last-minute haggling or price reductions at the time of pickup.
When it comes to non-working cars in Chicago, you don't have to put any money down on the vehicle. You don't have to pay to have it taken away.
We have insured, licensed, and bonded towing vehicles and drivers on staff.
On all fronts, Kedzie Cash Junk Cars LLC has your back!
We are the ideal option if you want to get rid of your old automobile fast and easily.
We are dedicated to providing our customers with the finest possible service, including free towing and same-day payment.
Don't miss out on the chance to get a fantastic deal on your high mileage automobile! Call us at (773) 985-2515 right now.