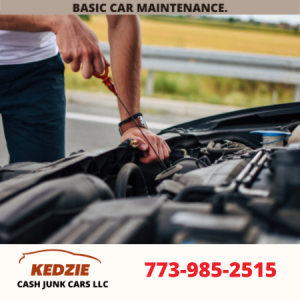 Maintaining your car is important. It's not just about ensuring that it runs smoothly; it's also about keeping you and your passengers safe on the road.
By checking the oil level, tire pressure, and fluid levels regularly, you can avoid costly repairs down the road.
By following a few simple steps regularly, you can avoid costly repairs and keep your car running smoothly for years to come.
We'll go over the basics here, like changing the oil, checking the tire pressure, and rotating the tires.
Why is car maintenance so important?
Some automobile repairs are unavoidable as it ages due to normal wear and tears. Many problems may be minimized or even avoided entirely by properly caring for and maintaining your vehicle.
Detailed service records can help increase the value of your vehicle when it comes time to sell or trade it in.
Vehicle maintenance requires a financial and time commitment. However, taking care of your car can save you money on major repairs if you have a breakdown on the road.
Read the following reasons why it is important to maintain your car:
It improves fuel economy.
Taking care of a vehicle means getting more mileage out of it.
Taking automobile maintenance for granted, on the other hand, may mean needing to replenish the tank more frequently, which is a waste of money and effort.
Helps maintain or increase the value of your vehicle.
If you want to sell your car in the future, one of the most important things you can do to keep its value high is to stay on top of your maintenance schedule.
Whether you bought your car used or new, if you take good care of it, you will be able to sell it for a decent price.
It guarantees that your car will run smoothly.
Cars that have been properly maintained perform better on the road than those that have been neglected.
Consider how much better it would be to take the road with a dependable engine, more steady steering, and improved tire traction.
It guarantees greater driving safety.
Driving safely is essential, and appropriate automobile maintenance is one of the keys to ensuring road safety. You may avoid significant problems by servicing your automobile regularly.
It can also assist prevent prospective problems from emerging and minor issues from becoming major ones. It eliminates the possibility of dealing with a faulty and dangerous car.
It saves you from spending a lot of time at the mechanic or repairing the car.
Spending money on auto repairs is not only costly, but it's also a waste of time, especially when it happens during a busy week. Plus, fixing a car doesn't necessarily take a day.
Some repairs take weeks or months to complete. Therefore, maintaining your car helps you cut down on time spent at a mechanic or repairs.
How to properly take care of your car?
Your car is a significant investment, and it is important to properly maintain it to keep it running properly.
Here are a few tips on how to take care of your car like a pro:
1. Change the oil regularly.
This will help to keep the engine running smoothly and prevent costly repairs in the future.
Checking the oil level is crucial for maintaining your car. If you don't do this regularly, you run the risk of causing serious damage to your engine.
Depending on your car, you may need to change the oil more or less frequently.
Be sure to check your owner's manual for the recommended oil change schedule and follow it closely.
2. Check the tire pressure regularly.
Because all tires lose air over time, monitoring your tires once a month is an important part of routine auto maintenance.
Low tire pressure can cause decreased fuel efficiency and can also lead to blown tires. Be sure to check the pressure of all four tires at least once a month, and adjust accordingly.
Tires last longer when they are properly maintained.
3. Replace brake pads when necessary.
Most people don't realize how important it is to replace brake pads when necessary.
Brake pads are a vital part of your car's braking system, and if they are not in good condition, they can cause some serious problems.
Broken brake pads can not only be dangerous, but they can also be expensive to replace. Be sure to replace them when they begin to show signs of wear.
4. Replacing air filters.
Replacing air filters is another important task that should be done regularly. Air filters help to keep the engine clean and free of debris, and they can also improve fuel efficiency.
Replacing your air filter is a quick and easy job that can make a big difference in how well your car runs.
They should be replaced every few months or as specified in your car's owner's manual.
Replacing the air filter is a relatively easy task, and can be done at home with a few basic tools.
5. Cleaning the car interior and exterior.
Cleaning the interior and exterior of your car is important to keep it looking its best.
Leaving your car dirty affects not only its appearance, but also its driving and your safety.
The best way to clean the interior is to vacuum it regularly and to use a mild soap and water solution to clean the surfaces.
For the exterior, you should wash it with soap and water regularly and wax it every few months to protect the paint.
It's important to keep your car clean, both inside and out. A clean car is not only more pleasant to drive, but it can also help to extend the life of your vehicle.
Cleaning the exterior of your car regularly will help to protect the paintwork from dirt, grime, and salt.
Now that you have a well-maintained, clean and problem-free car, you can go wherever you want. It's time to visit the best restaurants in Chicago! Enjoy with your partner or family.
In conclusion, when it comes to car maintenance, there are a few key things that you should always keep an eye on: the oil level, the tire pressure, and the fluid levels. All of these things are important for keeping your car running smoothly and efficiently.
If you neglect to check your car's oil level regularly, for example, you run the risk of causing serious damage to your engine.
One way to avoid costly repairs is by selling your car for cash to Kedzie Cash Junk Cars LLC.
Selling your car for cash to Kedzie Cash Junk Cars LLC is the perfect solution.
We offer top dollar for cars in any condition, so you can rest assured knowing that you're getting the best possible price for your vehicle.
We offer free towing services, so you don't have to worry about getting your car to us. We also offer same-day payments, so you can get paid quickly and easily.
Don't let costly repairs put a damper on your finances, sell your car today and get the cash you need!
Call us at 773-985-2515