Kedzie Cash Junk Cars LLC 773-985-2515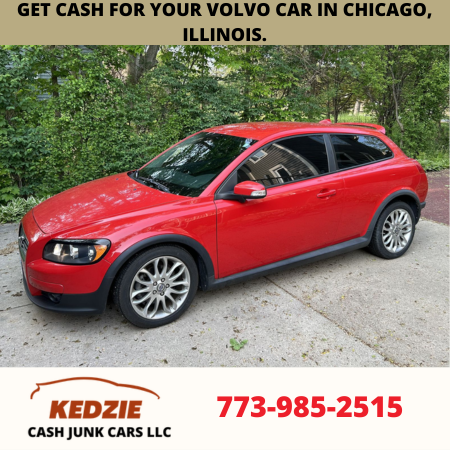 Volvo is a Swedish automobile manufacturer founded in 1927. It is headquartered in Gothenburg, Sweden. Volvo Cars were acquired by Geely Holding Group in 2010.
Volvo has a long history of producing safe and reliable cars. Many of their vehicles have been used as taxis and police cars due to their durability and safety features
Volvo cars are known for their safety features and luxurious interiors. Some of the most popular Volvo models include the Volvo S60, the Volvo V60, and the Volvo XC90.
The company is now working on electric and hybrid vehicles, with the goal of becoming carbon-neutral by 2025.
You can get cash for your Volvo car in Chicago, Illinois. There are many different ways to do this, and the best way to find out is by contacting a reputable car buyer in the area.
They will be able to give you a quote and help you through the process of getting the most money for your car.
If you are looking to sell your Volvo quickly and receive a fair price, then you should consider selling to a cash for cars like Kedzie Cash Junk Cars LLC.
We will buy your car regardless of its condition, and give you cash on the spot!
We also provide free towing and a hassle-free selling experience.
We are one of Chicago's greatest and most well-known junkyards! We are a company with a lot of experience and a lot of happy clients.
There's no need to go any farther if you want to sell your Volvo automobile in Chicago, Illinois.
We pay the most in the region for old and damaged cars, so you can be confident that you're receiving the highest best offers.
Make sure to contact us if you want to hear more about our services!
When should you sell your Volvo?
Before determining whether or not to sell your automobile, there are various variables to consider.
One of the most crucial considerations is the condition of your vehicle. You might be able to sell it for more money if it's in good shape.
Consider how frequently you drive. If you just use it occasionally, such as on weekends, it is preferable to get rid of it.
Consider how much money you'll require. Selling your automobile may be your greatest choice if you need money. You should think about how old your automobile is. If it is getting old, it may be best to sell it and look for a new one.
When an automobile reaches a particular amount of kilometers, it is typically time to replace it.
You should think about what kind of automobile you want to buy. If you need a new automobile, selling your old one may be your ultimate solution.
You will be able to save money by selling your automobile, which you can spend on other costs in your life.
So, if you're considering it, think about these variables to see if it's the best option for you.
What should you give us to sell your Volvo?
You simply need to give the following information, and we'll handle the rest.
The title of your vehicle.
It is necessary to have a valid driver's license.
Your ID.
The keys to your vehicle.
You can attend without these items, but if you want to sell your car quickly, you must bring them.
Don't be afraid if you don't have your vehicle's title. Kedzie Cash Junk Cars LLC will still buy it from you.
All that remains is to produce the relevant papers to show ownership.
How long will it take to sell a car on average in Chicago?
The majority of automobiles in Chicago may be picked up within 1-3 business days.
You will receive help from us right now. We may be able to plan the deal at a time that is convenient for you.
We'll come in 15 minutes to pick it up, inspect it, and pay you.
How can you get the most money for your Volvo car?
Working with Kedzie Cash Junk Cars LLC is the most convenient option to dispose of an automobile.
Our buying process is as follows:
Call us at

(773) 985-2515

or use our online form to ask for an offer. Simply answer a few easy questions about your automobile and its condition to sell it to one of our nearest junk car buyers.
Make sure you get the maximum price for your vehicle. You can accept our offer right now or put it up for consideration for the next seven days.
We will come to you, tow your old vehicle for free, and pay you right away.
So don't leave anything out. If you want to sell your car, we are the best option!
We will provide you with the best price for your vehicle and make the selling process as simple as possible for you. We'll take care of the paperwork and tow your car for free.
How much is your Volvo worth in Chicago?
The typical automobile is currently valued at $322 in the Chicago, Illinois, area, including pickup.
The value of your automobile is determined by the manufacturer, model, age, number of missing components, and degree of damage.
Depending on the conditions, a junkyard like ours would normally give you between $100 and $500 for your Volvo.
What are the main reasons to sell your car to us?
Anyone wishing to sell an automobile might choose Kedzie Cash Junk Cars LLC. We provide competitive prices, straightforward methods, and trusted services.
Here are some reasons why you should sell your automobile to us:
Sell your automobile to make some additional cash.
You may be confident that when you sell your automobile to a junkyard like ours, you will make the most money possible.
We pay top price for automobiles in any condition, so you can be confident that you are receiving a good deal.
We don't do frequent inspections since we aren't worried about the vehicle's condition.
We don't care whether your automobile was severely damaged in an accident or due to other unexpected problems! We'll pay a significant price for it.
Car towing service is free.
When you sell your automobile to us, you won't have to pay any of the expenses involved with having it removed.
We provide free automobile removal services, so you won't have to worry about anything.
Although we recognize that selling an automobile might be challenging, it does not have to be. When you sell your automobile to us, you can relax knowing that everything will be taken care of.
If you want to sell your Volvo in Chicago, Illinois, we have the best offers on the market for old and damaged vehicles.
You may relax knowing that when you sell your car to us, you will receive the most money for it. In addition to Volvo, we buy a wide range of other vehicles.
Please contact us (773) 985-2515 if you're ready to sell it!