Kedzie Cash Junk Cars LLC 773-985-2515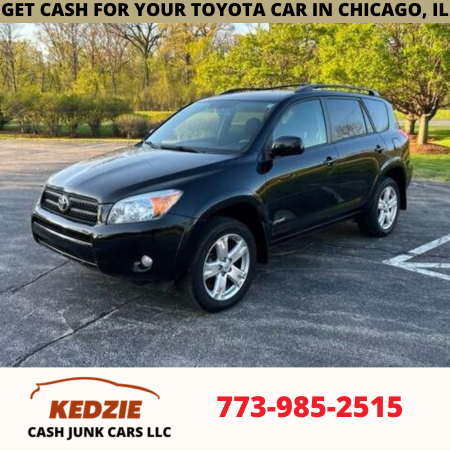 Toyota is a Japanese car brand that was founded in 1937. It is the largest car manufacturer in the world and produces around 10 million cars each year.
Some of Toyota's most popular models include the Camry, Corolla, and Prius.
Toyota is known for its high-quality, reliable cars. It has a strong reputation for manufacturing cars that are both fuel-efficient and environmentally friendly.
In addition, Toyota is also known for its customer service and after-sales support.
There are many ways to get cash for your car, and Toyota car owners in Chicago, IL can take advantage of a cash-for-cars service that offers top dollar for their vehicle.
This is a great way to get some extra cash in your pocket, and the process is simple and easy.
Just call Kedzie Cash Junk Cars LLC and our staff will be happy to help you out!
You can receive a free quote from us and get cash for your car in as little as 24 hours.
All you need to do is fill out a simple form on the company's website and you could be on your way to selling your car with us!
If you have a car in any condition, please call us right away.
We can even come to you and pick up your vehicle, removing the need for you to worry about transportation.
Contact us at any time now to get started since we are the most reputable and highest-paying junkyard in the city.
Should you sell your Toyota for cash?
There are a few factors to consider when selling your car.
The condition of your automobile is one of the most important elements to consider when selling your car. If your car is in good shape, you might be able to sell it for a higher price.
Even so, if your car isn't in good shape, it may be dangerous and expensive to fix. That is why it is essential to have your car checked up by a mechanic on a regular basis.
If you don't drive your car.
If you only drive your automobile on weekends or a few times a year, it may be wise to sell it. An automobile that is rarely utilized might wind up costing you a lot of money in the long run.
You'll have to keep it serviced and maintained, as well as pay for insurance and registration.
If you're not using your automobile, sell it and buy something more suitable for your requirements. There are many excellent alternatives available, so don't feel obligated to keep the same vehicle indefinitely.
There's no reason to keep anything if it's not being used.
If you're on a tight budget.
If you're financially unstable, selling your automobile can be the greatest alternative. A car may be worth a lot of money, and the procedure is typically quick and simple. All you have to do is get in touch with us!
Make a preliminary average of how much money you'll need, and we'll give you a cost based on the car's characteristics!
If your automobile is old, it may be time to sell it and get a new one. Cars lose value as they age, so if you sell it today, you won't earn as much as you would if you sold it a few years ago.
This is particularly true if you don't use it frequently.
If you're thinking about it, examine these points to see if it's the best decision for you. If you have any questions or issues, please call (773) 985-2515
Why should you get rid of your Toyota?
When it comes time to sell your Toyota, there are a few things to keep in mind.
You will be paid in cash.
It is the most important advantage of selling your car. When you sell your Toyota to Kedzie Cash Junk Cars LLC, you will receive the highest possible price in cash.
You won't have to worry about fraud or monitoring your bank account to see whether the cash is already there.
You will avoid all the hassle when you sell your car by yourself.
It could be difficult to sell your automobile on your own. First, you must market it, then wait for possible buyers to contact you, and last, you must negotiate a price.
When you sell your automobile privately, you generally have to pay for advertising as well as transportation to take the buyer on a test drive.
However, if you sell your Toyota to us, you will save all of these expenses. We will handle everything!
You will save a significant amount of money.
You will avoid all the expenses in repairs of your car. Our pricing is the most competitive, and you'll be able to earn extra money fast and effortlessly.
To learn more about our car-selling services, please contact us right now.
We promise you an easy selling experience.
How much is your Toyota worth in today's market?
In the Chicago, Illinois region, the typical automobile is presently valued at $322 including the pickup.
The value of your car is affected by the manufacturer, model, age, misplaced pieces, and amount of damage.
A junkyard like ours would generally give you $100 to $500 for your Toyota based on these circumstances.
How does Kedzie Cash Junk Cars LLC determine the value of your vehicle?
If you sell your Toyota to us, you can expect a fair price for it. We're constantly looking for used automobiles and are prepared to pay top price for them.
When you sell your car to us, we will pay you the highest possible price.
We will require the following information:
The model, year, and make of the car.
Parts that are missing
If the bodywork has suffered damage.
Is there anything else we should know about the vehicle?
Do you have the title of your car?
You must offer a thorough description of your car and respond to all of our questions. Every piece of information counts when making an estimate.
How to get cash for your Toyota?
Kedzie Cash Junk Cars LLC is the most convenient method to get rid of a car.
The step-by-step process is as follows:
Contact us at

(773) 985-2515

or fill out our online form. Answer a few basic questions about your car and its condition, and one of our local junk car buyers will pick it up.
Get the best possible offer for your vehicle. You can accept it right now or dispute it over the next seven days.
We'll come to you, tow your old car for free and give you cash right then and there.
So don't wait any longer. We are the greatest option for selling your automobile.
If you want to sell your Toyota in Chicago, IL, we provide the greatest rates for used and damaged automobiles in the region.
When you sell your automobile to us, you can be certain that you will receive the maximum money possible.
We buy a variety of automobiles in addition to Toyota.
Please get in touch with us as soon as possible!