Kedzie Cash Junk Cars LLC 773-985-2515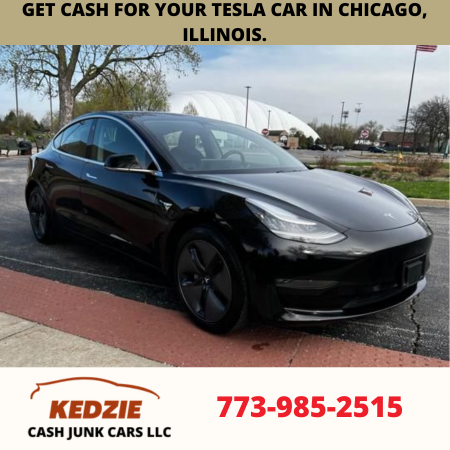 Tesla is a car brand that produces electric cars. They are a relatively new company, founded in 2003 by Martin Eberhard and Marc Tarpenning.
The company's first car, the Tesla Roadster, was introduced in 2008. Tesla has come a long way since then.
They now produce several different models of electric cars, including the Model S, Model X, and Model 3.
Tesla's cars are known for their high-quality construction and innovative features. Tesla is also known for its cutting-edge technology.
If you're looking for a way to get cash for your Tesla car in Chicago, Illinois, then you've come to the right place.
Kedzie Cash Junk Cars LLC offers free quotes and fast payment, and we're always here to help you through the selling process.
You can receive a free quote from one of our representatives and get cash for your car in as little as 24 hours.
We also offer free towing and a no-hassle selling experience.
We are one of the best and most well-known junkyards in Chicago! We are a firm with a lot of expertise and many satisfied customers.
If you want to sell your Tesla car in Chicago, Illinois, there's no need to go any further.
We pay the most for old and damaged automobiles in the area, so you can be certain that you're getting the best agreement possible.
To learn more about our services, please contact us!
When is the best time to sell your Tesla?
Before determining whether or not to sell your automobile, there are various variables to consider.
One of the most significant factors to consider is the condition of your vehicle. You might be able to obtain a greater price for it if it's in good shape.
Consider how frequently you drive. It's advisable to get rid of it if you only use it on weekends or a few times a year.
Make some assumptions about how much money you'll require. If you're short on cash, selling your automobile can be the greatest alternative.
If your vehicle looks to be in bad shape, it is generally time to sell it and get a new one.
You should think about the sort of automobile you wish to buy. If you need a new automobile, selling your old one may be the most cost-effective option.
You may use the money you saved by selling your automobile on something else.
So, if you're thinking about it, look into these variables to determine if it's the best decision for you. If you have any questions, please call us at (773) 985-2515
How can you get cash for your Tesla in Chicago?
Calling Kedzie Cash Junk Cars LLC is the easiest method to get rid of a car.
Our method is as follows:
Call us at

(773) 985-2515

or use our online form to get in touch. One of our local junk car buyers will come to your location once you answer a few short questions about your car and its condition.
Once you have received an offer, make sure you get the best price for your car. You can accept it right away or postpone it until next week.
We will come to your location, take your junk car for free and give you cash on the spot.
So don't forget anything. If you want to sell your automobile, we are the best alternative.
We will offer you the greatest price for your vehicle and keep the selling process as easy as possible for you. We'll handle the paperwork and tow your vehicle for free.
How does Kedzie Cash Junk Cars LLC determine the value of your vehicle?
Kedzie Cash Junk Cars LLC is a junkyard business based in Chicago.
Our junk car buyers may come to you in Kenwood, West Woodlawn, or Bronzeville, no matter where you are.
Simply go to our website and fill out the form, or call us directly for pricing, and we'll be glad to answer any questions you may have!
We can give you a quote in under 60 seconds, with no haggling or stress!
We've made selling your automobile as straightforward as possible!
What is the worth of your Tesla in Chicago, IL?
The typical car in the Chicago, Illinois area is presently valued at $322 including pickup.
The worth of your automobile is determined by its brand, model, age, missing pieces, and level of damage.
Depending on the case, a junkyard like ours may offer you between $100 and $500 for your Tesla.
What are the conditions for selling your Tesla?
We will handle all of the paperwork; all you need to do is give the following items:
The vehicle's title.
Your license to drive.
Your personal identification document.
The keys to your vehicle.
You are welcome to attend without this paperwork, but you really should have them with you if you want to sell your car right away.
Don't worry if you don't have the title to your car. Kedzie Cash Junk Cars LLC will purchase it regardless!
All you have to do now is supply the necessary papers to establish that you are the owner.
Your best option is to sell your Tesla to Kedzie Cash Junk Cars LLC.
Here are a few reasons why Kedzie Cash Junk Cars is the ideal option for you:
1. We provide a competitive price for your vehicle.
2. Because we buy automobiles in any condition, you do not need to repair them before selling them to us.
3. We can assist you with the documentation and make the process as simple and comfortable for you as necessary.
4. We've been doing this for a long time and have a great industry reputation.
If you want to sell your Tesla in Chicago, IL, we provide the greatest prices on the market for old and damaged vehicles.
You will be sure that when you sell your automobile to us, you will receive the highest possible price. Aside from Tesla, we purchase a variety of automobiles.
Please get in touch with us as soon as possible!