Kedzie Cash Junk Cars LLC 773-985-2515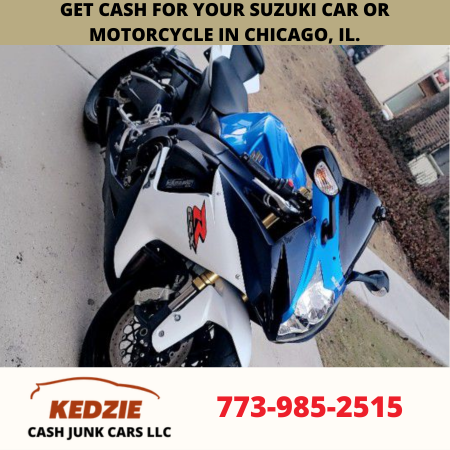 The Suzuki car brand is a subsidiary of Suzuki Motor Corporation, and it was founded in 1909. The company is headquartered in Hamamatsu, Japan.
Suzuki cars are known for their fuel efficiency and affordability. Some of the most popular Suzuki models include the Suzuki Swift, the Suzuki SX4, and the Suzuki Wagon R+.
The Suzuki brand is a favorite among drivers who are looking for affordable and fuel-efficient cars.
Are you tired of your old, run-down motorcycle or car taking up space in your driveway? Do you need some extra cash to pay bills or take a vacation?
If so, then call Kedzie Cash Junk Cars LLC today to sell your Suzuki for cash! We offer top dollar for vehicles in any condition, and we can come to you to pick them up.
This is a great opportunity to get rid of your old vehicle and get some extra cash in your pocket at the same time.
All you need to do is call or email us to schedule a time for inspection, and we will take care of the rest.
We are the best junkyard to sell your car in Chicago, IL. We pay top dollar for your car and make the process as quick and easy as possible.
After inspecting your vehicle, you could have cash in your palm in as little as an hour.
So don't wait for any longer-get cash for your Suzuki car or motorcycle today!
What are the advantages of selling your Suzuki for cash?
You may be considering selling your Suzuki for a number of reasons, among them:
Your house will have extra space.
A parked car is just taking up space. Removing things from your garage makes room for the things you want to keep.
Use the extra space to store sports equipment, set up a pool table or even add a new car that works well to your collection.
You'll be able to make a lot of cash in a fast way.
When you sell your car to Kedzie Immediately Junk Cars LLC, you'll get a fantastic deal and cash on the spot.
Checks, banks, and wire transfers will become irrelevant!
It's good for the environment.
Cars that have been parked in the same place for an extended period of time are hazardous to health and safety.
Toxic substances can permeate the soil and end up in the drinking water supply. This is a threat to everyone and everything.
Get the vehicle out of the way.
Junk vehicle removal services make it much easier to get rid of a car.
Junkyard employees usually come to your home to remove the vehicle (or any other area).
Towing your junk car to our location is free of charge.
We are junkyard specialists with the knowledge and experience to manage and remove junk cars from your property using state-of-the-art procedures and equipment.
There are several compelling reasons to sell your Suzuki. Maybe you want a new car but can't afford two, or maybe you just want to get rid of your old car.
What is the market value of your Suzuki?
In the Chicago, Illinois area, the fairly standard car is currently valued at $322, including pickup.
The value of your car is defined by its make, model, age, broken parts, and extent of the damage.
Depending on the context, a junkyard like ours can give you anywhere from $100 to $500 for your Suzuki.
What is the process to sell a Suzuki car or motorcycle?
Here's how to sell your Suzuki to us:
To contact us, please call

(773) 985-2515

or fill out our online form. Answer a few simple questions about your vehicle and its condition, and one of our local junk car buyers will make you a terrific offer.
You can get the most money if you sell your automobile for cash. You have seven days to accept or contest it.
We'll come where you are, tow your car for free, and pay you cash right away.
So don't put it off any longer. If you want to sell your car, we are the best solution.
We give you the best value for your vehicle and make the selling procedure as simple as possible for you. We'll handle the paperwork and tow your vehicle for free.
What do you need to sell your Suzuki?
We take care of the paperwork; all you have to provide is:
The title of your vehicle.
It is necessary to have a valid driver's license.
Your identity document.
The keys to your vehicle.
You can come to our premises without these goods, but if you want to sell your car quickly, you should definitely bring them.
Don't worry if you don't have your car title. Kedzie Cash Junk Cars LLC will pay for it regardless.
All you have to do now is provide the necessary documentation to confirm your ownership.
Your best option is to sell your Suzuki to Kedzie Cash Junk Cars LLC!
Here are a few reasons why Kedzie Cash Junk Cars is the ideal option for you:
1. We offer a competitive price for your vehicle.
2. Because we buy cars or motorcycles in any condition, you do not need to fix them before selling them to us.
3. We can assist you with the paperwork and make the procedure as simple and comfortable for you as possible.
4. We've been doing this for a long time and have a strong reputation in the business.
If you want to sell your Suzuki in Chicago, IL, we provide the greatest prices on the market for used and broken-down vehicles.
So don't spend any time. If you're looking to sell your car, we are the best solution.
Please contact us (773) 985-2515 instantly!