Kedzie Cash Junk Cars LLC 773-985-2515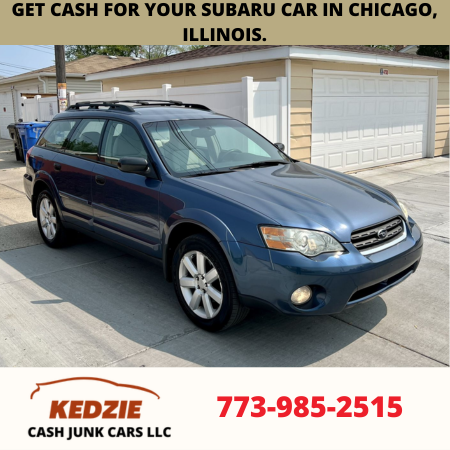 Subaru is a car brand that was founded in 1953 by Nisaki Kojima and Kenji Kogure. The company is headquartered in Tokyo, Japan.
Subaru cars are known for their all-wheel-drive system and safety features. Some of the most popular Subaru models include the Subaru Forester, the Subaru Impreza, and the Subaru Legacy.
The Subaru brand is a favorite among drivers who need a reliable and safe car for navigating tough terrain or inclement weather.
Selling your Subaru is a great way to increase your income. You may pay off bills with this cash, take a trip, or spend it as you choose.
It might be challenging to sell a car. Although there are alternative possibilities, selling your car to a junkyard will get you the most money.
These buyers will offer you a fair price for your car since they want to buy Subaru cars for cash. You may be confident that you are getting a fair price because they are reputable and trustworthy.
The best alternative for selling your Subaru car in Chicago, Illinois, is Kedzie Cash Junk Cars LLC.
Regardless of its condition, we are a Subaru auto buyer who will make you the maximum cash offer for your car.
Selling your car will be as easy and stress-free for you as we can make it. We are committed to delivering amazing service.
Call us right now!
Why do you want to sell your Subaru?
You may choose to sell your Subaru for several reasons.
You will get quick cash for your car.
The biggest benefit of selling your car is this. When you sell your car to us, you'll get the best price, and the best part is that you'll get paid in cash.
You won't have to worry about fraud or double-checking your bank account to make sure the money is there.
You'll be able to get rid of your car faster than ever.
When you sell your car to us, we guarantee a simple and fast transaction.
We'll take care of all the paperwork and transport your car to your residence or place of business.
You will save time and money.
It can be difficult to sell your car on your own. You must first advertise it, then wait for potential buyers to contact you, and finally, you must negotiate a price.
You often have to spend both on advertising and transportation to take the buyer for a test drive when you sell your car privately.
If you sell your Subaru with us, you won't have to pay any of these expenses – every detail will be handled by us!
You'll save a ton of money by selling your car.
You may get money swiftly and easily from us, and our pricing is the most reasonable. Please get in touch with us immediately to learn more about our car-selling services.
We promise a stress-free customer experience.
The best junkyard to sell your Subaru is Kedzie Cash Junk Cars LLC.
One of the top and most well-known junkyards in Chicago is Kedzie Cash Junk Cars LLC. We are a reputable company with a long history of providing excellent customer service.
You can be sure that you're getting the greatest price possible since we provide the best pricing in the area for old and damaged cars.
We also buy other vehicles, so if you have a truck, SUV, or even a motorcycle, let us know and we'll be happy to take it.
Make sure you're working with a trustworthy junkyard when selling your Subaru.
Whatever the age or condition of the vehicle, we always pay cash on the spot and provide the highest price.
There are no additional fees or charges, and towing is always free. Additionally, we offer same-day service, enabling you to get paid right away for your car.
Kedzie Cash Junk Cars LLC is the place to go if you want to get the greatest value for your used automobile.
Contact us at (773) 985-2515
How can you sell my Subaru for cash?
Making a phone call to Kedzie Cash Junk Cars LLC is the simplest way to get rid of an automobile.
Below is a detailed description of our procedure:
Call or text

(773) 985-2515

 to submit our online form. To enable one of our local junk car buyers to buy your automobile, just respond to a few brief questions regarding your vehicle and its condition.
Get the highest deal for your car! You can decide to accept it immediately away or put off thinking about it for a week.
As soon as we arrive at your location and remove your junk automobile for free, we'll pay you cash on the spot!
We will simplify the sales procedure as much as we can for you while offering you the highest price for your car. We will take care of the paperwork and provide you with a free tow for your vehicle.
Save your time and effort instead. We are the best choice if you want to sell your car.
What are the requirements to sell your Subaru?
We take care of the documentation, you only have to offer:
The title of your vehicle.
It is necessary to have a valid driver's license.
Your identity document.
The keys of your vehicle.
You can arrive without these items, but if you want to sell your car quickly, you must provide them.
Don't worry if you don't have the title to your car. Kedzie Cash Junk Cars LLC will buy it regardless.
How much do you think your Subaru is worth?
In the Chicago, Illinois area, the typical car is currently valued at $322, including pickup.
The value of your car is decided by the make, model, age, missing components, and level of damage.
Depending on the condition of your Subaru, a salvage yard like ours could give you anywhere from $100 to $500 for it.
We recognize that not everyone wants to sell their car. That's why we've decided to pitch in and help.
We buy all makes and models of vehicles, regardless of age or condition.
We provide a no-obligation quote and same-day pickup so you can get the money you need right away.
You may be confident that when you sell your automobile to us, you will receive the highest possible price. Besides Subaru, we buy a variety of automobiles.
If you intend to sell your Subaru, then contact us pretty soon!