Kedzie Cash Junk Cars LLC 773-985-2515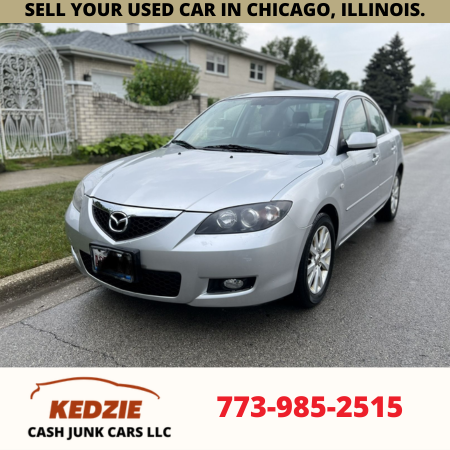 Looking for a way to "sell my used car in Chicago"? You've come to the right place!
Our team members of expert junk car buyers in Chicago, IL will show you how to "sell my used car" for cash as soon as you need to get rid of it.
We are Kedzie Cash Junk Cars LLC, a junkyard with an excellent reputation and a long list of satisfied customers for high offers for their cars.
In the Chicago, Illinois region, we pay cash for used cars, regardless of their condition.
We buy any type of car, including running, non-running, or damaged cars that are taking up space and their owners want to get rid of them as quickly as possible.
If you have a dead or used automobile, we will pay you cash on the spot and pick it up for free!
We buy all types of secondhand cars, regardless of their condition. If you're ready to sell the old automobile that you don't want anymore, give us a call at (773) 985-2515
How to sell a used car in Chicago?
Getting rid of your automobile for cash in Chicago is quick and easy with Kedzie Cash Junk Cars LLC.
You can finally get rid of your less-than-perfect secondhand automobile with only a few clicks or just a call!
In Chicago, selling a car with a seized engine or a missing title might take a long time. Fortunately, Kedzie Cash Junk Cars LLC is committed to assisting consumers around the country.
Within one to two business days, we will pay for any car. Our free, no-obligation quotes are quick and safe.
Start by following these steps:
1. Be sure to contact us at 773-985-2515 or fill out the form on this page.
Now we just need to ask you a few questions about your vehicle. It's a quick process that will get you a valuation offer for your car in less than 2 minutes.
Our car buyers make it a point to keep up to date on market values for all makes and models, so we'll need all the information to give you a wonderful, guaranteed deal.
2. We'll arrange to schedule a free pickup.
Kedzie Cash Junk Cars LLC understands just how you're feeling. As a consequence, we always charge our consumers an honest and reasonable rate.
Furthermore, all of our quotations are non-binding and free of charge. Once you hear what we have to offer, you won't be able to resist what we have to offer.
After you accept our offer, one of our purchasers will contact you to arrange for the disposal of your vehicle.
Towing and removal are free of charge! That's right, we'll come to your home and take your used vehicle for free.
On some occasions, we can even schedule your pickup in less than 24 hours.
3. Get paid with cash!
On the day of your scheduled pick-up, our junk car buyer will arrive and give you cash for your guaranteed offer.
You won't have to wait in line at the drobox, as you can immediately deposit it in your bank or spend it all at once.
Let us take care of all the paperwork and other technicalities. We don't want you to worry and stress about tedious procedures.
What is the value of your used car in Chicago, IL?
The current average value of cars in the Chicago, Illinois area is $322, including pickup.
The value of your car will be determined by several specifications:
– Model, make and age.
– Missing parts.
– Working parts.
– Exterior and interior condition.
Depending on these conditions, a salvage yard such as ours will usually offer between $100 and $1,000 for your car.
What happens if the title of the car is lost?
We recognize that the title can be taken away from you.
Even if you don't have the title, you may be able to sell your car as long as you can confirm your identity and have a valid registration.
Kedzie Cash Junk Cars LLC is the place to go if you want to sell a car without a title.
We are constantly looking for cars to buy, even if they don't have a title.
We buy cars for cash without the need for a title, so contact us now!
What do you need to sell your used car in Chicago for cash?
Do you require more support when it comes to selling your used car in Chicago? Please contact us.
Our customer service professionals would be happy to assist you in selling your used automobiles for cash without a title.
To sell a car for cash in Chicago, you must be 18 years old or older.
Many junk vehicle buyers buy junk automobiles without a title for cash.
To pay cash for automobiles, we'll need the title or another form of identification, such as a registration or insurance card.
Your ID.
Advantages of selling a used automobile to Kedzie Cash Junk Cars LLC.
There are a few alternatives accessible to you when it comes to selling an automobile. You have the option of selling it to a private buyer, a dealership, or a junkyard.
Although each of these solutions has benefits, selling a junk automobile to a junkyard such as Kedzie Cash Junk Cars LLC may be the best solution for you.
Some of the advantages of selling a junk automobile to a junkyard like us include:
1. You'll be able to sell your automobile for the highest money. We pay a high price for used automobiles since we are continuously seeking autos to recycle.
2. You don't have to deal with advertising or potential buyers. We take care of everything for you.
3. You won't have to worry about your car being towed or repaired. We don't need it to be in top condition for you to sell it, we buy it in any condition. Plus, our towing is free!
4. By recycling your car, you'll be helping the environment. We recycle various types of auto components, so you can rest easy knowing that your old car is being put to good use.
Consider selling your car to us!
Kedzie Cash Junk Cars LLC has a long history in the junk car market.
Over the years, we've accumulated a wealth of knowledge that we put to good use in making the procedure as straightforward and comfortable as possible for our customers.
Our dedication has helped us become Chicago's most popular junkyard in a short period.
We may be at your house or another convenient place within 24 hours of accepting our offer. If there is still daylight left, we may be able to visit on the same day if you want.
So don't waste any more time and get cash for your worthless vehicle! Call us at (773) 985-2515