Kedzie Cash Junk Cars LLC 773-985-2515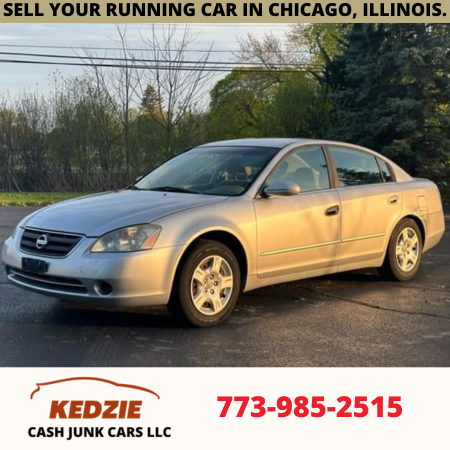 Selling a car can be a hassle, but it doesn't have to be. If you're looking for a quick and easy way to sell your car, you can do so online without any trouble.
There are many different ways to go about this, but the most important thing is to make sure you are getting the best possible price for your vehicle.
You can use an online form, or call a junkyard to get started!
Contact Kedzie Cash Junk Cars LLC if you have an automobile you want to sell for cash.
We pay cash for operating automobiles and other sorts of vehicles, regardless of year, make, or model.
We serve the Chicago area as well as other Illinois locations.
Our speedy and dependable service is the answer to all of your automotive problems.
Forget about the time-consuming and unpleasant procedure of promoting a car and selling it to the best in the neighborhood!
For a price and cash for operating autos, call (773) 985-2515
Should you sell a running car?
You are the only one who can decide whether or not to sell your car. Every car is unique, and every scenario is unique, so it is impossible to say clearly whether or not to sell a car.
However, there will be situations where compelling arguments can be made for or against selling based on a variety of circumstances.
Finances will always be one of the most important motivations for selling, and many other variables will be based on them, but the desire to downsize or improve the model may also inspire the sale.
At the same time, if you need money quickly and safely, selling your car is an excellent option.
Also, if you no longer want to drive or have another car, it is a good reason to sell your car.
If you are moving to another state or country, if you use public transportation more than your car, consider that it is time to get rid of your car and get cash for it.
How to sell your running car fast?
We buy any type of car throughout Chicago at the best price and in the shortest time!
You can get a fair and competitive offer for your car with a free pickup in the blink of an eye with just a few clicks or a single call.
To get you paid quickly, we collaborate with a vast network of certified and vetted junk car buyers.
Kedzie Cash Junk Cars LLC is dedicated to helping people all over the country buy their cars at a great cash price!
We will pay for any car within one to two business days. Our free, no-obligation estimates are fast and secure.
Start by taking the following steps:
1. Please call us at 773-985-2515 or use the form on this page.
Now, all we have to do is find out more information about your car. It's a short process that will provide you with a car valuation offer in less than 2 minutes.
Our auto buyers make it a point to stay current on market values for all makes and models, so we'll need all of the details to provide you with a fantastic, guaranteed price.
2. We'll set up a free pickup time for you.
We will come to your home and take away your old vehicle free of charge. In rare cases, we can even schedule a pickup in less than 24 hours.
Kedzie Cash Junk Cars LLC understands your situation. As a result, we always provide fair and honest pricing to our customers.
We will work with your schedule and the location where you would like the car picked up.
Once you hear what we have to offer, you won't be able to resist what we have to offer.
3. Your automobile is picked up, inspected, and you are paid.
When you sell your running car in Chicago, Illinois, the process is relatively simple.
Your car will be picked up by a tow truck, and then it will be inspected to make sure that the description you gave us in the call matches its true condition.
Once approved, you will be paid in cash.
Kedzie Cash Junk Cars LLC has built a reputation as a reputable company in a difficult industry like junk yards over the past few years. Our customers believe our service is top-notch and would gladly use us again.
We would love to have you join our track record of satisfied customers who are happy to sell their cars for a high cash offer.
What documents are needed to sell a car in Chicago, IL?
We don't believe in going overboard at Kedzie Cash Junk Cars LLC. Only your name, driver's license, and car title are required.
Don't panic if you don't have the car title.
If you don't have it, you can use the license plate number or the vehicle identification number to prove your ownership.
Finally, there will be some paperwork to do, but it will be completed soon!
How much is your car worth in Chicago?
Cars in the Chicago, Illinois region are currently worth $322 on average, including pickup.
A junkyard like ours would normally give between $100 and $1,000 for your automobile, depending on these factors:
– Make, model, and age.
– Parts that are missing.
– Components in use.
– The quality of the exterior and inside.
What are the benefits of selling your car to Kedzie Cash Junk Cars LLC?
Thousands of satisfied customers in the Chicago area have taken advantage of our services to sell their cars and trucks for cash.
As a result, there are several reasons to choose us:
A member of the Kedzie Cash Junk Cars LLC vehicle buying team will work with you to ensure you receive top dollar for your car or truck in Chicago.
We understand how difficult it can be to sell a car, so we are here to help you sell your car quickly and easily.
We take care of the DMV paperwork and release you from any future obligations.
We accept vehicles that do not have titles.
With our service, there are no hidden costs or extra fees.
Cash will be provided on the spot.
The highest prices for your car.
Sell your running car and get cash for it with Kedzie Cash Junk Cars LLC!
Do you want to get rid of your car in Chicago, Illinois? Kedzie Cash Junk Cars LLC is here to help!
We are a reputable and trustworthy company that buys cars for cash on the spot.
We understand how difficult it may be to sell a car, so we make the process as simple as possible for our clients.
We offer cash for cars on the spot, allowing you to get rid of your car quickly and easily.
We understand if you're worried or overwhelmed, but our system is designed to make things as easy as possible for you.
Call us right now at (773) 985-2515