Kedzie Cash Junk Cars LLC 773-985-2515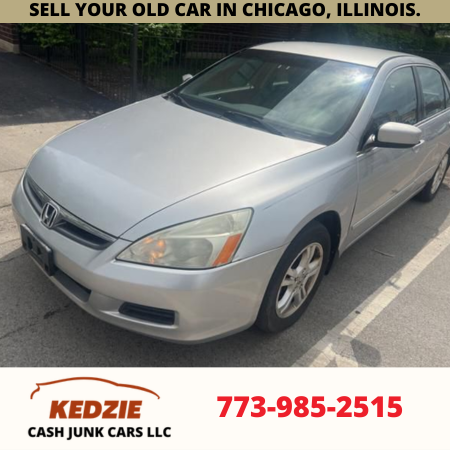 Selling an old car can be a hassle, but it's worth it to get the right price for your old vehicle.
Chicago is one of the best cities in the United States to sell your old car. There are many different ways to go about it, but the best option is usually to use a reputable car buying service.
By selling your car to a reputable car buying company, you can get a fair price and avoid all the paperwork.
They'll take care of everything for you and provide you with a top-dollar offer for your car!
Kedzie Cash Junk Cars LLC will buy your old car no matter its condition!
Getting rid of your old automobile for cash in Chicago, Illinois is quick and easy with Kedzie Cash Junk Cars LLC. You can finally get rid of your less-than-perfect secondhand automobile with only a few clicks!
It might take a long time to sell an automobile with a seized engine or a missing title.
Fortunately, Kedzie Cash Junk Cars LLC is committed to assisting consumers around the country.
Within one to two business days, we will pay for any car with a seized motor. Our free, no-obligation quotes are quick and safe.
With only a few clicks, you can get started.
We are a recognized junkyard in a difficult industry. Customers can trust us because of our service.
We carefully recycle non-working automobiles and pay promptly. Call us at (773) 985-2515
What is the process of selling your old car?
Call us at 773-985-2515 or use the form on this page
All we need to do now is ask you a few questions about your vehicle.
Our auto buyers make it a point to remain up to date on market values for vehicles of all makes and models, so we'll need all the facts to make you a fantastic guaranteed offer.
2. We'll get to work scheduling your free towing service as soon as you accept our offer.
That's right, we'll come to your home and pick up your old car for free. We can even schedule your pickup in less than 24 hours in some circumstances.
Kedzie Cash Junk Cars LLC is sympathetic to your situation. As a result, we always offer our consumers a fair and honest price.
We will work around your schedule and the place where you want the automobile picked up.
Furthermore, all of our offers are non-binding and cost-free. You won't be able to resist what we have to give once you hear what we have to offer.
3. Pick-up and payment in cash!
The junk car buyer will show up on your scheduled pickup day and will hand over cash for your guaranteed offer.
No need to wait by the mailbox, you'll get to go immediately to your bank and deposit it.
Let us handle all the paperwork and other details. You deserve to go celebrate selling your car.
Many auto buyers might pass over a vehicle that is no longer new or modern, but at Kedzie Cash Junk Cars LLC, we buy any car in any condition!
How much can you get for your old car in Chicago?
Cars in the Chicago, Illinois region are currently worth $322 on average, including pickup.
The value of your car will be decided by several factors, including its make and model, age, and level of damage.
A junkyard like ours would normally give you between $100 and $1000 for your car, depending on these factors.
You won't be able to resist what we have to give once you hear what we have to offer!
Why should you sell your car to Kedzie Cash Junk Cars LLC?
Thousands of pleased clients in the Chicago region have used our services to get cash for their automobiles and trucks.
Therefore, we have many reasons to choose us:
A staff member of the Kedzie Cash Junk Cars LLC auto buying team will assist you in getting the maximum money for your car or truck in Chicago.
We understand how irritating it may be to sell a used automobile, which is why we're here to assist you to sell your car quickly and easily!
We handle all DMV papers professionally and absolve you of any future obligations.
We accept cars without titles.
There are no hidden fees or extra charges with our service.
Cash will be delivered to you on the spot.
In Chicago, the highest prices were paid.
What paperwork is required to sell an old car in Chicago, Illinois?
At Kedzie Cash Junk Cars LLC we don't believe in overcomplicating anything. We simply ask for the following:
Your ID.
Your driver's license,
The vehicle title, if you have one.
If you don't have the title, all you have to do to dispose of your old car is to make sure the title is signed by state regulations. Then, you must remove all personal items from the vehicle and turn in the keys and title.
That's it. Once the deal is closed, you'll get cash and get rid of the burden of an old vehicle.
What happens if you lose the title?
We understand that you may lose your title.
If you can prove your identity and have a current registration, you may be able to sell your car even if you don't have the title.
If you want to sell a car without a title, Kedzie Cash Junk Cars LLC is the place to go.
We are always interested in buying cars, even if they don't have a title. We buy cars for cash and do not require them to have a title.
We will also be able to tell you what paperwork you will need to sell the car.
We will work with you to make the deal as simple and comfortable as possible.
In conclusion, if you are looking to sell an untitled car, Kedzie Cash Junk Cars LLC is the place to go!
We offer the best price for cars in any condition, and we'll take care of all the paperwork for you.
So if you are looking to get rid of your old car quickly and easily, we are the best choice.
We are committed to providing the best possible service to our customers, and we offer free towing and same-day payment.
Don't miss the opportunity to sell your old car for a great price! Contact us right now at (773) 985-2515