Kedzie Cash Junk Cars LLC 773-985-2515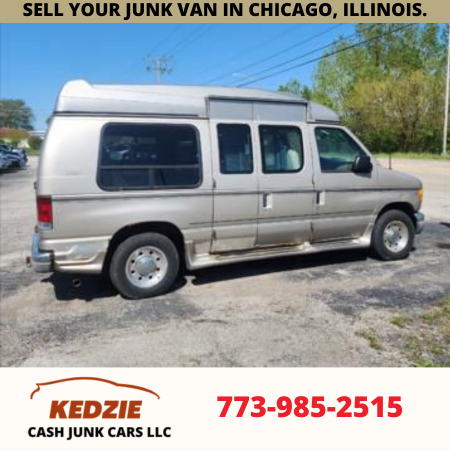 Selling a junk van can be a challenge, but it's not impossible.
There are many different ways to sell your junk van for cash. You could try to sell it yourself, or you could use a service like Kedzie Cash Junk Cars LLC.
We'll pay top dollar for your unwanted vehicle and make the process quick and easy. D
Don't wait, call us today!
With us selling a junk truck in Chicago doesn't have to be a hassle.
It can be a very easy process – all you need to do is call us and we'll take care of the rest.
We buy junk vans in any condition, so you don't have to worry about the condition of your vehicle or the amount of work that needs to be done on it.
We will pay you a fair price for your van regardless of its condition. Contact us at (773) 985-2515
Why should you get rid of your broken-down van?
You should sell your non-functioning automobile for a variety of reasons:
You'll have more room in your garage.
Your automobile is taking up valuable space that may be better utilized.
Perhaps you've been considering having a pet, or you need a place to put extra furniture or seasonal decorations.
Whatever the situation may be, the easiest option to clear up some space is to sell your non-running vehicle.
You'll be paid for an automobile you don't drive anymore.
You make income for an automobile that you no longer use when you sell it to a junkyard.
It's not worth keeping a car that you don't use and just takes up space in your house. In less than two days, you can sell it and make money.
Kedzie Cash Junk Cars LLC is the place to go if you want to sell your car quickly and easily.
We buy cars in any condition.
We also provide high cash offers as well as free towing so you can get rid of them quickly. Contact us right now to get started.
You'll avoid the risks of driving an automobile that is not safe.
By driving your automobile if it is not in proper working order, you may be endangering yourself and others. It is unsafe to operate an automobile that is not working smoothly.
If you can't fix the automobile yourself, it could be more cost-effective to sell it as-is and buy a new one.
It is not only hazardous, but it may also result in costly repairs in the future.
You won't have to worry about any of that when you sell your automobile to us. We'll arrange for the car to be picked up and paid for.
You won't spend any more money on repairs.
You will almost certainly never be able to fix your car if it is not running. This means you'll be left with a car you can't drive or sell. It's a no-win scenario.
If you sell your car to a junkyard, you won't have to spend any more money on maintenance or visits to the mechanic.
Junkyards are automotive specialists, so they know how to appraise and acquire non-running vehicles.
The best way to get the most money for your car is to sell it to a junkyard.
Please contact us if you reside in Chicago and have a junk van that needs to be sold or retired.
For all types of vehicles, we pay the top price. In Chicago and the neighboring areas, we're the most well-known junkyard and auto buyer.
We also provide free towing, which has nothing to do with our good prices.
We mean it when we say "free." You won't have to be concerned about hidden costs or poor offers when you work with us.
You will obtain the best price for your automobile with us, as well as the quickest, safest, and most straightforward sale.
Get rid of your junk van with Kedzie Cash Junk Cars LLC!
We're Kedzie Cash Junk Cars LLC, a junkyard with a great reputation and a lengthy list of happy clients who have received high offers for their vehicles.
We pay cash for used automobiles in the Chicago, Illinois area, regardless of their condition.
We buy any sort of automobile, even those that are running, non-running, or damaged, and whose owners choose to get rid of them as soon as possible.
If you're ready to sell your useless van, follow these steps:
1. Complete our online form or call us at 773-985-2515.
We'll ask you some basic questions about your car's condition, mileage, and whether or not you have the title when you call.
It's a simple method that will get you a fair market offer for your automobile in just 2 minutes.
If you decide to ask for your offer through our online form, you only need to enter some simple information about your car. That way, you will have a quote in less than 60 seconds!
2. We'll set up a free pickup time for you.
After you accept our offer, one of our buyers will call you to set up a time for your car to be picked up.
Towing and removal are completely free! That's correct, we'll come to your house and pick up your junk car for free.
We may be able to schedule your pickup in less than 24 hours in some cases.
3. Towing and cash payment.
Our junk vehicle buyer will arrive on the day of your arranged pick-up and pay you cash for your guaranteed offer.
You won't have to queue at the drop box since you can deposit it right away in your bank or spend it all at once.
Allow us to handle all of the paperwork and other details. We don't want you to be concerned about time-consuming procedures.
Many junk yards that buy cars won't even consider a vehicle that isn't running, but at Kedzie Cash Junk Cars LLC, we accept every sort of vehicle, regardless of its condition!
How much can be your junk van's quote?
Autos in the Chicago, Illinois region are currently worth $322 on average, including pickup.
The value of your van will be decided by several factors, including its make and model, age, and level of damage.
A junkyard like ours would normally give you between $100 and $500 for your car, depending on these factors.
What paperwork is necessary to sell a junk automobile?
We don't believe in overcomplicating anything at Kedzie Cash Junk Cars LLC. We merely ask for the following:
Your ID.
Your driver's license.
The title of the vehicle, if you have one.
Don't panic if you don't have the car title.
If you don't have it, you can use the license plate number or the vehicle identification number to prove your ownership.
Kedzie Cash Junk Cars LLC is the finest alternative if you want to sell an automobile without a title.
We're constantly looking for automobiles to buy, even if they don't have a title. We pay cash for automobiles and don't require the title as long as you can show ownership.
We can also inform you what paperwork you'll need to sell the automobile.
We'll work with you to make the treatment as simple and stress-free as possible.
We'd be happy to discuss the sale with you and answer any questions you might have.
If you're interested in selling your car to us, please call (773) 985-2515