Kedzie Cash Junk Cars LLC 773-985-2515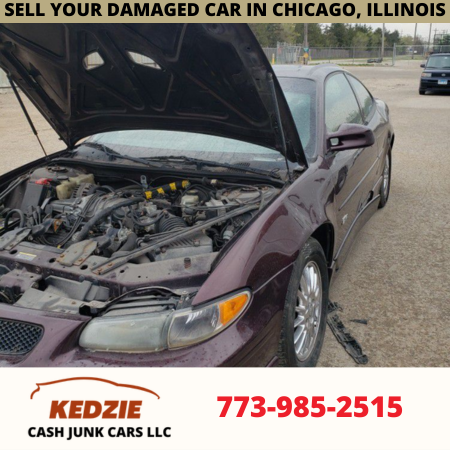 It's no secret that a car is one of the biggest investments a person can make. And when that car starts to show its age, it's important to find the best way to sell it.
Selling a damaged car can be difficult, but it's not impossible.
Trying to sell a car yourself can be hard, but going through a junkyard is the best solution.
There are many different ways to go about this, and the best way to find out is to contact a reputable junkyard that will offer you a fair price for your vehicle.
Don't be concerned if your automobile isn't working. Kedzie Cash Junk Cars LLC will buy any automobile, in any condition, and will pay you cash now.
We're Kedzie Cash Junk Cars LLC, a junkyard with many years of experience and many happy customers for the sale of their car, and we can help you get rid of your damaged car fast and easily in the Chicago region.
We provide free towing and same-day service, and we always pay the highest possible price for trash automobiles.
We recognize that selling a car may be tough at times, so we make the process as simple as possible for our consumers.
Don't let a damaged car take up space in your driveway or garage-sell it today and get your cash today!
Kedzie Cash Junk Cars LLC will give you cash for your damaged car!
Kedzie Cash Junk Cars LLC makes it simple and fast to get rid of your damaged car for cash in Chicago, Illinois. With just a few clicks of the mouse, you can finally get rid of your broken car.
A vehicle in poor condition and with a lot of internal or external damage takes a long time to sell.
Kedzie Cash Junk Cars LLC, on the other hand, is dedicated to helping customers all over the country.
Our no-obligation, free quotations are quick and secure.
In a challenging industry, we are a well-known junkyard. Because of our service, customers may have faith in us.
We recycle damaged cars and pay quickly. Please contact us at (773) 985-2515
How can you get the most money for selling your damaged car in Chicago?
Selling your junk car to Kedzie Cash Junk Cars LLC is not only easy but also quick: our sales can take as little as two days to complete!
We'll buy any vehicle, even if it's not functioning.
With just a few clicks or a phone call, you might have a fair and acceptable offer for your car, including free towing, in seconds.
Because of our knowledge and our car buyer professionals, we can purchase cars in Chicago in less than 48 hours.
Simply follow these three easy steps:
1. Please call us at 773-985-2515 or use the form on this page to get in touch with us.
Now, all we have to do is ask you a few questions about your car. It's a short process that will provide you with a car valuation offer in less than 2 minutes.
Our auto buyers make it a point to stay current on market values for all makes and models, so we'll need all of the details to provide you with a fantastic, guaranteed price.
2. We'll set up a free pickup time for you.
Kedzie Cash Junk Cars LLC recognizes your situation. As a result, we always charge our customers a fair and honest price.
In addition, all of our estimates are non-binding and free of charge. You won't be able to resist what we have to give once you hear what we have to offer.
After you accept our offer, one of our buyers will call you to set up a time for your car to be picked up.
Towing and removal are completely free! That's correct, we'll come to your house and pick up your useless car for free.
We may be able to schedule your pickup in less than 24 hours in some cases.
3. You will be paid in cash!
The junk car buyer will show up on the agreed collection day with the money in hand in exchange for your guaranteed offer.
You will not have to wait in line at the post office as you can deposit it in your bank directly or use it as you wish.
Let us handle all the paperwork and other details for you. You've earned a vacation to commemorate the sale of your car.
Many car buyers would pass over a car that is no longer new or current, but Kedzie Cash Junk Cars LLC will buy any car in any condition.
Allow us to handle all of the paperwork and other details. We don't want you to be concerned about time-consuming procedures.
What is the worth of your car that has been damaged?
Cars in the Chicago, Illinois region are currently worth $322 on average, including pickup.
Several factors will influence the value of your vehicle:
– Make, model, and year
– Parts that are missing.
– Components in use.
– The state of the exterior and inside.
A junkyard like ours would normally give between $100 and $1,000 for your automobile, depending on these factors.
What do you need to get cash for your damaged car in Chicago?
Do you require further assistance while selling your used automobile in Chicago? Please get in touch with us.
Our customer service representatives will be delighted to help you sell your old cars for cash without a title.
You must be 18 years old or older to sell a car for cash in Chicago.
Our junk car buyers will pay cash for junk cars that do not have a title.
We'll need the title or another kind of documentation, such as a registration or insurance card, to pay cash for cars.
Your identification number.
What happens if the car title is lost?
We understand that the title can be lost at any time.
You may be allowed to sell your car even if you do not have the title as long as you can prove your identity and have a current registration.
If you want to sell a car without a title, Kedzie Cash Junk Cars LLC is the place to go.
We are always on the lookout for vehicles to buy, even if they don't have a title.
We buy cars for cash without requiring a title, so contact us right away.
Selling an old car to Kedzie Cash Junk Cars LLC has several benefits!
When it comes to selling a vehicle, you have a few options. You may sell your car to a private buyer, a dealership, or a junkyard.
Although each of these options has advantages, selling your junk car to a junkyard like Kedzie Cash Junk Cars LLC is the best option for you.
The following are some of the benefits of selling a junk car to a junkyard like us:
1. You will be free to sell your car for the most money possible. We pay high prices for second hand cars since we are constantly on the lookout for vehicles to recycle.
2. You don't have to worry about marketing or possible buyers. Everything is taken care of for you.
3. You won't have to be concerned about having your automobile towed or fixed. We don't require it to be in perfect shape for you to sell it; we will purchase it in any condition. Furthermore, our towing service is completely free!
4. You will be helping the environment by recycling your automobile. We recycle a variety of auto parts, so you can be assured that your old vehicle is being put to good use.
So, don't wait any longer and sell your damaged car for cash! Contact us right away and ask for a quote!