Kedzie Cash Junk Cars LLC 773-985-2515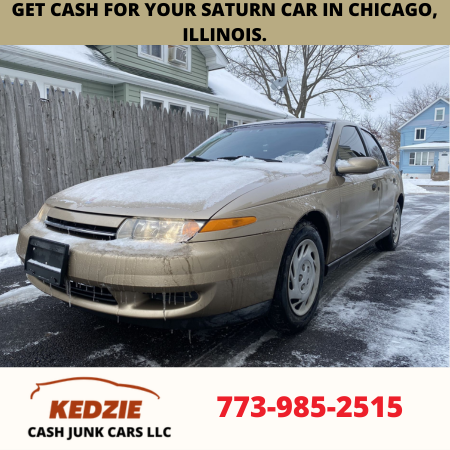 Selling your automobile is a choice that many people don't think about.
You might be able to sell your automobile for a respectable sum of money depending on its state and the used car market in your region.
For instance, you might be able to sell your automobile for several thousand dollars if it's in good shape and used Saturn cars are in high demand in Chicago.
Saturn was a car brand that was founded in 1990 by General Motors. The company is headquartered in Spring Hill, Tennessee.
Saturn cars were known for their innovation and style. Some of the most popular Saturn models include the Saturn S-Series, the Saturn Ion, and the Saturn Vue.
The Saturn brand was discontinued in 2009 as a result of GM's Chapter 11 reorganization, but there are still many Saturn fans out there who remember these cars fondly.
A Saturn can be traded in, sold to a private buyer, or sold to a scrapyard, among other options.
Selling it to a junkyard is the best option, although each of them has advantages and disadvantages. Why? When you sell your car to a junkyard, you can get more money, be safe from scams, and the deal is done quickly.
To get it, you must first find the best junkyard. That's why it's a good idea to contact Kedzie Cash Junk Cars LLC.
If you're searching for a quick and simple way to get money for your car, we can help.
Regardless of its condition, we'll buy your car so you may get the cash you need right away.
To find out more about how we can help you sell your car, contact us right away!
When should your Saturn be sold?
There are several factors to take into account before deciding whether or not to sell your car.
The condition of your car is one of the most important factors. If it's in good condition, you might be able to sell it for more money.
Think about how often you drive. If you just use it sometimes, such as on the weekends, it is best to get rid of it.
Think about how much money you'll need. If you need money, selling your car can be your best option. You ought to consider how old your car is. If it's getting on in years, it could be better to sell it and buy a new one.
When a car reaches a certain number of kilometers, it is usually time to abandon it and buy a new one.
You should consider the type of car you want to buy. Selling your old car may be your best option if you are looking for a new one.
Selling your car will allow you to save money that you can put towards other expenses in your life.
So, if you're thinking about it, consider these factors to determine if it's the right choice for you.
What should you provide to sell your Saturn?
You only need to provide the following, and we'll take care of the paperwork.
The title of your automobile.
A valid driver's license is required.
Your ID.
The keys to your automobile.
You are free to visit without these belongings, but if you want to sell your automobile fast, you must bring them with you.
Don't worry if you don't have your car's title. You can still sell it to Kedzie Cash Junk Cars LLC.
The only thing left to do is to present the necessary documentation to prove ownership.
How long does it usually take to sell an old or used car in Chicago?
Most cars in Chicago can be picked up in 1-3 business days.
You can get assistance from us today. We might be able to schedule the deal at a time that works for you accordingly.
Within 15 minutes, we'll come to pick it up, check it out, and pay you.
How can you sell your Saturn automobile for the most money?
Working with Kedzie Cash Junk Cars LLC is the easiest way to get rid of a car.
Follow our process:
To contact us, give us a call at

(773) 985-2515

or fill out our online form. To sell your car to one of our nearby junk car buyers, just answer a few simple questions about it and its condition.
Make sure you negotiate the best deal for your vehicle. You can decide to accept our offer straight away or to put it up for discussion for the following seven days.
We'll come to you, tow your old vehicle away for free, and pay you on the spot.
Therefore, stop delaying making a choice. If you want to sell your car, the best place to do so is with us.
How much is the valuation of your Saturn in Chicago?
The average car is presently worth $322 in the Chicago, Illinois, region, including pickup.
Your car's worth depends on its manufacturer, model, age, the number of missing parts, and the degree of damage.
Based on the circumstances, a junkyard like ours would typically offer you between $100 and $500 for your Saturn.
Why should you sell your car to us?
Anyone looking to sell a car should definitely choose Kedzie Cash Junk Cars LLC as an alternative. We provide reasonable costs, simple process, and reliable service.
Here are some explanations why you should sell your car with us:
Sell your car to get extra money for it.
You can be sure that when you sell your car to a company like ours, you will make as much money as possible.
You can be sure that you are getting a fair deal, as we pay top dollar for cars in any condition.
Since we aren't concerned about the condition of the automobile, we don't undertake numerous inspections.
We don't care if an accident or other unforeseen circumstances caused major damage to your car! We'll pay a fair amount for it.
Car removal is free of charge.
When you sell your car to a company like ours, you don't have to worry about any of the fees associated with having it removed.
You won't need to worry about anything since we offer free car removal services.
Although we understand that selling a car might be difficult, it doesn't have to be. You can unwind knowing that everything will be handled when you sell your car to us.
We provide the top offers in the market for old and damaged cars if you're trying to sell your Saturn in Chicago, Illinois.
You can rest easy knowing you'll get the maximum money for your automobile when you sell it to us. We purchase a broad variety of automobiles in addition to Saturn.
Please get in touch (773) 985-2515 with us right away!