Kedzie Cash Junk Cars LLC 773-985-2515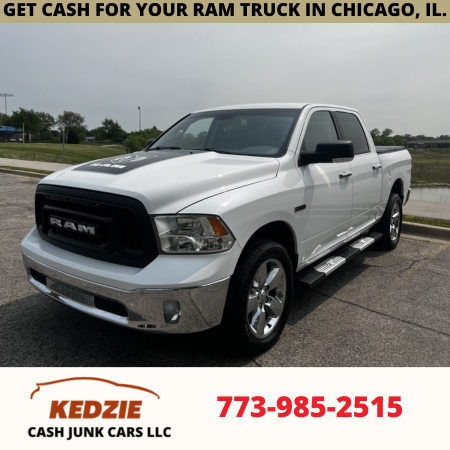 If you're looking for a way to make some extra money, you may want to consider selling your truck or vans.
Ram Trucks, styled as RAM and formerly known as Ram Truck Division, is a Stellantis division that produces light- to medium-duty pickup trucks and other commercial vehicles.
It was founded in 2010 as a spin-off from Dodge and is known as the Ram Pickup truck series.
Ram cars are known for their durability and performance. Some of the most popular Ram models include the Ram 1500, the Ram 2500, and the Ram 3500.
Selling a vehicle can be a great way to get some extra cash, and it's a process that is simple and straightforward.
You should contact a reputable company like Kedzie Cash Junk Cars LLC, and we will help you through the entire process.
We offer fair prices for all of our vehicles, and we want to make sure that you get the best deal possible.
You can get a free quote right on our website, and our team is available 24/7 to help you through the process.
We'll work with you to find a time and place that's convenient for you to pick up your cash, and we're always here to answer any questions you may have.
Don't wait any longer and get cash for your Ram truck or van today. Contact us today to learn more!
Why should you choose Kedzie Cash Junk Cars LLC to sell your truck or van?
You'll get the greatest offer for your vehicle.
You can expect to get the highest price when you sell your automobile to a junkyard like us.
We're always on the lookout for secondhand automobiles, and we'll pay top price for them.
Selling your automobile to us is the best method to get the most money for it.
There are no hidden fees.
When you sell your automobile to us, unlike other means of selling it, such as trading it in or selling it to a dealer, there are no fees.
This implies you'll keep all the money from the sale of your automobile.
We buy vehicles in any condition.
We will buy your automobile whether it is operating or not. This means that even if your automobile is in horrible shape, you may sell it to a junkyard like ours.
Our process is simple and transparent.
Unlike other methods of selling a car, selling to a junkyard is simple and quick. All you have to do is call us and make an appointment for us to come pick up your car.
We'll pay you right away, and you won't have to deal with any of the hassles of selling your car on your own.
Selling your car to us is the way to go if you want to sell it quickly and easily.
No hassle in the process.
Another great advantage of selling your car with us is the lack of hassle.
We take care of all the paperwork and come to your location to pick up your car. All you have to do now is sit back and let us take care of the rest.
Kedzie Cash Junk Cars LLC is interested in buying your Ram right now!
Kedzie Cash Junk Cars LLC is the appropriate buyer for your vehicle or van if you're trying to sell it. Whatever condition your Ram vehicle or van is in, we'll pay you the top price.
We realize how stressful selling a car can be, so we make the process as simple and painless as possible.
We provide free towing and on-the-spot cash to help you get rid of your car fast and simply.
We provide competitive pricing on all sorts of vehicles and never impose any additional costs. So, if you want to sell your Ram, give us a call as soon as you can!
We buy automobiles in any condition, so you can be confident that you'll get the best deal.
There are simply too many other things to be concerned about in life than a junk car.
That's why we'll take care of everything from start to finish. If your car is no longer functional, you won't have to worry about bringing it to one of our junkyards.
We will tow it at no cost to you. For further information, please contact us at (773) 985-2515
How do you sell your Ram for cash in Chicago?
Calling Kedzie Cash Junk Cars LLC is the simplest approach to getting rid of a car.
The following is a description of our scheme:
Call

(773) 985-2515

or use our online form to get in touch with us. You should answer a few simple questions about your automobile and its condition.
After you've gotten an offer, make sure you get the greatest deal on your vehicle. You have the option of accepting it right now or deferring the negotiation until next week.
We'll arrive at your place, tow away your junk car for any cost, and give you cash at the moment.
So don't worry anymore. We're the best option if you're trying to sell your automobile.
We'll give you the greatest possible price for your car and make the selling process as easy as possible for you. We'll handle the documentation and tow your automobile free of cost.
What documentation and items are required to sell your car in Chicago?
We will handle all of the paperwork; all you need to provide is:
The title of your vehicle.
A valid driver's license is required.
Your identification document.
The keys to your vehicle.
You can arrive without this paperwork and other stuff, but if you want to sell your automobile fast, you must have them.
How much is your Ram worth?
Including towing, the average car in the Chicago, Illinois, region is currently valued at $322.
Your vehicle's value is determined by its manufacturer, model, age, damaged components, and degree of damage.
A junkyard like ours may give you between $100 and $500 for your Ram, depending on the situation.
Selling your Ram to Kedzie Cash Junk Cars LLC is the best way to get cash for your truck.
Kedzie Cash Junk Cars is the best choice for you for the following reasons:
1. We offer a reasonable price for your vehicle.
2. You don't need to fix your truck or van before selling it to us because we buy it in any condition.
3. We can help you with the paperwork and simplify it to make the process as comfortable as possible for you.
4. We have a solid track record and we have been doing this for a long time in Chicago.
5. All of our customers are satisfied with our service and customer experience.
We provide the highest prices in the area for used and damaged Ram trucks and vans if you want to sell them in Chicago, Illinois.
You might certainly say that you would get the most amount of money when you sell your car to us. In addition to Ram, we buy a wide range of vehicles.
Please get in contact with us right away!