Kedzie Cash Junk Cars LLC 773-395-2515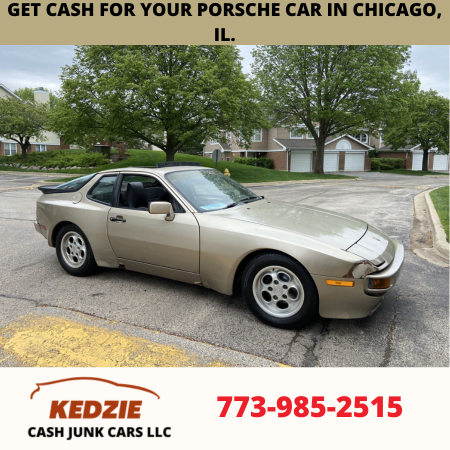 There is no doubt that automobiles are a major financial investment. Automobiles require a large financial investment, but they also need to be maintained and cared for to keep them running properly.
This can be difficult, especially if you are not mechanically inclined or knowledgeable about automobiles.
However, just because you're not a car expert doesn't mean you can't sell yours. Especially if you own a Porsche.
Porsche is a car brand that was founded in 1931 by Ferdinand Porsche. The company is headquartered in Stuttgart, Germany.
Porsche cars are known for their high performance and luxury. Some of the most popular Porsche models include the Porsche 911, the Porsche Cayenne, and the Porsche Panamera.
The Porsche brand is highly respected in the automotive industry, and it has a loyal following of fans around the world.
If you are selling your Porsche, Kedzie Cash Junk Cars LLC is the place to go. We are interested in buying any type of Porsche, regardless of its condition.
We charge a reasonable fee and will work with you to make the procedure as smooth as possible.
We are a salvage yard that buys and pays top dollar for high-end automobiles. Please contact us as soon as possible to learn more about our program.
We want to hear from you as soon as possible!
Why is selling your automobile a brilliant idea?
You could consider to sell your Porsche for a variety of reasons:
There will be more space available in your garage.
An automobile that isn't in use is just taking up room. Removing stuff from your garage allows you to make room in your garage for the things you wish to keep.
Use the extra room to store sports equipment, or even add a new, fully working automobile to your collection.
You'll make a lot of cash quickly.
When you get cash for cars in Chicago, you're generally paid the same day – and if you decide to sell your car to Kedzie Cash Junk Cars LLC, you'll get excellent service and cash!
Checks, banks, and wire transfers will be a thing of the past.
It is environmentally responsible.
Automobiles that have been parked in the same spot for a long time are a health and safety threat.
Harmful wastes may seep into the ground and, as a result, end up in the drinking water supply. This is a threat to humanity as well as the ecosystem as a whole.
These vehicles are also widely used for their metal, reducing pollution caused by mining and the production of new components.
Getting the car out of the way as quickly as possible.
Junk vehicle removal companies make getting rid of a car a lot easier.
The junkyard usually sends employees to your house to tow the car away (or any other area).
You will not be charged for the transportation of your junk automobile to a new site.
We are auto removal professionals with the knowledge and experience to manage trash cars and remove them from your property utilizing cutting-edge processes and equipment.
There are plenty of compelling reasons to sell your Porsche. Maybe you're in the car business and can't afford two, or maybe you're simply ready to sell it.
Whatever the situation, we'll do our best to make the procedure as simple as possible. We offer the best price for any make or model, in any condition.
How much is your Porsche worth?
In the Chicago, Illinois area, the typical automobile is currently valued at $322, including pickup.
The make, model, age, missing components, and level of damage are all elements that determine the value of your car.
A junkyard like ours would generally give you between $100 and $500 for your Porsche, depending on the details.
What is the average time it takes to sell a car?
In Chicago, most automobiles may be picked up in 1-3 business days.
On the same day, we will support you! As a consequence, we may be able to set up the arrangement at a convenient time for you.
It will only take us 15 minutes to pick it up, inspect it, and pay you once we arrive.
How can you get cash for your Porsche?
The simplest option to get rid of an automobile is to use Kedzie Cash Junk Cars LLC.
Our step-by-step procedure is as follows:
Fill out our online form or call us at 773-395-2515. Answer a few basic questions about your automobile and its condition so that one of our local junk car buyers can buy it.
Get the best possible offer for your car. You have the option of accepting it right away or considering it for the next week.
We'll come to you, free tow your junk automobile, and give you cash right there on the spot.
Don't spend any more time! We are the finest alternative if you want to sell your car.
We provide you with the highest possible price for your automobile and make the selling procedure as simple as possible.
We'll handle all of the paperwork for you and tow your vehicle absolutely free.
When it comes to selling your Porsche, what is required?
We will handle all of the paperwork; all you will do is provide:
The title of your automobile.
A valid driver's license is required.
Your ID.
The keys to your automobile.
You are allowed to visit without these items, but you should bring them if you wish to sell your car straight away.
If you don't have the title to your vehicle, don't worry. Kedzie Cash Junk Cars LLC will buy it from you anyway.
All you have to do now is produce the supplementary papers required to prove your ownership.
Kedzie Cash Junk Cars LLC is the perfect choice for you!
Here are a few reasons why selling your vehicle to Kedzie Cash Junk Cars is the best choice:
1. We provide a reasonable price for your vehicle.
2. We buy automobiles in any condition, so there's no need to bother about repairing them beforehand.
3. We can assist you with the paperwork and make the procedure simple and fast!
4. We're a recognized junkyard with a long track record.
Kedzie Cash Junk Cars is the place to go if you would like to sell your Porsche in Chicago, IL.
We will offer you a competitive price for your vehicle and make the process as simple as possible for you. Please get in touch with us straight away!