Kedzie Cash Junk Cars LLC 773-395-2515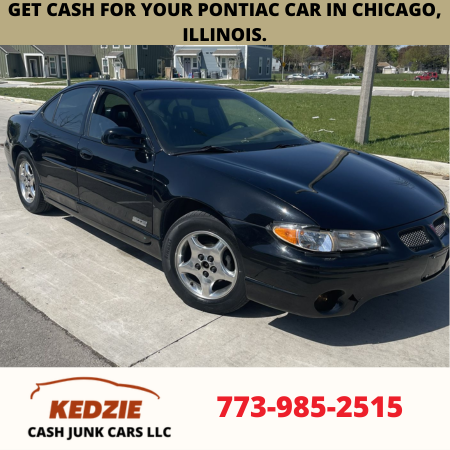 Pontiac was a car brand that was manufactured by General Motors from 1926 to 2010. Pontiac cars were known for their performance and style.
Some of the most popular Pontiac models include the Pontiac Firebird, the Pontiac Grand Prix, and the Pontiac GTO.
The Pontiac brand was discontinued in 2010 as a result of GM's Chapter 11 reorganization, but there are still many Pontiac fans out there who remember these cars fondly.
You have a lot of options when it comes to selling your Pontiac automobile. You may either sell your automobile to a junkyard or try to sell it online.
Regardless of the advantages and disadvantages of each, selling it to a junkyard is the best choice. Why? You'll make more money selling your car to a junkyard, avoid fraudsters, and get the job done faster.
To accomplish so, you must first identify the largest junkyard. That is why you should call Kedzie Cash Junk Cars LLC!
We can help you get cash for your automobile swiftly.
We'll buy your automobile in any condition so you can receive the money you need right away.
Please contact us immediately to learn more about how we can assist you in selling your Pontiac!
Why do you decide to sell your Pontiac vehicle?
There are a few things to consider when selling your Pontiac.
You will get cash quickly and easily.
This is the most significant benefit of selling your vehicle. When you sell your Pontiac to us, you will get the highest price possible, and the best part is that you will be paid in cash.
You won't have to worry about fraud or double-checking your bank account to make sure the funds are present.
Cash is the safest and fastest method of payment.
You will be able to dispose of your vehicle promptly and conveniently.
When you sell your vehicle to us, we guarantee a simple and fast transaction.
We will take care of all the paperwork and deliver your car to your home or office.
By not having to sell your vehicle yourself, you will save time and work.
Selling your car on your own can be a challenge. First you have to market it, then wait for potential buyers to approach you, and finally agree on a price.
When you sell your car privately, you usually have to pay for advertising and transportation to take the buyer for a test drive.
If you sell your Pontiac to us, however, you will save all of these costs. Everything will be taken care of by us!
You will save a considerable sum of money.
You will no longer have to spend on repairs, car insurance, parking, and many other expenses that come with owning a car.
Our rates are the best, and you'll be able to make money quickly and easily with us. Contact us right now to learn more about our car-selling services.
We guarantee a pleasant client experience!
The top junkyard in Chicago is Kedzie Cash Junk Cars LLC!
You want to work with a reputable junkyard when it comes to selling your automobile. We take pride in having the greatest junkyard in Chicago, Illinois!
We'll give you the top price for any automobile, in any condition, and we'll pay you right away.
We understand how difficult selling a car can be, so we make the process as simple as possible for our consumers.
We never charge extra costs and always offer free towing.
We also provide same-day service, which means you may get cash for your automobile in a matter of hours.
If you want the best price for your junk car, Kedzie Cash Junk Cars LLC is the place to go. Call us at 773-395-2515 right now.
How can you get cash for your Pontiac in Chicago?
The most simple way to get rid of an automobile is to call Kedzie Cash Junk Cars LLC.
Our junk car buyers are kind and helpful, and the process is quick and straightforward.
We'll make arrangements to come to take up the car once you've approved our hard-to-refuse offer price. This would occur at a convenient time and location for you.
We can pick up or move your automobile in as short as 24 hours.
A step-by-step approach is provided below:
1. Call 773-395-2515 or fill out our online form to request an offer.
We'll ask you a few basic questions about your vehicle's condition, mileage, and whether you have the title.
It's a simple process that will get you a fair market offer for your vehicle in just two minutes.
2. Agree to our offer and we'll set up a pickup time for you.
Kedzie Cash Junk Cars LLC understands your problem. As a result, we always provide our consumers with fair and accurate pricing.
We'll work with your schedule and pick up the automobile where you want it.
Towing and removal are absolutely free!
3. Payment on the spot.
Finally, you must wait for us to come to your house or where the car is. We'll arrive to pick up the automobile and pay the money we discussed over the phone.
In most cases, the full therapy may be finished in less than 24 hours.
What requirements must you have to sell your Pontiac?
We will handle all documentation; all you will do is supply:
The title of your vehicle.
A valid driver's license is required.
You must have your ID.
The keys to your car
You are invited to come to our junkyard without these items, but you must bring them if you wish to sell your car quickly.
If you don't have your vehicle's title, don't worry. Kedzie Cash Junk Cars LLC will buy it from you anyway.
How much does your Pontiac cost?
In the Chicago, Illinois area, the typical automobile is currently valued at $322, including pickup.
The manufacturer, model, age, missing pieces, and amount of damage influence the value of your vehicle.
A junkyard like ours can give you between $100 and $500 for your Pontiac, depending on the circumstances.
We're constantly looking for vehicles to buy, even if you don't have a title. We buy cars in cash and don't require titles as long as ownership can be shown.
We may also help you with the paperwork needed to sell the automobile.
We'll collaborate with you to make the process as easy as possible.
We'd be delighted to talk with you about the offer and answer any questions you might have.
Feel free to contact us if you want to sell your automobile to us!