Kedzie Cash Junk Cars LLC 773-985-2515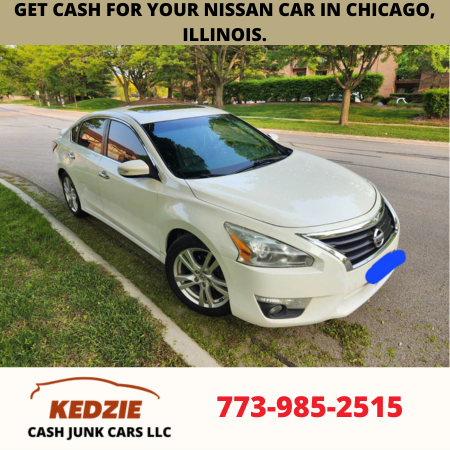 Nissan is a Japanese car brand that was founded in 1933. The company produces a wide range of vehicles, from small economy cars to larger SUVs.
Nissan has a strong reputation for quality and innovation, and their cars are popular both in Japan and around the world.
In recent years, Nissan has been working to increase its market share in the United States. One of their primary strategies has been to focus on electric vehicles.
The Nissan Leaf, an all-electric car, was released in 2010 and has been a success.
Nissan plans to release several more electric models in the coming years.
Selling your Nissan is an excellent strategy to boost your income flow. This money can be used to repay debts, go on a vacation, or buy anything else.
Selling an automobile is a difficult task. There are other options, but selling your automobile to a junkyard is the best way to get the most cash for it.
These buyers are looking to purchase Nissan automobiles for cash, and they will give you a reasonable price for your car. They are dependable and trustworthy, so you can be assured that you are receiving a good price.
Kedzie Cash Junk Cars LLC is the greatest option for selling your Nissan automobile in Chicago, Illinois.
We are a Nissan car buyer who will offer you the highest cash for your vehicle, whatever its condition.
We are committed to offering excellent service and will make selling your automobile as simple and stress-free as possible.
Get in touch with us!
Why are you looking to sell your Nissan?
There are a number of reasons why you may decide to sell your Nissan.
You will be receiving cash in your hands.
This is the most important advantage of selling your car. You'll get the best price for your car when you sell it to us, and the best part is that you'll get paid in cash.
You won't have to worry about fraud or double-checking your bank account to verify whether the money is available.
You'll be free of your car promptly.
We promise a quick and straightforward process when you sell your automobile to us.
We'll take care of all the paperwork and remove your vehicle to your house or business.
It will allow you to save both time and money.
It could be difficult for you to sell your automobile on your own. First, you must promote it, then wait for possible buyers to contact you, and last, you must negotiate a price.
When you sell your car privately, you normally have to pay for both advertising and transportation to take the buyer for a test drive.
You will not have to pay any of these fees if you sell your Nissan to us. Everything will be taken care of!
You'll get a great deal on your Nissan.
Our pricing is the most competitive, and you'll be able to get money quickly and effortlessly. To discover more about our car-selling services, please contact us right now.
We promise a stress-free buying experience.
Kedzie Cash Junk Cars LLC is the greatest junkyard for selling your Nissan!
Kedzie Cash Junk Cars LLC is one of Chicago's best and most well-known junkyards! We are a well-established business with a long list of good customer service.
For old and damaged automobiles, we provide the finest pricing in the region, so you can be confident that you're receiving the best deal available.
We also buy other cars, so let us know if you have a truck, SUV, or even a motorbike, and we'll gladly accept it.
When it comes to selling your Nissan, be sure you're dealing with a reputable junkyard.
We always pay cash the moment for any vehicle, no matter how old or damaged it is, and provide the best possible price.
There are no hidden costs, and towing is always provided free of charge. We also provide same-day service, allowing you to receive cash for your vehicle straight immediately.
If you're looking for the best deal on your old car, Kedzie Cash Junk Cars LLC is the place to go.
Please call us at (773) 985-2515
How can you get cash for your Nissan?
The simplest approach to getting rid of a car is to call Kedzie Cash Junk Cars LLC.
A step-by-step guide to our process is provided below:
Please answer a few easy questions about your car and its condition so that one of our junk car buyers in your area can purchase it. Fill out our online form or call

(773) 985-2515

.
Get the best price on your vehicle! You have the option of accepting it right now or debating it for the next week.
We'll come to you and remove your junk car for free, after which we'll give you cash right there on the spot!
If you want to sell your automobile, Kedzie Cash Junk Cars LLC is the best alternative.
What are the specifications for selling your Nissan?
All documentation will be handled by us; all you should do is offer:
The title of your automobile.
A current driver's license is required.
Your unique identifier.
The keys of your automobile.
You are welcome to arrive without these goods, but if you plan to sell your automobile quickly, you must bring them.
Don't panic if you don't have your vehicle's title. Regardless, Kedzie Cash Junk Cars LLC will buy it from you.
How much do you estimate your Nissan to be worth?
The average car in the Chicago, Illinois area is currently valued at $322, including pickup.
The value of your car is determined by its make, model, age, missing components, and degree of damage.
Depending on the condition, a salvage yard like ours could offer you anywhere from $100 to $500 for your Nissan.
We understand that not everyone wants to sell their car. As a result, we've decided to lend a helping hand.
We buy all brands and types of autos, regardless of age or condition.
We provide a no-obligation quote and same-day pick-up so you can get the cash you need right now.
You may rest assured that when you sell your car to us, you will receive the most money possible. Aside from Nissan, we purchase a wide range of vehicles.
Please contact us right immediately if you want to sell your Nissan!