Kedzie Cash Junk Cars LLC 773-985-2515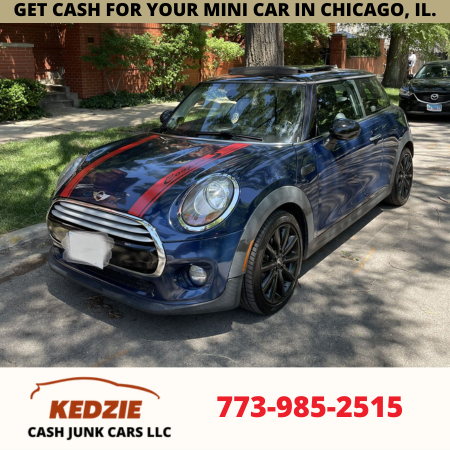 Mini is a British car manufacturer created in 1969 by British Leyland in Oxford, England. Since 2000, it has been owned by BMW of Germany, which uses it to manufacture a line of compact automobiles manufactured in England and the Netherlands.
The most representative vehicle is a BMW B-segment automobile, which has been produced since 2000.
Selling your Mini is a great way to increase your cash. This money can be used to pay off debts, take a trip, or purchase something else.
The economy is in trouble, there's no denying that. People are losing their jobs at an increasing rate and are trying to make ends meet.
If you're one of those people, you might be concerned about how you'll be able to maintain your automobile.
But have no fear, there is a solution: sell your automobile! It's not just any automobile, though; it's your Mini.
We at Kedzie Cash Junk Cars LLC are pleased to buy it from you if you live in the Chicago, IL region.
We pay the top price for your automobile and make the process as simple as possible for you. We also want different sorts of automobiles, so if you're seeking to sell, give us a call!
Please call us for more details about our services!
The best junkyard for selling your Mini is Kedzie Cash Junk Cars LLC.
One of the greatest and most well-known junkyards in Chicago is Kedzie Cash Junk Cars LLC! We are a well-established business with a lengthy record of happy clients.
We provide the highest prices in the area for old and damaged cars, so you can be assured that you're getting the best bargain possible.
We also purchase other vehicles, so if you have a truck, SUV, or even a motorcycle, just let us know, and we'll gladly accept it.
When it comes to selling your Mini, you want to be sure you're working with a trustworthy junkyard.
We always pay cash on the spot and provide the best possible price for any vehicle, no matter how old or damaged it is.
There are no hidden fees, and towing is always free. We also provide same-day service, so you may get cash for your car right away.
Kedzie Cash Junk Cars LLC is the place to go if you're looking for the greatest offer on your old automobile.
Contact us at (773) 985-2515
Why should you pick Kedzie Cash Junk Cars LLC above others?
Kedzie Cash Junk Cars LLC is a fantastic alternative for anybody looking to sell a car. We provide high prices, simple process , and professional services.
Here are a some of the reasons you should sell your car to Kedzie Cash Junk Cars LLC:
A free estimate is available.
If you use our online form, our rapid assessment system calculates the worth of your car based on real-time market data.
We can not only give you an offer in under a minute on your phone, but we can also answer any questions you may have.
Our employees are friendly and kind, and they are committed to our customers.
Obtain the highest pricing.
We'll connect you with a junk auto buyer who will offer you the greatest price.
We provide the most competitive prices among Chicago junkyards! We guarantee the highest prices and no haggling at the time of pickup.
The process of removing a car is simple and stress-free.
Our process is straightforward, simple, and fast. It just takes a few minutes to get your offer and much less time to schedule your pick-up.
Once we arrive at your location, seeing the vehicle, filling out any paperwork, and handing over the keys takes only 15 minutes.
You don't have to pay anything at all.
You do not have to pay anything to utilize our service.
The deal includes customer service, pick-up, and towing. You will benefit from this offer since you will be compensated for a vehicle that you no longer use and is taking up space.
We provide free towing and pick-up services.
When you sell your automobile to one of our purchasers, you'll receive free junk vehicle removal.
There will be no charge to tow your vehicle, as previously indicated. You won't have to pay for a tow service or go to a junkyard. It won't be a problem for us!
We've gotten five-star reviews.
To discover more, go into Kedzie Cash Junk Cars LLC on the internet or keep scrolling.
You may look for us on the web or go straight to Google Maps to check what our satisfied customers have to say.
How do you sell your Mini for cash?
Calling Kedzie Cash Junk Cars LLC is the easiest way to get rid of an automobile.
The following is a step-by-step guide to our protocol:
Please answer a few simple questions about your automobile and its condition so that one of our local junk car buyers can buy it. Call

(773) 985-2515

or fill out our online form.
Get the greatest deal on your car! You can accept it right now or debate it for the following seven days.
We'll come to you and remove your junk car for free, then pay you cash on the spot!
Kedzie Cash Junk Cars LLC is the greatest option if you want to sell your car.
We provide you with the best price for your vehicle and make the bargaining process as simple as possible.
We handle all of the paperwork and pick up your vehicle for free!
What is the current value of your car in Chicago?
The average car costs $322 in the Chicago, Illinois, region, including pickup.
The worth of your car is determined by the manufacturer, model, age, missing components, and extent of the damage.
Depending on the conditions, a junkyard such as ours may offer you anything from $100 to $500 for your Mini.
What documents and items will you need to sell your Mini?
All of the paperwork is taken care of for you; all you need to provide is:
Your car 's title.
It is necessary to have a current driver's license.
Your ID.
Your car 's keys.
You are welcome to arrive without this paperwork or other goods, but if you want to sell your automobile promptly, you must have them.
We realize that not everyone wants to sell their vehicle. As a result, we've come to provide a hand.
We buy automobiles of all makes and models, regardless of their age or condition.
We provide a free quotation and same-day pick-up so you can obtain the money you need straight away.
If you intend to sell your Mini, please contact us straight away.