Kedzie Cash Junk Cars LLC 773-985-2515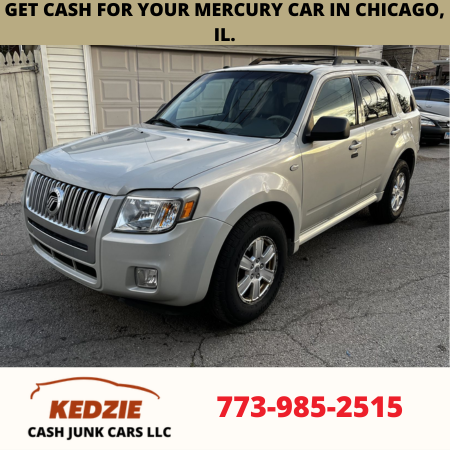 Mercury was a premium car brand held by the Ford Motor Company in the United States until it was shut down in January 2011 due to insolvency.
Mercury was founded in 1938 by Edsel Ford to bridge the price gap between the Ford and Lincoln model lines.
It produced models in the United States, Canada, Mexico, Argentina, and Brazil, among other markets.
If you're privileged enough to have a Mercury, make sure you look after it to maintain it in excellent shape, but if it's old, damaged, or you simply don't want it anymore, selling it is the best alternative!
There are a few businesses in Chicago that will buy an old Mercury, so if you're looking to sell your car, check out Kedzie Cash Junk Cars LLC.
If you have a car in any condition, please call us right away.
We can even come to you and pick up your vehicle, reducing the need for you to worry about transportation.
We're the area's most respected and highest-paying junkyard, so give us a call now to get started.
Why would you want to get rid of your Mercury car in the first place?
When it comes time to sell your Mercury, there are a few things to keep in mind.
You will be compensated in cash.
This is the most important advantage of selling your car. You'll get the best price for your Mercury when you sell it to us, and the best part is that you'll be paid in cash.
You won't have to worry about fraud or double-checking your bank account to verify if the money is available.
Cash is our safest and fastest way to pay!
You'll be able to get rid of your car quickly and effectively.
We promise a quick and straightforward process when you sell your automobile to us.
We'll take care of all the paperwork and tow your vehicle from your house or business.
You will save time and effort by not having to sell your automobile yourself.
It could be difficult for you to sell your automobile on your own. First, you must market it, then wait for possible buyers to contact you, and last, you must negotiate a price.
When you sell your automobile privately, you normally have to pay for both advertising and transportation to take the buyer for a test drive.
However, if you sell your Mercury to us, you will avoid all of these costs. We'll take care of everything!
You will save a significant amount of money.
Our rates are the most competitive, and you'll be able to earn money quickly and effortlessly. To learn more about our car-selling services, contact us right now.
We promise a hassle-free customer experience!
The best junkyard in Chicago is Kedzie Cash Junk Cars LLC!
You want to work with a reputable firm when it comes to selling your automobile.
We take pride in having the greatest junkyard in the industry at Kedzie Cash Junk Cars LLC.
We'll give you the top price for any automobile, in any condition, and we'll pay you right away.
We understand how difficult selling a car can be, so we make the process as simple as possible for our consumers.
We never charge extra costs and always offer free towing.
We also provide same-day service, which means you may get cash for your automobile in a matter of hours.
If you want the best offer for your old car, head to Kedzie Cash Junk Cars LLC. Please contact us at 773-395-2515 right now!
How do we calculate the worth of your vehicle?
When you sell your Mercury to us, we will offer you the highest possible price.
We'll take into account the make and type of your car, as well as its age, condition, and mileage.
The following information will be requested of you:
What is the location of the vehicle?
Model, year, and make are all important.
The condition of the automobile.
Is there any type of physical damage?
Is there an issue with cars that we need to be aware of?
Do you have the title of the vehicle?
You must provide a clear description of your car and a comprehensive response to our questions. Every piece of information is critical when creating a quote.
What paperwork and goods are required to sell your vehicle?
We'll take care of the paperwork; all you have to do is provide:
The title of your vehicle.
A valid driver's license is required.
Your identification document.
The keys to your vehicle.
You can arrive without these documents and other items, but you must have them if you want to sell your car quickly.
If you don't have the title to your car, don't worry. Kedzie Cash Junk Cars LLC would buy it for you in any case.
What is the average time it takes to sell your car?
In Chicago, most cars can be picked up in 1-3 business days.
On the same day, we can assist you. Consequently, we can set up the deal at a time that is convenient for you.
We will pick it up in 15 minutes, examine it and pay you when we arrive.
How can you get cash for your Mercury?
The easiest way to get rid of a car is to call Kedzie Cash Junk Cars LLC.
Our junk car buyers are friendly and helpful, and the procedure is quick and easy.
We will arrange to come to pick up the car once you have approved our hard-to-refuse offer price. This will occur at a time and place convenient to you.
We can pick up or move your car in as little as 24 hours.
The step-by-step procedure is as follows:
1. Call 773-985-2515 or fill out our online form to get an offer.
We'll ask you a few basic questions about your vehicle's condition, mileage, and whether you have the title.
It's a simple procedure that will get you a fair market offer for your vehicle in just two minutes.
2. Accept our offer and we'll set up a pickup time for you.
Kedzie Cash Junk Cars LLC understands your problem. As a result, we always provide our consumers with fair and accurate pricing.
We'll work with your schedule and pick up the automobile where you want it.
Towing and removal are freely available!
3. Cash on the spot.
Finally, you must await the arrival of the service provider in Chicago, Illinois. We'll come to get the automobile and pay the money we discussed over the phone.
Typically, the full process may be finished in less than 24 hours.
If you're seeking to sell your Mercury in Chicago, IL, we provide the greatest rates in the market for old and damaged cars.
You may be sure that when you sell your automobile to us, you'll get the greatest money for it.
We purchase a variety of automobiles in addition to Mercury.
Please contact us (773) 985-2515 as soon as possible!