Kedzie Cash Junk Cars LLC 773-985-2515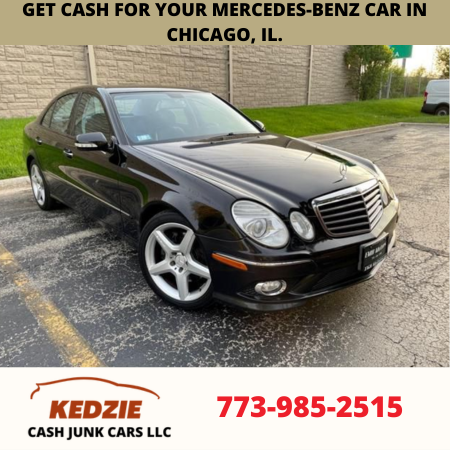 Mercedes-Benz is a German luxury car manufacturer that was founded in 1926. The company is known for its high-end vehicles, which often feature intricate designs and advanced technology.
Some of the most popular Mercedes-Benz models include the S-Class and the G-Class.
Mercedes-Benz is a prestigious car brand that is known for its luxurious vehicles.
In addition, Mercedes-Benz offers a wide range of customization options so that each car can be tailored to the individual buyer's needs.
Selling a car can be a hassle. You have to find a buyer, negotiate a price, and go through the process of transferring ownership.
But there is an easier way!
You can sell your car to Kedzie Cash Junk Cars LLC which buys cars for cash. This service offers a convenient way to sell your car and get the cash you need quickly.
All you have to do is call or go online to get started, and we will take care of the rest.
So if you're looking to sell your car, check out this service today!
We're ready to buy your Mercedes-Benz right now at Kedzie Cash Junk Cars!
If you want to sell your Mercedes-Benz, Kedzie Cash Junk Cars LLC is the place to go. The highest price will be paid for any vehicle, regardless of its condition.
We recognize that selling a car may be a headache, so we make every effort to make the transaction as simple and pleasant as possible.
We provide free towing as well as cash on the spot, making it simple to sell your Mercedes.
We provide the most affordable pricing on a wide choice of vehicles and never charge any hidden fees.
So, if you're trying to sell your car, give us a call right now!
We accept automobiles in any conditions, so you can be confident you're getting the best offer possible.
There are many more essential issues to worry about in life than a junk car.
That's why we'll take care of everything from start to finish. If your car is no longer functional, you don't have to think about transporting it to one of our junkyards.
We will tow it free of charge for you. Please contact us for further information!
How can we find out how much your Mercedes is valuable?
When you sell your car to us, you can expect a fair price for it. We're constantly looking for used automobiles and are willing to pay top price for them.
The following details will be needed:
The year, make, and model of the car.
Certain pieces that are missing.
The vehicle's current condition of repair.
There has been some damage to the bodywork.
Is there anything wrong with the vehicle that we should be aware of?
Do you have the vehicle's title?
You must describe your car in full and respond to all of our questions. Every piece of information counts when putting together an estimate.
What do you need to sell your Mercedes-Benz?
We will take care of all of the paperwork; all you need to do is provide us with the following information:
The title of your automobile.
It is necessary to have a current driver's license.
Your personal identification number.
Your vehicle's keys
You are allowed to attend without these documents and items, but they are required if you wish to sell your car quickly.
If you don't have your car's title, don't be afraid. In any case, you can sell it to Kedzie Cash Junk Cars LLC.
How can you get cash for your Mercedes-Benz?
Calling us is the quickest way of getting rid of an automobile.
The following is a summary of our purchasing process:
Call us at

(773) 985-2515

or fill out our online form. Please respond to a few simple questions about your vehicle and its condition so that one of our local junk car buyers can buy it.
Get the greatest price for your car! You have the option of accepting it immediately or debating it for seven days.
We'll come to you and remove your junk car for free, plus pay you cash on the spot!
So don't be shy about letting us know! If you want to sell your automobile, Kedzie Cash Junk Cars LLC is the best alternative.
We provide you with the best possible price for your vehicle and make the buying process as easy as possible for you. We take care of all the paperwork and pick up your car for you for free.
Working with Kedzie Cash Junk Cars LLC has several benefits!
Our junkyard is a wonderful alternative for anyone looking to sell a car in Chicago. We offer high prices, straightforward process, and reliable assistance.
Here are some compelling reasons to sell your vehicle to us:
You will get more money if you sell your automobile.
When you sell your automobile to a junkyard like ours, you can be assured that you'll earn the maximum money.
We pay top price for automobiles in any condition, so you can be assured that you're getting a good deal.
We don't perform many inspections since we are not totally worried about the vehicle's condition.
We don't mind if your automobile has been significantly damaged as a result of an accident or other unpredictable events! We'll be able to get it for a fair price.
The removal of your car is entirely free.
You won't have to worry about any of the charges involved with having your automobile removed when you sell it to a junkyard like ours.
We provide free automobile removal services, so you won't have to worry about anything.
We recognize that selling an automobile may be difficult, but it doesn't have to be. You can trust us to take care of everything when you sell your automobile to us.
All of our services are ecologically friendly.
You may be confident that when you sell your automobile to a firm like ours, you are saving the planet.
Old cars that have been parked in the same spot for a long period might be hazardous to one's health and safety.
Hazardous substances may seep into the earth and end up in the water supply. This is not only a hazard to humans but also to the environment world in general.
Junk cars are frequently used for their metal, which helps to prevent mining pollution while also producing components.
We are proud of the reputation of our junkyard, and we go to great efforts to ensure that our clients receive a fair price for their automobiles.
We understand that not everyone wants to sell their car. As a result, we've here to help you.
We buy all brands and models of cars, regardless of age or condition.
We provide a no-obligation quote and same-day pick-up so you can get the cash you need right now.
Please contact us as soon as possible if you desire to sell your Mercedes-Benz. Our phone number is (773) 985-2515