Kedzie Cash Junk Cars LLC 773-985-2515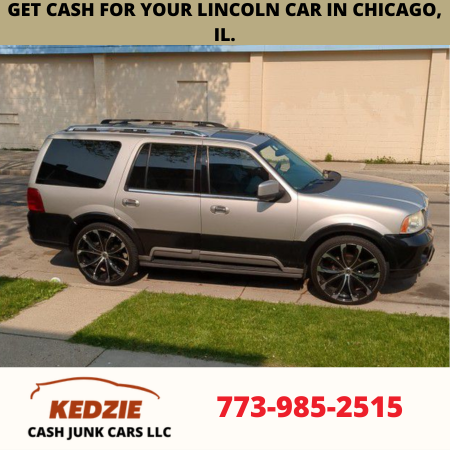 Lincoln is a brand of luxury cars that are made in the United States. The company was founded in 1917 and has been producing high-quality cars ever since.
Some of the most popular models include the Lincoln Continental and the Lincoln MKZ.
The Lincoln car company has a long history of producing some of the best cars on the market. Their vehicles are known for their style, comfort, and performance.
In addition, Lincoln offers a wide range of customization options so that each car can be tailored to the individual buyer's needs.
However, cars don't last forever. When an automobile wears out and stops running, the best option is to sell it.
Selling a car can be a hassle. It's time-consuming, and you have to go through the trouble of finding a buyer and negotiating a price.
But what if there was an easier way? What if you could sell your car in just minutes, without having to go through all the hassle?
That's where Kedzie Cash Junk Cars LLC come in. We're the best place to sell your car in Chicago, IL. We offer top dollar for your car, and we make the transaction as quick and easy as possible.
You could have cash in hand in as little as an hour after we appraise your car.
So if you're looking to sell your car, come to us first!
What are the benefits of selling your Lincoln for cash?
For a variety of reasons, you may want to sell your Lincoln:
Your home will have an additional spare room.
An automobile that isn't in use is simply wasting space. Removing items from your garage frees up space in your garage for the items you want to keep.
Make use of the extra space to store sports equipment, set up a pool table, or even add a new, fully functional car to your collection.
You'll make a lot of money in a short period of time.
When you acquire cash for cars in Chicago, you're usually paid the same day – and when you sell your car to Kedzie Immediately Junk Cars LLC, you'll get a great deal and cash!
Checks, banks, and wire transactions will all become obsolete.
It is beneficial to the environment.
Automobiles that have been parked in the same place for an extended period of time pose a health and safety risk.
Toxic compounds may seep into the ground and end up in the drinking water supply as a result. This is a hazard to both mankind and the ecology as a whole.
Getting the automobile out of the path.
Junk vehicle removal businesses make it much easier to get rid of an automobile.
Employees from the junkyard normally come to your residence to haul the automobile away (or any other area).
You will not be charged for towing your junk car to our location.
We are junkyard experts with the skills and experience to handle and remove junk automobiles from your property using cutting-edge methods and equipment.
There are several compelling reasons to part with your Lincoln. Maybe you're in the market for a new car but can't afford two, or maybe you're just ready to get rid of your old one.
What is your Lincoln's resale value?
The average car in the Chicago, Illinois region is presently worth $322, including pickup.
The worth of your automobile is determined by the brand, model, age, missing components, and degree of damage.
Depending on the conditions, a junkyard like ours might offer you between $100 and $500 for your Lincoln.
How do you sell a Lincoln?
Here's the process of selling your Lincoln to us:
Call

(773) 985-2515

or use our online form to get in touch with us. Answer a few basic questions about your automobile and its condition so one of our local junk car buyers will make you a fantastic offer.
By selling your car for cash, you can get the greatest money. You have seven days to accept it or challenge it.
We'll come to you, free tow your automobile, and give you cash on the spot.
So don't postpone your decision any longer. If you're looking to sell your vehicle, we're the best choice.
What paperwork and items are necessary to sell your Lincoln?
We'll take care of the paperwork; all you have to provide:
The title to your automobile.
A valid driver's license is required.
Your unique identifier.
The keys to your automobile.
You are welcome to go without these items, but if you want to sell your automobile quickly, you must bring them.
Don't panic if you don't have your vehicle's title. Regardless, Kedzie Cash Junk Cars LLC will buy it from you.
Now all you have to do is provide the required papers to prove your ownership.
Selling your Lincoln to Kedzie Cash Junk Cars LLC is your best alternative.
Here are some of the reasons why Kedzie Cash Junk Cars are the best choice for you:
1. We provide a competitive price for your automobile.
2. We buy cars in any condition, so you don't have to fix them before selling them to us.
3. We can help you with the paperwork and make the procedure as easy and comfortable as feasible for you.
4. We've been doing this for a great many years and have a solid reputation in the industry.
If you're searching to sell your Lincoln vehicle in Chicago, IL, we provide the best prices on the market for old and damaged cars.
So don't waste a second. If you want to sell your automobile, we are the best alternative.
Contact us (773) 985-2515 right away!