Kedzie Cash Junk Cars LLC 773-985-2515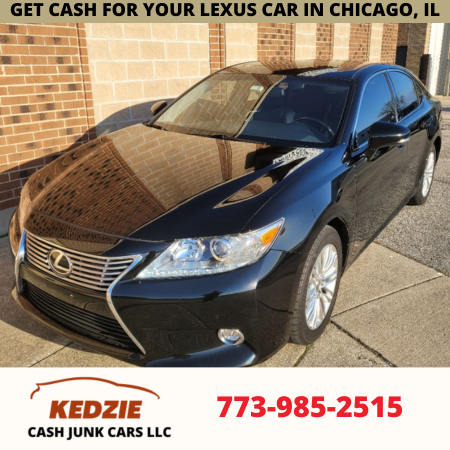 Lexus cars are some of the most luxurious, high-quality vehicles on the market.
They are known for their excellent performance and sleek design, and they come with a wide variety of features that make them perfect for any situation.
In recent years, the company has faced some stiff competition from rivals such as Mercedes and BMW, but it still remains a top choice for those looking for a premium experience.
Selling your Lexus is an excellent method to improve your income. This cash can be used to pay off debt, go on vacation, or buy something else.
It's no secret that the economy is in rough shape. More and more people are finding themselves out of work, struggling to make ends meet.
If you're one of those people, you may be wondering how you're going to afford to keep your car.
But don't worry, there is a solution: sell your car! And not just any car, but your Lexus.
If you're in the Chicago, IL area, we at Kedzie Cash Junk Cars LLC are more than happy to buy it from you.
We offer top dollar for your car and a quick and easy process that is convenient for you. We also buy other types of vehicles, so be sure to check us out if you are looking to sell!
For more information about our services, please contact us!
Kedzie Cash Junk Cars LLC is Chicago's best junkyard!
When it comes to selling your car, you want to work with a trustworthy company.
At Kedzie Cash Junk Cars LLC, we take pride in having the best junkyard in the industry.
We offer top dollar for any car, in any condition, and we pay cash on the spot.
We recognize how challenging it is to sell a car, so we make the process as simple as possible for our customers.
We never charge any fees and always provide complimentary towing.
We also provide same-day service, allowing you to get cash for your car in as little as a few hours.
Kedzie Cash Junk Cars LLC is the place to go if you want the greatest deal on your old automobile. Call us right now at (773) 985-2515
How do we determine the worth of your vehicle?
We will pay you the top price for your Lexus when you sell it to us.
We'll consider the brand and model of your vehicle, as well as its age and condition, and mileage.
You will be required to provide the following information:
Where is the vehicle located?
Model, year, and make.
Is there anything you're missing?
The vehicle's condition.
Is there any kind of bodily damage?
Is there a problem with the automobile that we should be aware of?
Do you have the vehicle's title?
You must provide a detailed description of your vehicle and respond to our concerns as thoroughly as possible. When it comes to producing a quotation, every piece of information is crucial.
How long does it take to sell?
Most cars may be picked up in 1-3 business days in Chicago.
We can help you on the same day! As a result, we may be able to set up the agreement at a time that is convenient for you.
We'll pick it up in 15 minutes, inspect it, and pay you when we get there.
How can you sell your Lexus for cash?
Kedzie Cash Junk Cars LLC is the most convenient way to get rid of a car.
The process is simple and easy, and our junk vehicle buyers are helpful.
Once you've confirmed our hard-to-refuse offer price, we'll make preparations to come to pick up the vehicle. This would happen at a time and place that is convenient for you.
In as little as 24 hours, we can pick up or transport away your vehicle.
The following is a step-by-step guide:
1. Request an offer by calling 773-985-2515 or filling out our online form.
We'll ask you a few basic questions about the condition of your vehicle, its mileage, and whether or not you have the title.
It's a straightforward process that will earn you a fair market offer for your car in just two minutes.
2. Accept our offer and we'll schedule a pickup.
We always offer a fair and accurate pricing to our customers.
We'll work around your schedule and where you'd like the car picked up.
There's no charge for towing or removal!
3. On-the-spot payment.
Finally, you must wait for the service provider to arrive in Chicago, Illinois. We'll come to retrieve the car and pay the money we talked about on the phone.
The entire process may usually be completed within 24 hours.
What documentation and necessary items do you need to sell your car?
We will handle all of the paperwork; all you need to provide is:
The title of your vehicle.
A valid driver's license is required.
Your identification document.
The keys to your vehicle.
You can arrive without this paperwork and other stuff, but if you want to sell your automobile fast, you must have them.
Don't panic if you don't have the title to your automobile. In any circumstance, Kedzie Cash Junk Cars LLC will buy it for you.
All you have to do now is produce the proper documentation to confirm your ownership.
The benefits of selling your car to Kedzie Cash Junk Cars LLC.
Anyone wishing to sell an automobile might choose Kedzie Cash Junk Cars LLC. They provide reasonable costs, quick and simple transactions, and dependable service.
Some of the reasons why you should sell your automobile to Kedzie Cash Junk Cars LLC are as follows:
You will receive a quotation that is free of charge.
If you complete our online form, our algorithm will determine the worth of your automobile using real-time market data.
When you phone us, we can not only make you an offer in less than a minute, but we can also answer any questions you may have.
Our workers are helpful and polite to our clients.
Obtain better possible pricing.
We'll connect you with a junk auto buyer who can offer you the greatest price.
We have the greatest prices out of all the Chicago junkyards! We guarantee that we will provide you with the greatest deal and that there will be no haggling at the time of pick-up.
Junk automobile removal is a simple and stress-free process.
You have total control over how much or little communication you have with us.
Our process is straightforward, simple, and fast. It just takes a few minutes to get your offer and much less time to schedule your pick-up.
Once we arrive at your location, seeing the vehicle, filling out any paperwork, and handing over the keys takes only 15 minutes.
It is completely free for you.
Our service is completely free to use and requires no payment.
Service quality, pick-up, and towing are all part of the deal! You will profit from this deal since you will receive cash for a vehicle that you no longer use and is taking up space.
When you sell your automobile to one of our purchasers, you will receive free junk vehicle disposal.
There will be no charge for towing your vehicle, as previously indicated. You won't have to pay for a tow or go to the junkyard. We'll take care of everything!
We've got a lot of five-star reviews.
To discover more, go up Kedzie Cash Junk Cars LLC on the internet or scroll down.
You may look us up online or go directly to Google Maps to discover what our satisfied customers have to say about us!
Whether you're trying to sell an old or damaged Infiniti automobile in Chicago, IL, we provide the greatest rates.
You may rest assured that when you sell your automobile to us, you will receive the highest possible price. We purchase a variety of automobiles in addition to Lexus.
Please keep us updated as soon as possible.