Kedzie Cash Junk Cars LLC 773-985-2515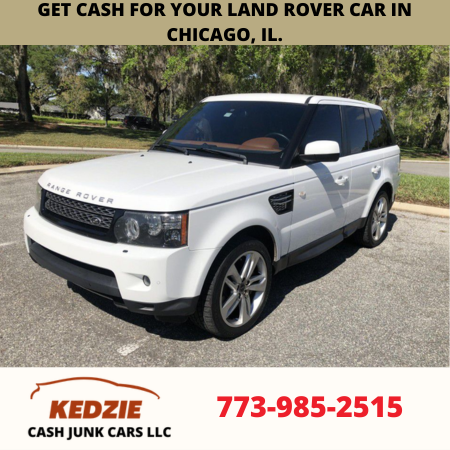 Land Rover cars are a popular choice for those who want an off-road experience. They're known for being durable and reliable vehicles, perfect for those who love the outdoors.
One thing to consider is the cost of owning a Land Rover. These cars can be expensive to maintain, so you'll need to factor that into your budget.
When you have an old Land Rover automobile that you no longer need, it might be difficult to know what to do with it.
However, selling your car to Kedzie Cash Junk Cars LLC is the best option to get rid of an unwanted car and get money for it!
It's no secret that cash is king. And when it comes to selling your car, cash is the way to go. That's why we offer cash for cars in Chicago, IL. We will take care of the paperwork and pick-up, and pay you on the spot for your car!
So if you're looking to sell your Land Rover, contact us right away!
This is a great way to get some extra money for your car, and you can use the money to put towards a new car or anything else that you may need.
You will need to provide certain documents and information to get a quote and schedule a pick-up.
We will take care of the rest and pay you cash for your car!
When is the best time to sell your Land Rover?
When it comes to selling your vehicle, there are a few things to consider.
The condition of your car:
If you want to sell your car, one of the most important things to consider is its condition. You will be able to get a better price for your car if it is in good condition.
After all, if your car is not in good condition, it can be a safety problem and costly to fix.
That's why it's essential to have your car evaluated by a technician on a regular basis.
If you don't use it that much and it's just parked in your garage.
It may be advisable to get rid of your automobile if you only use it on weekends or a few times a year. A car that isn't driven frequently might wind up costing you a lot of money over time.
You'll have to keep it serviced and maintained, as well as pay insurance and registration fees.
If you're not using your automobile, sell it and replace it with something more suited to your requirements.
There are a lot of wonderful alternatives out there, so don't feel pressured to settle with the same automobile for the rest of your life.
If something isn't being used, there's no reason to keep it.
If you're short on money.
Selling your automobile may be the greatest alternative if you are short on cash. A car may be sold for a lot of money, and the process is typically quick and easy.
All you have to do is get in touch with us!
Make a preliminary estimate of how much money you'll need, and we'll offer you a price based on the car's description!
If your automobile has reached the end of its useful life, it may be time to sell it and get a new one. Cars lose value as they age, so if you sell it today, you won't earn as much as you would if you sold it a few years ago.
It could be time to sell it and buy a new one if it's getting on in years. This is particularly true if you do not utilize it frequently.
If you're thinking about it, examine the following points to evaluate if it's the right choice for you. If you have any questions or issues, please call (773) 985-2515
What is the value of your Land Rover?
The typical car in the Chicago, Illinois area is presently valued at $322, including towing.
The brand, model, age, damaged pieces, and extent of damage determine the worth of your automobile.
Depending on the circumstances, a junkyard like ours may offer you anything from $100 to $500 for your Land Rover.
How can you sell your Land Rover for cash in Chicago?
Calling Kedzie Cash Junk Cars LLC is the simplest approach to getting rid of a car.
The following is our process:
Call

(773) 985-2515

or use our online form to get in touch with us. One of our local junk car buyers will come to your location once you answer a few short questions about your automobile and its condition.
After you've gotten an offer, make sure you get the greatest deal on your vehicle. You have the option of accepting it right now or debating it until next week.
We'll come to you, tow away your junk car for free, and give you cash right then and there.
We will provide you with the greatest possible price for your vehicle and expedite the selling process. We'll handle the paperwork and tow your automobile free of charge.
What prerequisites do you need to provide when selling your Land Rover?
We will finish all of the paperwork; all you need to do is give the following items:
The title of the car.
Your driver's license.
Your identification number.
The keys of your car.
You are welcome to attend without this paperwork, but if you want to sell your car right immediately, you must have them.
If you don't have the title to your car, don't worry. Regardless, Kedzie Cash Junk Cars LLC will purchase it!
All you need to do now is supply the necessary papers to confirm your ownership.
Selling your car to Kedzie Cash Junk Cars LLC is the best decision!
For anybody wishing to sell an automobile, Kedzie Cash Junk Cars LLC is a good option. We provide competitive pricing, simple process, and professional service.
Here are a few good reasons to sell your car to us:
By selling your car, you will receive extra money.
You can be sure that when you sell your car to a company like ours, you'll get the most money.
We provide top dollar for cars in any condition, so you know you're getting a fair price.
We don't do many inspections since we don't mind the condition of the vehicle.
We don't mind if your car has been severely damaged due to an accident or other external factors! We'll be able to buy it at a reasonable price.
Car removal is free of cost.
When you sell your car to a company like ours, you won't have to worry about any of the costs associated with having it removed.
You won't have to worry about anything since we offer free car removal services.
We understand that selling a car may be a hassle, but it doesn't have to be that way. You may rest certain that when you sell your car to us, we will handle everything.
Our work and services are all environmentally friendly.
When you sell your car to a company like ours, you can be assured that you are helping the environment.
Old automobiles that have been parked in the same location for a long time pose a health and safety risk.
Hazardous substances may infiltrate into the ground and end up in the drinking water. This is a threat not only to humans but to the entire environment.
Junk automobiles are also commonly used for their metal, which helps to reduce mining pollution while also manufacturing additional parts.
We are proud of our junkyard's reputation, and we go to great lengths to ensure that our customers receive a fair price for their vehicles.
We recognize that not everyone wants to sell their vehicle. Because of this, we've arrived to assist you.
We buy automobiles of all makes and models, regardless of age or condition.
We provide a free quotation and same-day pick-up so you can obtain the money you need right away.
If you're looking to sell your Land Rover, please contact us straight away!