Kedzie Cash Junk Cars LLC 773-985-2515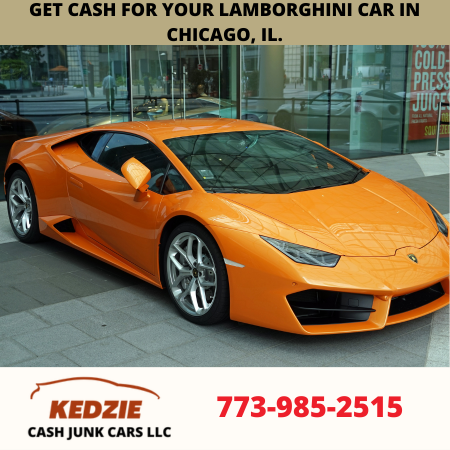 There's doubt that many people today are struggling financially. If you're one of them, you're probably looking for options to supplement your income.
Selling your automobile is an option that many people overlook. You can get a reasonable amount of money for your automobile depending on its condition and the used car market in the city.
If your automobile is in good shape and a used Lamborghini is in high demand in your neighborhood, you might be able to sell it for several thousand dollars.
When it comes to luxury cars, Lamborghini is one of the most famous brands in the world. Lamborghinis are known for their sleek design and high performance, and they often command a high price tag.
If you're thinking about selling your Lamborghini, you can expect to get a good price for it.
The market for luxury cars is always strong, and there are plenty of buyers who are willing to pay top dollar for a nice Lamborghini.
If you're looking to sell your Lamborghini car, you'll want to contact us at our Chicago, IL location.
Kedzie Cash Junk Cars LLC offers top dollar for these cars, and we'll handle all the paperwork so the process is easy.
If you're looking for a convenient way to get cash for your car, we can help.
We will buy your car regardless of its condition so you can get the cash you need quickly.
Contact us now to find out more about what we can offer you to sell your car.
Why would you want to get rid of your Lamborghini?
There are a few factors to take into account when it comes time to sell your Lamborghini.
You'll be getting cash by selling your car.
This is the most significant benefit of selling your vehicle. When you sell your Lamborghini to us, you'll get the greatest possible price, and the best thing is that it'll be paid in cash.
You won't have to be concerned about fraud or checking your bank account to see whether you already have the funds.
You'll be able to easily get rid of your automobile.
When you sell your car to us, we guarantee a quick and easy transaction.
We'll take care of all the paperwork and come to your home or company to pick up your vehicle.
Not having to sell your car yourself will save you time and effort.
It may be tough to sell your car on your own. You must first advertise it, then wait for potential buyers to contact you, and last, negotiate a price.
When you sell your automobile privately, you must usually pay for advertising as well as transportation to take the buyer for a test drive.
However, once you sell your Lamborghini to us, you will not have to pay any of these fees. We take care of everything.
You will save a lot of money!
Our prices are the most affordable, and you can earn some extra money quickly and easily. Contact us right now to learn more about our car sales services.
We guarantee you a hassle-free purchase.
How much is your Lamborghini worth?
In the Chicago, Illinois area, the average automobile is currently valued at $322, including pickup.
Your car's value is decided by its make, model, age, missing parts, and degree of damage.
A junkyard like ours can give you between $100 and $500 for your Lamborghini, depending on the circumstances.
How can you sell your Lamborghini for cash?
The simplest method of getting rid of a car is to call Kedzie Cash Junk Cars LLC.
The following is a step-by-step description of our buying process:
Fill out our online form or call us at

(773) 985-2515

. Please answer a few basic questions about your vehicle and its condition so that one of our local junk car buyers can purchase it.
Get the best offer for your vehicle! You have the choice to accept it right away or to debate it for seven days.
We'll come to you and remove your junk car for free, as well as give you cash there and then!
So, don't hesitate to let us know! Kedzie Cash Junk Cars LLC is the greatest option if you want to sell your car.
We provide you with the best price for your vehicle and make the negotiation process as simple as possible. We handle all of the paperwork and pick up your vehicle for free.
Advantages of working with Kedzie Cash Junk Cars LLC!
For anybody wishing to sell an automobile, Kedzie Cash Junk Cars LLC is a good option. We provide competitive pricing, simple process, and consistent support.
Here are a few good reasons to sell your car to us:
By selling your car, you will receive extra money.
You can be sure that when you sell your car to a junkyard like ours, you'll get the most money.
We provide top dollar for cars in any condition, so you know you're getting a decent deal.
We don't do many examinations since we don't bother about the condition of the vehicle.
We don't mind if your car has been severely damaged due to an accident or other extraordinary circumstances! We'll be able to buy it at a reasonable price.
Car removal is completely free.
When you sell your car to a company like ours, you won't have to worry about any of the costs associated with having it removed.
You won't have to worry about anything since we offer free car removal services.
We understand that selling a car may be a problem, but it doesn't have to be that way. You may rest certain that when you sell your car to us, we will handle everything.
Our services are all environmentally conscious.
When you sell your car to a company like ours, you can be assured that you are helping the environment.
Old automobiles that have been parked in the same location for a long time pose a health and safety risk.
Dangerous chemicals may seep into the ground and end up in the drinking water. This is a threat not only to humans but to the entire environment.
Junk automobiles are also commonly used for their metal, which helps to reduce mining contamination while also manufacturing components.
We are proud of our junkyard's reputation, and we go to lengths to make sure that our customers receive a fair price for their vehicles.
We recognize that not everyone wants to sell their vehicle. Because of this, we've arrived to assist you.
We acquire automobiles of all makes and models, regardless of age or condition.
We provide a free quotation and same-day pick-up so you can obtain the money you need right away.
If you wish to sell your Lamborghini, please contact us pretty quickly. (773) 985-2515 is our phone number.