Kedzie Cash Junk Cars LLC 773-985-2515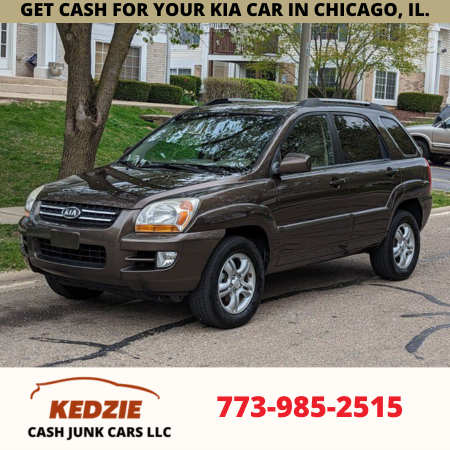 Kia is a well-known automaker that offers a wide range of vehicles to suit every need. From sedans and SUVs to hybrids and electric cars, Kia has something for everyone.
Kia cars are a popular choice for drivers all over the world. They offer a wide variety of vehicles to choose from, and each one is packed with features that make driving more enjoyable.
What's more, Kia is constantly innovating, bringing new features and technologies to its vehicles. The Soul EV, for example.
Selling your Kia is a great way to get some extra cash. This money can be used to pay off bills, take a vacation, or save for a rainy day.
It's no news that the economy is in poor condition right now. If you're looking for a way to supplement your income, selling your car is a good option.
If you want to get the most money for your car, though, you should sell it to a junkyard.
Junkyards will pay you the most money for your automobile and will not charge you any costs.
If you want to sell your Kia car in Chicago, Kedzie Cash Junk Cars LLC is the location to go!
We are one of Chicago's finest and most well-known junkyards! We are a company with a lot of experience and happy consumers.
There's no need to go any farther if you want to sell your Kia automobile in Chicago, Illinois.
We pay the most for used and damaged vehicles in the neighborhood, so you can be certain that you're receiving the highest deal possible.
Contact us to learn more about our services!
When should you sell your Kia car?
When it comes time to sell your car, there are a few things you should keep in mind.
The condition of your automobile is one of the most important things to examine if you want to sell it. If your car is in good condition, you'll be able to get a higher price for it.
After all, if your car isn't in good condition, it can be a safety hazard and cost you a lot of money in repairs. That's why it's important to have your car inspected regularly by a mechanic.
If you don't drive it regularly.
If you only use your car on weekends or a few times a year, it may be best to get rid of it. A car that's not used often can end up costing you a lot of money in the long run.
You'll need to keep it serviced and maintained, and you'll also have to pay for insurance and registration.
If you're not using your car, sell it and buy something more suited to your needs. There are a lot of great options available, so don't feel like you have to stick with the same car forever.
There's no need to keep something if it's not being used.
If you're strapped for cash.
If you are short on cash, selling your car may be the best option. You can get a lot of cash for a car, and the process is usually quick and easy. All you need to do is contact us!
Make a rough estimate of how much money you will need and we will give you the fee according to the characteristics of the car!
If your car is getting on in years, it might be time to sell it and get a new one. Cars lose value as they get older, so you won't get as much for your car if you sell it now as you would if you sold it a few years ago.
If it's getting on in years, it could be time to sell it and acquire a new one. This is especially true if you don't use it very often.
If you're considering it, check these factors to see if it's the best option for you. Please call (773) 985-2515 with any questions or concerns.
How to get cash for your Kia in Chicago?
The most simple way to get rid of an automobile is to call Kedzie Cash Junk Cars LLC.
Our process is as follows:
To contact us, call

(773) 985-2515

or fill out our online form. After you answer a few simple questions regarding your car and its condition, one of our local junk car buyers will come to your place.
Once you've received an offer, make sure you get the best price possible on your automobile. You can accept it straight now or think about it until next week.
We'll come to you, remove your junk car away for free, and pay you cash right there on the spot.
So don't miss a thing. If you're looking to sell your car, we're the greatest option.
We will offer you the best possible price for your vehicle and make the selling process as efficient as possible. We'll take care of the paperwork and tow your car for free.
How do you get a valuation for your automobile from Kedzie Cash Junk Cars LLC?
Kedzie Cash Junk Cars LLC is a junkyard chain with locations around the United States and in Chicago.
Wherever you are in Kenwood, West Woodlawn, or Bronzeville, our junk vehicle buyers can come to you with the best offers.
Simply visit our website and complete the form, or call us directly for pricing, and we'll be happy to answer any questions you may have!
We can provide you with a quotation in less than 60 seconds, with no haggling or stress involved!
We've made it as simple as possible for you to sell your vehicle!
How much is your Kia worth?
In the Chicago, Illinois area, the average automobile is currently valued at $322, including pickup.
Your car's value is decided by its make, model, age, missing parts, and amount of damage.
A junkyard like ours may give you between $100 and $500 for your Kia, depending on the conditions.
What requirements must you bring in order to sell your Kia?
All of the paperwork will be completed by us; all you should do is provide the following items:
The title of the car.
Your driver's license.
Your identification number.
The keys of your car.
You are free to arrive without these documents, but you must have them with you if you want to sell your automobile straight away.
Don't panic if you don't have the title to your automobile. Kedzie Cash Junk Cars LLC will buy it anyways!
All you have to do now is provide the relevant documentation to prove that you are the owner.
Selling your Kia to Kedzie Cash Junk Cars LLC is your best alternative.
Here are some of the reasons why Kedzie Cash Junk Cars are the best choice for you:
1. We provide a competitive price for your automobile.
2. We buy cars in any condition, so you don't have to fix them before selling them to us.
3. We can help you with the paperwork and make the procedure as easy and comfortable as viable for you.
4. We've been doing this for a long time and have a solid reputation in the industry.
If you're looking to sell your Kia vehicle in Chicago, IL, we provide the best prices on the market for used and damaged cars.
You will be convinced that when you sell your car to us, you'll get the most money possible. Apart from Kias, we buy a wide range of vehicles.
Please contact us as soon as possible!