Kedzie Cash Junk Cars LLC 773-985-2515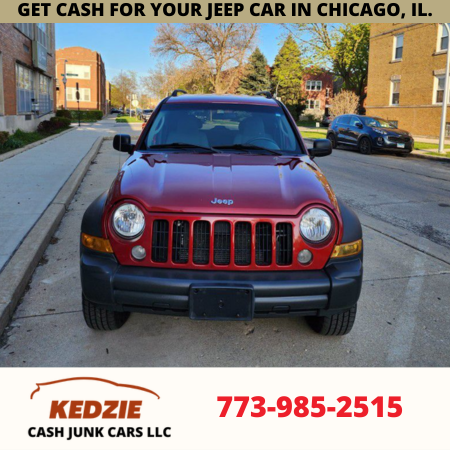 Jeeps have been around since 1941, when the first prototype was created by American war hero Willys-Overland.
The Jeep became an instant hit with civilians and the military, and it quickly gained a reputation for being tough and reliable.
Today, Jeep offers a wide range of vehicles to suit every need. From the classic Wrangler to the more luxurious Grand Cherokee, there's a Jeep for everyone.
And thanks to its off-road capabilities, Jeeps are perfect for weekend getaways and outdoor adventures.
However, cars tend to wear out over the years or if a car accident occurs, there can be extensive damage requiring costly repairs.
Therefore, it is important to take action and get rid of that car for cash as soon as possible.
There are many different ways to do this, and you want to make sure you get the best price for your car.
This is a great way to get rid of an unwanted car and make some extra cash at the same time.
All you have to do is call or visit the junkyard's website, and they will take care of the rest.
So if you are looking to get cash for your Jeep car in Chicago, IL, be sure to call or visit the Kedzie Cash Junk Cars LLC website.
We will take care of the paperwork, the towing, and we will also give you a fair price for your car. Don't wait any longer and contact us!
What do you need to know about Kedzie Junk Cars?
One of Chicago's best and most well-known junkyards is Kedzie Cash Junk Cars LLC. We are a well-established company with a lengthy number of positive reviews.
We offer the most for used and wrecked cars in the area, so you can be assured that you're getting the best bargain.
We also buy other vehicles, so please clarify if you have a truck, SUV, or even a motorcycle that you'd like to sell.
When it comes to selling your Jeep, you want to be sure you're working with a trustworthy junkyard.
We always pay cash on the spot and provide the best possible price for any car, in whatever condition.
There are never any hidden fees, and towing is always complimentary. We also provide same-day service, so you may get paid immediately away for your car.
Kedzie Cash Junk Cars LLC is the point to go if you want the most money for your old Jeep.
Please call (773) 985-2515 as soon as possible.
What is the process for getting cash for your Jeep in Chicago?
Kedzie Cash Junk Cars LLC is the simplest way to get rid of a car.
The following is a step-by-step procedure:
Call

(773) 985-2515

 or fill out our online form. Answer a few basic questions about your car and its condition so that one of our junk car buyers in your area can buy it.
Get the greatest cash price for your automobile. You can accept it immediately now or debate it for the following 7 days.
We'll come to you, tow your car for free, and pay you cash on the spot.
As a result, don't spend any more time. We're the people to call if you're looking to sell your vehicle.
How much is your Jeep worth?
In the Chicago, Illinois area, the average automobile is currently valued at $322, including pickup.
Your car's value is decided by its make, model, age, missing parts, and degree of damage.
A junkyard like ours can give you between $100 and $500 for your Jeep, depending on the circumstances.
What documentation and items are required to sell your Jeep?
We will manage the documentation; all you need to do is provide:
Your vehicle's title.
A valid driver's license.
Your identification number.
Your vehicle's keys.
You are invited to attend without these items, but you must bring them if you wish to sell your car quickly.
If you don't have your vehicle's title, don't worry. Kedzie Cash Junk Cars LLC will buy it from you anyway.
All you have to do now is supply the necessary documentation to confirm your ownership.
How long does it usually take to sell it?
Most cars may be picked up in 1-3 business days in Chicago.
We can help you on the same day! As a result, we may be able to arrange the agreement at a time that is beneficial for everyone.
We'll pick it up in 15 minutes, inspect it, and pay you when we get there.
Several benefits come with Kedzie Cash Junk Cars LLC!
Kedzie Cash Junk Cars LLC is a good option for anyone looking to sell an automobile. We provide competitive prices, straightforward procedures, and dependable service.
Here are some of the advantages of selling your automobile to us:
Get some additional cash by selling it.
When you sell your automobile to a business like ours, you can be confident that you will get the greatest money for it.
We pay top price for automobiles in any condition, so you can be assured that you are receiving a good bargain.
We don't perform many tests since we aren't concerned about the vehicle's condition.
The removal of your car is available for free.
You won't have to think about any of the charges involved with having your automobile removed when you sell it to a business like ours.
We provide free automobile removal services, so you won't have to worry about anything.
We recognize that selling a car may be a pain, but it doesn't have to be. You can trust us to take care of everything when you sell your automobile to us.
All of our services are ecologically friendly.
You'll be confident that when you sell your automobile to a company like ours, you are going green.
Old cars that have been parked in the same spot for a long period might be hazardous to one's health and safety.
Hazardous materials can leach through the soil and contaminate the water supply. This is not only a danger to humans but also to the environment as a whole.
Junk cars are often recycled for their metal, which helps minimize mining pollution while allowing for the production of new components.
We are proud of our junkyard's reviews, and we go to great lengths to ensure that our customers receive an excellent price for their cars.
We understand that not everyone wants to sell their car. As a result, we've here to help you.
We buy all brands and models of cars, regardless of age or condition.
We provide a no-obligation quote and same-day pick-up so you can get the cash you need right now.
Please contact us right immediately if you want to sell your Jeep for the most cash!