Kedzie Cash Junk Cars LLC 773-985-2515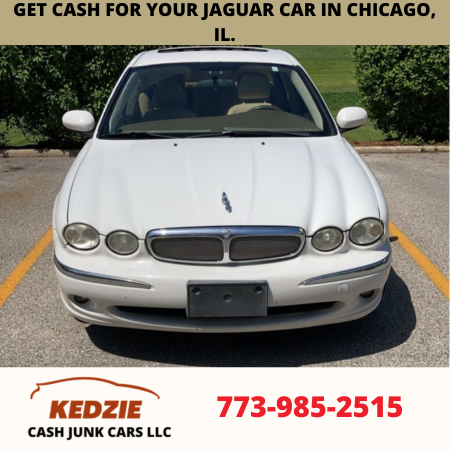 Jaguar has a long history dating back to 1922 when William Lyons and his friend S.H. Swaine founded the company.
They named it after a big cat known for its power and agility, and Jaguar has delivered on that promise ever since.
Today, Jaguar offers a wide range of vehicles to suit every need and budget. From the iconic XJ sedan to the sporty F-Type coupe, there's a Jaguar for everyone.
In addition, Jaguar is constantly innovating, bringing new features and technologies to its vehicles.
If you're lucky enough to own one, you'll want to make sure you take care of it to keep it in good condition, but if it's old, damaged, or you just don't want it anymore, the best option is to sell it!
There are a few places in Chicago that will take your old Jaguar, so you should check out Kedzie Cash Junk Cars LLC if you're wanting to sell your automobile.
Don't hesitate to contact us immediately if you have an automobile in any condition.
We can even come to you and pick up your automobile, so you don't have to worry about transportation.
Call us immediately to get started since we're the area's most trustworthy and highest-paying junkyard.
When is the ideal time to sell your car?
There are several factors to consider before deciding whether or not to sell your car.
The condition of your car is one of the most important things to evaluate. If it's in good condition, you might be able to get a higher price for it.
Think about how often you drive. If you only use it on weekends or a few times a year, it's best to get rid of it.
Make a rough estimate of how much money you'll need. If you're strapped for cash, selling your car can be the best option.
You should consider the age of your vehicle. If it's getting on in years, it could be time to sell it and acquire a new one.
If your car appears to be in poor condition, it's usually time to sell it and acquire a new one.
You should consider the type of car you want to purchase. If you're looking for a new car, selling your old one can be the most cost-effective alternative.
You may use the money you save by selling your car to buy something else.
So, if you're considering it, explore these factors to see if it's the best option for you. Get in touch if you have any questions.
Why would you want to get rid of your Jaguar?
There are a few things to keep in mind when it comes time to sell your Jaguar.
You'll be getting money in cash.
This is the most significant benefit of selling your vehicle. When you sell your Jaguar to us, you'll get the greatest possible price, and the best thing is that it'll be paid in cash.
You won't have to be concerned about fraud or checking your bank account to see whether you already have the funds.
You'll be able to quickly get rid of your automobile.
When you sell your car to us, we guarantee a quick and easy process.
We'll take care of all the paperwork and come to your home or company to pick up your vehicle.
Not having to sell your car yourself will save you time and money.
It may be tough to sell your car on your own. You must first advertise it, then wait for potential buyers to contact you, and last, negotiate a price.
When you sell your car privately, you must usually pay for advertising as well as transportation to take the buyer for a test drive.
When you sell your Jaguar to us, however, you will save all of these costs. Everything will be done by us!
You'll save a lot of money.
Our prices are the most affordable, and you'll be able to earn some extra cash quickly and easily. Contact us right now to learn more about our car-selling services.
We guarantee hassle-free purchasing!
What is the market value of your Jaguar?
The average car in the Chicago, Illinois area is currently worth $322, including the pickup.
The brand, model, age, missing components, and extent of damage all influence the worth of your vehicle.
Depending on these variables, a junkyard like ours would normally offer you $100 to $500 for your Jaguar.
How does Kedzie Cash Junk Cars LLC find out how much your automobile is worth?
You may anticipate a reasonable price for your Jaguar if you sell it to us. We're always on the lookout for second hand cars and are willing to pay top dollar for them.
When you sell your Jaguar to us, we'll give you the best price possible.
You'll need the following information:
The vehicle's model, year, and make.
Pieces that are missing.
Damage that has occurred to the bodywork.
Is there anything we should be aware of about the vehicle?
Do you have your car's title?
You must provide a detailed description of your vehicle and answer all of our questions. When creating an estimate, every piece of information is crucial.
How can you sell your Jaguar for cash?
Kedzie Cash Junk Cars LLC is the simplest way to get rid of an automobile.
The following is a step-by-step procedure:
Call us at

(773) 985-2515

or complete our online form. Answer a few simple questions about your car and its condition so that one of our local junk car buyers may take it off your hands.
Get the highest price for your vehicle. You can either accept it immediately or debate it for the following seven days.
We'll go to you, tow your old car for free, and pay you cash on the spot.
So don't put it off any longer. We are the best alternative for selling your car.
Selling your Jaguar to Kedzie Cash Junk Cars LLC is your better option.
Here are some of the reasons why Kedzie Cash Junk Cars are the best choice for you:
1. We provide a competitive price for your automobile.
2. We buy cars in any condition, so you don't have to fix them before selling them to us.
3. We can help you with the paperwork and make the procedure as easy and comfortable as feasible for you.
4. We've been doing this for a long time and have a solid reputation.
If you're looking to sell your Jaguar in Chicago, IL, we provide the best prices for old and damaged vehicles in the area.
When you sell your car to us, you can rest confident that you will receive the most money possible.
Apart from Jaguars, we buy a wide range of vehicles.
Contact us at (773) 985-2515 as soon as you can!