Kedzie Cash Junk Cars LLC 773-985-2515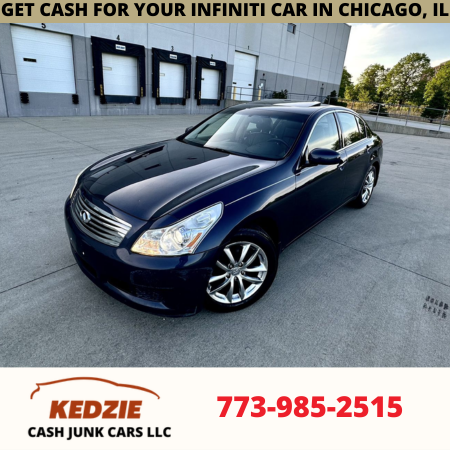 Infiniti is a luxury car brand owned by Nissan. The company was founded in 1989 and currently sells cars in more than 60 countries. Infiniti cars are stylish and luxurious and have a high price tag.
The Infiniti brand has been successful since its inception.
However, when a car wears out and stops working, the best thing to do is to sell it.
If you reside in Chicago, Illinois, and you have an Infiniti automobile that you no longer need or desire, we can help you quickly and conveniently sell it for cash.
Selling a car can be a challenging process, but it's well worth it if you get the best price.
There are many different options when it comes to selling your car, and we want to make sure you have all the information you need to get the best deal possible.
Kedzie Cash Junk Cars LLC will buy any make or model of car and offer the highest prices in the area. We are a reliable company with years of experience in the industry, so you can be sure that you're getting the highest cash for your Infiniti car!
We will offer you top dollar for your car, regardless of its condition. We buy cars in all shapes and sizes, so don't hesitate to give us a call today!
Kedzie Cash Junk Cars LLC is the ideal junkyard for selling your Infiniti!
Kedzie Cash Junk Cars LLC is one of Chicago's best and most well-known junkyards! We are a well-established company with a long list of satisfied customers.
We pay the most for used and damaged automobiles in the region, so you can be confident that you're receiving the finest deal possible.
We also buy other cars, so please let us know if you have a truck, SUV, or even a motorbike, and we'll gladly welcome it.
You want to make sure you're dealing with a reputable junkyard when selling your Infiniti.
We always pay cash at the moment and provide the greatest possible price for any automobile, in whatever condition.
There are no costs involved, and towing is always provided free of charge. We also provide same-day service, allowing you to receive instant cash for your vehicle.
If you're looking for the best deal on your old car, Kedzie Cash Junk Cars LLC is where you should go.
Call (773) 985-2515 right now.
How can Kedzie Cash Junk Cars LLC determine the value of your vehicle?
If you sell your Infiniti to us, you can expect a fair price for it. We're always on the lookout for used vehicles and will pay top dollar for them.
We'll pay you the greatest price for your Infiniti when you sell it to us.
The following information is required:
Model, year, and make of the car.
Pieces that are missing.
Pieces that are still in good functioning order.
The bodywork has been damaged.
Is there anything specific about the car that we should be aware of?
Do you have the title of the car?
You should provide a detailed description of your car and reply to all of our questions. Every bit of information counts when generating a quote.
What are the paperwork and items to sell your Infiniti?
We take care of all the paperwork; the only thing you need to bring is:
The title of your vehicle.
A valid driver's license is required.
Your identification document.
The keys to your vehicle.
You can come without these documents and other items, but you must have them if you want to sell your car quickly.
If you don't have the title to your car, don't worry. Kedzie Cash Junk Cars LLC will buy it for you in any situation.
Now all you have to do is show the right paperwork to prove your ownership.
What is the process of selling your Infiniti in Chicago?
The most simple way to get rid of an automobile is to call Kedzie Cash Junk Cars LLC.
Our process is as continues to follow:
To contact us, call

(773) 985-2515

or fill out our online form. After you answer a few simple questions regarding your car and its condition, one of our local junk car buyers will come to your aid.
Once you've received an offer, make sure you get the best pricing possible on your automobile. You can accept it straight now or postpone the discussion until next week.
We'll come to you, tow your junk car away for free, and pay you cash right there on the spot.
So don't wait any longer. If you're looking to sell your car, we're the greatest option.
We will offer you the best possible price for your automobile and make the selling process as smooth as possible. We'll take care of the paperwork and tow your car for free.
What is the value of your Infiniti?
The typical car in the Chicago, Illinois area is presently valued at $322, including pickup.
The brand and type of your automobile, as well as its age and extent of damage, all influence its worth.
Depending on these conditions, a junkyard like ours would normally offer you between $100 and $500 for your Infiniti.
If you wish to sell a car without a title, Kedzie Cash Junk Cars LLC is the best option.
We're constantly looking for cars to buy, even if they don't have a title. We buy cars in cash and don't require titles as long as ownership can be shown.
Kedzie Cash Junk Cars LLC is a great place to sell your Infiniti for a variety of reasons.
Kedzie Cash Junk Cars LLC is an excellent option for anybody wishing to sell a vehicle. We provide reasonable costs, simple processes, and trusted service.
Here are some of the benefits of selling your automobile to us:
By selling your car, you will get the greatest cash for it.
You can trust that when you sell your car to a company like ours, you will get the most money for it.
We pay top dollar for cars in any condition, so you can rest easy knowing you're getting a fair deal.
We don't mind if your car has been severely damaged due to an accident or other unexpected events! We'll be able to buy it at a reasonable price.
Pick-up and towing are both free.
When you sell your car to a company like ours, you won't have to worry about any of the costs associated with having it removed.
So you can sit back and relax, we provide free car removal services.
We understand that selling a car may be a nuisance, but it doesn't have to be. When you sell your car to us, you can be certain that we will take care of everything.
Our work and services are all ecologically responsible.
You realize you're helping the environment when you sell your car to a junkyard like ours.
Old automobiles that have been parked in the same place for a long time pose a significant risk.
Hazardous chemicals might escape into the ground, contaminating the water supply. This is a danger not just to individuals, but also to the environment.
Junk automobiles are frequently utilized for their metal, which reduces pollution caused by mining and allows for the production of new pieces.
Whether you're looking to sell your Infiniti car in Chicago, IL, we provide the best prices for used and damaged cars.
You may be confident that when you sell your car to us, you will get the most money possible. In addition to Infiniti, we buy a range of other vehicles.
Please inform us as soon as possible.