Kedzie Cash Junk Cars LLC 773-985-2515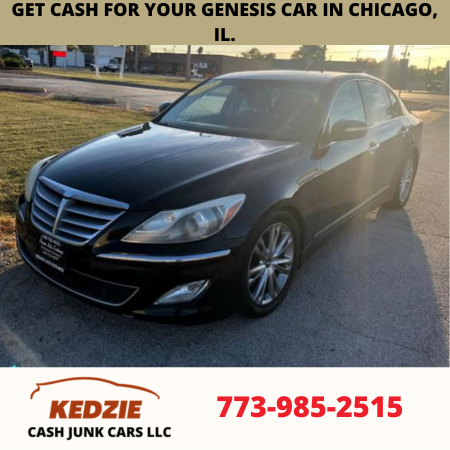 Genesis is a luxury car brand that is owned by Hyundai. They make high-end cars that are known for their quality and innovation.
Genesis cars are always stylish and luxurious, and they come packed with the latest features and technologies.
Genesis cars were designed with the driver in mind. From their sporty styling to their powerful engine, these cars were made to let you take control and feel confident while behind the wheel.
Whether you're driving through the city or out on the open road, the Genesis is sure to impress.
There are many different ways to go about selling your Genesis car, and you want to make sure you choose the right one for you. You can sell your car to a junkyard, or you can try to sell it yourself online.
Despite the benefits and drawbacks of each, selling it to a junkyard is the best alternative. Why? You can make more money selling your automobile to a junkyard, avoid scammers, and complete the process quickly.
You must first locate the largest junkyard to do so. That is why Kedzie Cash Junk Cars LLC should be contacted!
If you want to get cash for your car quickly, we can help.
We'll purchase your car in any condition so you can get the money you need as quickly as possible.
Contact us today to find out how we can help you sell your Genesis!
Why should you sell your Genesis to Kedzie Cash Junk Cars LLC?
There are many reasons why you should sell your Genesis car to us.
Kedzie Cash Junk Cars LLC is an excellent option for anybody wishing to sell a vehicle. We provide accurate prices, simple procedures, and trustworthy service.
Here are some of the benefits of selling your automobile to us:
Sell your car to get extra cash for it.
You can make sure that when you sell your car to a business like ours, you'll get the most money for it.
We pay top dollar for cars in any condition, so you know you're getting a fair offer.
We don't do many inspections since we don't care about the condition of the automobile.
We don't mind if your car has been badly damaged due to an accident or other unforeseen circumstances! We'll be able to buy it at a competitive price.
The removal of an automobile is free of charge.
When you sell your car to a company like ours, you won't have to worry about any of the fees associated with having it removed.
You won't be worried about anything since we offer free car removal services.
We fully comprehend that selling a car may be a challenge, but it doesn't have to be that way. You may rest certain that when you sell your car to us, we will handle all of it.
Our work and services are all environmentally friendly.
When you sell your car to a junkyard like ours, you can be convinced that you are helping the environment.
Old automobiles that have been parked in the same location for a long period of time pose a health and safety risk.
Hazardous substances may seep into the ground and end up in the drinking water. This is a threat not only to humans but to the entire environment.
Junk automobiles are also commonly used for their metal, which helps to reduce mining pollution while also manufacturing new components.
We are proud of our junkyard's reputation, and we go to lengths to make sure that our customers receive a fair price for their vehicles.
If you want to sell your Genesis, please contact us straight away. (773) 985-2515 is our phone number!
What are the specifications for selling your Genesis?
All documentation will be managed by us; all you have to do is provide:
The title of your automobile.
A valid driver's license.
Your identification.
The keys to your automobile.
You are welcome to arrive without these goods, but if you plan to sell your automobile quickly, you must bring them.
Don't panic if you don't have your vehicle's title. Regardless, Kedzie Cash Junk Cars LLC will buy it from you.
How do we calculate the price of your Genesis?
When you sell your Genesis to us, you can expect a fair price for it. We are constantly on the lookout for used automobiles and will pay top price for them.
We will pay you the top price for your Genesis when you sell it to us.
The following details will be needed:
The year, make, and model of the vehicle.
Missing pieces.
The vehicle's condition of repair.
The bodywork has been damaged.
Are there any issues with the vehicle that we should be aware of?
Is the car's title in your possession?
You must describe your car in full and respond to all of our questions. Every piece of information is vital when producing an estimate.
What are the steps to get cash for your Genesis in Chicago?
Kedzie Cash Junk Cars LLC is the easiest way to get rid of an automobile.
The following is our procedure:
To contact us, call

(773) 985-2515

or fill out our online form. Answer a few simple questions about your car and its condition so that one of our local junk car will give your an offer.
Make sure you receive the best deal on your automobile. You have the choice of accepting it immediately or discussing it for the next seven days.
We'll come to you, tow your junk car away for free, and pay you cash right away.
So don't wait much longer to make your decision. If you want to sell your car, we are the best solution for you.
What is the price of your Genesis?
The average car in the Chicago, Illinois area is presently valued at $322, including pickup.
The worth of your automobile is determined by its brand, model, age, missing components, and degree of damage.
Depending on the conditions, a junkyard like ours might offer you between $100 and $500 for your Genesis.
Even if you don't have a title, we're always on the search for automobiles to buy. We pay cash for automobiles and don't require titles as long as ownership can be proven.
We may also advise you on the documentation required to sell the vehicle.
We'll work with you to make the treatment as simple and painless as possible.
We'd be happy to discuss the offer with you and answer any questions you might have.
If you're willing to sell your car to us, please contact us!