Kedzie Cash Junk Cars LLC 773-985-2515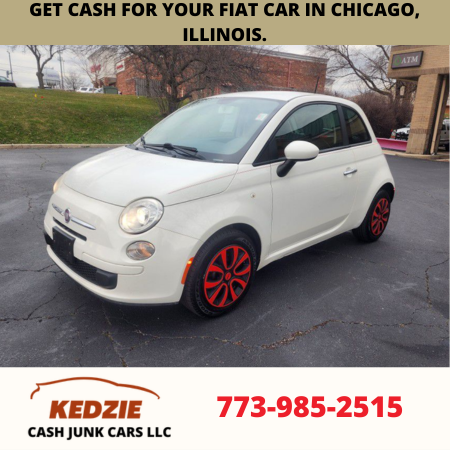 When it comes to Fiat cars, there is a lot of history behind them. They have been around since 1899 and have become a staple in the automotive industry.
Fiat is one of the most well-known and respected automotive companies in the world.
They manufacture a wide variety of vehicles, from small economy cars to large SUVs. Their cars are always reliable and stylish, and they continue to innovate with new technologies and features.
However, Fiat cars do not last forever and the time always comes when you decide to sell your car.
It is not easy to sell a car. There are many ways to do it, but the best way to get the most money for your car is to sell it to a junkyard.
These buyers are interested in buying Fiat cars for cash, and they will offer you a fair price for your vehicle. They are reliable and trustworthy, so you can be sure you are getting the best deal possible.
If you are looking to sell your Fiat car in Chicago, Illinois, Kedzie Cash Junk Cars LLC is the best choice.
We are a Fiat car buying company that will give you the best price for your car, regardless of its condition.
We are committed to providing excellent customer service and will make the process of selling your car as easy and stress-free as possible.
Contact us!
Why would you want to get rid of your Fiat?
There are several reasons why you might want to get rid of your Fiat.
You'll be taking money in your hands.
This is the most significant benefit of selling your vehicle. When you sell your Fiat to us, you'll get the greatest possible price, and the best thing is that it'll be paid in cash.
You won't have to be concerned about fraud or checking your bank account to see whether you already have the funds.
You'll be able to quickly get rid of your automobile.
When you sell your car to us, we guarantee a quick and easy process.
We'll take care of all the paperwork and come to your home or company to pick up your vehicle.
It will save you time and money.
It may be tough to sell your car on your own. You must first advertise it, then wait for potential buyers to contact you, and last, negotiate a price.
When you sell your automobile privately, you must usually pay for advertising as well as transportation to take the buyer for a test drive.
When you sell your Fiat to us, though, you won't have to pay any of these fees. We'll take care of everything!
You'll save a lot of money on your Fiat.
Our prices are the most affordable, and you'll be able to earn some extra cash quickly and easily. Contact us right now to learn more about our car-selling services.
We guarantee hassle-free buying.
When should you sell your Fiat?
Before determining whether or not to sell your car, there are various variables to consider.
One of the most significant items to consider is the condition of your vehicle. You might be able to obtain a greater price for it if it's in good condition.
Consider how frequently you drive. It's preferable to get rid of it if you only use it on weekends or a few times a year.
Consider how much money you'll require. Selling your automobile may be the greatest alternative if you're short on cash.
You should think about how old your car is. It could be time to sell it and buy a new one if it's getting on in years.
If your automobile has a lot of miles on it, it's time to give up and replace it with something fresh.
Think about when and where you drive. It might not be worth having it around during the week if you just drive it on weekends.
You should think about the sort of vehicle you wish to buy. If you're in the market for a new vehicle, selling your old one can be the most cost-effective option.
You may invest the money you save from selling your automobile towards something else.
So, if you're thinking about it, examine these things to determine if it's the right choice for you. Please contact us at (773) 985-2515.
How do you sell your Fiat?
Our step-by-step process consists of the following:
Fill out our online form or call us at

(773) 985-2515

 Answer a few basic questions about your vehicle and its condition so that one of our local junk car buyers can make you a fantastic offer.
Get the greatest deal on your vehicle! You have the option of accepting it immediately away or debating it for seven days.
We'll come to you, tow your automobile free of charge, and give you cash on the spot.
So don't waste any more time. If you want to sell your automobile, we are the best alternative.
We will provide you with the greatest price for your car and make the selling protocol as simple as possible for you. We'll handle the paperwork and tow your automobile free of charge.
So don't waste time and energy. If you want to sell your automobile, we are the best alternative.
To sell your Fiat, you'll need a few things:
All you have to do is submit the following information and we'll take care of the rest.
Your vehicle's title.
A valid driver's license.
Your ID.
Your vehicle's keys.
You can visit without these items, but if you plan to sell your automobile quickly, you must bring them.
Don't panic if you don't have your car's title. Whatever the case may be, Kedzie Cash Junk Cars LLC will buy it from you.
What is the value of your Fiat?
The typical car in the Chicago, Illinois area is presently valued at $322, including pickup.
Some factors influence the worth of your automobile, including the brand, model, age, missing parts, and extent of the damage.
Depending on these variables, a junkyard like ours would normally offer you between $100 and $500 for your Fiat.
If you want to sell your Fiat automobile in Chicago, IL, we provide the greatest rates in the region for old and damaged vehicles.
You may relax knowing that when you sell your automobile to us, you will get the maximum money possible. We buy a broad variety of automobiles in addition to Fiat.
Please contact us as soon as possible!