Kedzie Cash Junk Cars LLC 773-985-2515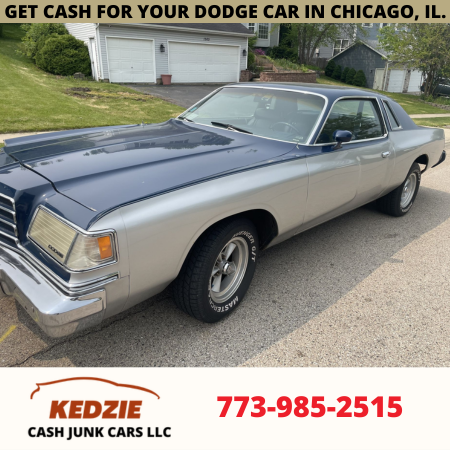 Selling a car can be a hassle.
You have to worry about finding a buyer, setting up a time for them to come see the car, and dealing with all the paperwork that goes along with selling a Dodge.
Dodge is an American automobile brand. It was founded in 1900 by brothers Horace and John Dodge. The company is best known for its passenger cars and trucks, although it has also produced a number of commercial vehicles throughout its history.
This well-known car manufacturer offers a wide range of cars to choose from, including the Charger, Challenger, and Durango.
If you're on the hunt for the best deal on your Dodge car, the place to go is Kedzie Cash Junk Cars LLC!
You can receive a lot of cash for your car, and the process is simple and easy. All you need to do is call or go online to get a free quote!
Feel free to call us today if you have an automobile in any condition.
We can even come to pick up your automobile from you, so you don't have to worry about moving it.
We'll buy your car in any condition so you can get the money you need quickly.
Call us now to get started with the most dependable and highest-paying junkyard in the region.
When is the best time to sell your Dodge?
There are several factors to consider before deciding whether or not to sell your car.
The condition of your automobile is one of the most important factors to consider. If it's in good condition, you might be able to get a higher price for it.
Think about how often you drive. If you only use it on weekends or a few times a year, it's best to get rid of it.
Think about how much money you'll need. If you're short on cash, selling your car can be the best option.
You should consider the age of your vehicle. If it's getting on in years, it could be time to sell it and acquire a new one.
If your car has a lot of miles on it, it's definitely time to get rid of it and get something new.
Consider how often you drive. If you just drive it on weekends, it might not be worth keeping it around during the week.
You should consider the type of car you want to purchase. If you're looking for a new car, selling your old one can be the most cost-effective alternative.
You may invest the money you save from selling your car toward something else in your life.
So, if you're considering it, think about these factors to see if it's the best decision for you. Call us right away!
Why should you sell your Dodge for cash?
You may desire to sell your Dodge for a variety of reasons:
There will be more extra space in your house.
A car that isn't in use is just taking up space. Removing stuff from your garage allows you to make room in your garage for the things you wish to keep.
Use the extra room to store sports equipment, set up a pool table, or even add a new, properly working automobile to your inventory.
You'll make a lot of money quickly.
When you get cash for cars in Chicago, you generally get paid the same day – and if you sell your car to Kedzie Immediately Junk Cars LLC, you'll get a terrific offer and get paid cash!
Checks, banks, and wire transfers will be a thing of the past.
It is good for the environment.
Automobiles that have been parked in the same spot for a long time are health and safety concerns.
Toxic substances may seep into the ground and, as a result, end up in the drinking water supply. This is a threat to humanity as well as the ecosystem overall.
Getting the car out of the way as quickly as possible.
Junk vehicle removal companies make getting rid of a car a lot easier.
The junkyard usually sends employees to your house to tow the car away (or any other area).
You will not be charged for the removal of your junk automobile to a new site.
We are junkyard professionals with the knowledge and experience to manage junk cars and remove them from your property utilizing cutting-edge processes and equipment.
There are several strong reasons to sell your Dodge. Perhaps you're in the market for a new car and can't afford two, or perhaps you're just ready to sell it.
Whatever the situation may be, we'll do all we can to make the procedure as straightforward as possible. We offer top price for any make or model, in any condition.
What are the steps to sell your Dodge?
The following is our step-by-step process:
Call us at

(773) 985-2515

or fill out our online form. Answer a few simple questions about your car and its condition so that one of our local junk car buyers may give you an incredible offer.
Get the most money for your automobile by selling it for cash. You can either accept it immediately or debate it for the following seven days.
We'll come to you, tow your car for free, and pay you cash right then and there.
So don't wait any longer. We're the greatest option if you're wanting to sell your car.
We offer you the best possible price for your vehicle and simplify the selling process as easy as possible for you. We'll take care of the paperwork and tow your car for free.
So don't wait any longer. We're the greatest option if you're wanting to sell your car.
What do you need to sell your Dodge?
We will handle all of the paperwork; all you need to do is provide:
Your vehicle's title.
A valid driver's license.
Your identification number.
Your vehicle's keys.
You are allowed to visit without these items, but you must take them if you intend to sell your car pretty quickly.
If you don't have the title to your vehicle, don't worry. Kedzie Cash Junk Cars LLC will buy it from you anyway.
All you have to do now is produce the necessary papers to verify your ownership.
How much is your Dodge valuation?
In the Chicago, Illinois area, the typical automobile is currently valued at $322, including pickup.
The brand, model, age, missing components, and degree of damage are all elements that determine the value of your car.
A junkyard like ours would generally give you between $100 and $500 for your Dodge depending on these circumstances.
Selling your Dodge to Kedzie Cash Junk Cars LLC is your best choice.
Here are a few reasons why selling your car to Kedzie Cash Junk Cars is the best choice:
1. We provide a competitive price for your automobile.
2. We buy cars in any condition, so you don't have to fix them before selling them to us.
3. We can help you with the paperwork and make the procedure as easy and comfortable as feasible for you.
4. We've been in this business for a long time and have a fantastic reputation.
If you're looking to sell your Dodge car in Chicago, IL, we provide the best prices for old and damaged vehicles in the area.
When you sell your car to us, you can rest comfortably so that you will receive the most money possible. Apart from Dodge, we buy a wide range of vehicles.
Contact us (773) 985-2515 ASAP!