Kedzie Cash Junk Cars LLC 773-985-2515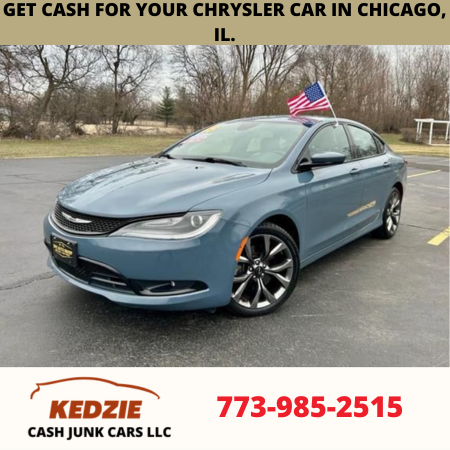 Are you tired of your old Chrysler car, and looking for a way to sell it quickly and easily? If so, then you need to look no further than the many reputable car buyers in your area.
Chrysler is a car company that is known for making affordable cars that still offer a lot of features since 1925. These cars are known for their style and comfort, and they come with a price tag that is more affordable than some of the other high-end brands.
The company produces a range of cars, including the 300 and Pacifica. Chrysler has expanded its product lineup to include new models such as the Cherokee and Aspen.
Many car buyers in the area will offer you a price for your Chrysler car. However, you should be wary of who to choose to sell your car.
So if you are looking to sell your car quickly, safely, and easily, look no further than Kedzie Cash Junk Cars LLC.
If you're looking for a quick and easy way to get cash for your car, we can help. We are motivated to buy any model of Chrysler, regardless of condition.
We pay a reasonable rate and will work with you to make the procedure as simple as possible.
We'll buy your car no matter if it is damaged, old or has mechanical failures. We want to give you the money you need quickly.
Get in contact with us right now to find out more about how we can help you sell your car!
Chicago's Best Junkyard: Kedzie Cash Junk Cars LLC.
When it comes to selling your automobile, you want to work with a reliable firm.
We take pride in having the top junkyard in the industry here at Kedzie Cash Junk Cars LLC.
We pay top price for all automobiles, regardless of condition, and pay cash on the spot.
We understand how tough it is to sell a car, therefore we make it as simple as possible for our consumers.
We never impose any fees and always offer free towing.
Furthermore, we provide same-day service, allowing you to earn cash for your automobile in a matter of hours.
If you're looking for the best deal on your old car, Kedzie Cash Junk Cars LLC is the place to go. Call us at 773-395-2515 right now.
Reasons Why You Should Sell Your Car to Kedzie Cash Junk Cars LLC.
Kedzie Cash Junk Cars LLC is a good choice for anyone looking to sell a car. They offer competitive prices, fast and easy transactions, and reliable service.
The following are some of the reasons why you should sell your car to Kedzie Cash Junk Cars LLC:
You get a no-obligation quote.
Our system will calculate the value of your car using real-time market data if you fill out our online form.
Not only can we give you an offer in less than a minute when you call us, but we can also answer any questions you may have.
Our employees are friendly and attentive to our customers.
Get the greatest price possible.
We'll put you in touch with a junk car buyer who will give you the best deal.
Among all the Chicago junkyards, we give you the best pricing! We promise the best offer and that there will be no haggling at the time of pick-up.
Junk car removal is a straightforward and smooth process.
You have complete discretion over how much or how little you communicate with us.
Our procedure is simple, quick, and painless. It only takes a few minutes to get your offer and a few minutes to schedule the pick-up.
It takes only 15 minutes to view the automobile, fill out any documentation, and hand over the keys once we get to your location.
It is entirely free of charge to you.
Our service is free to use and does not need you to pay anything.
Customer service, pick-up, and towing are all included in the package! This offer benefits you since you will receive cash for an automobile that you no longer use and is taking up space.
Free towing and pick-up facilities are offered.
You can obtain free junk vehicle disposal when you sell your car to one of our buyers.
As previously stated, there will be no fee for towing your vehicle. You won't have to go to the junkyard or pay for a tow service. We're going to take care of it!
We have received five-star reviews.
To learn more, search the internet for Kedzie Cash Junk Cars LLC or scroll down.
You may look us up on the internet or go straight to Google Maps to see what our happy customers have to say!
What is the process to get cash for your Chrysler?
The easiest process to get rid of a car is to contact Kedzie Cash Junk Cars LLC.
Our step-by-step process is:
Fill out our online form or call us

(773) 985-2515

. Answer a few basic questions about your vehicle's description so one of our local junk car buyers can make an offer on it.
Get the best possible price for your car. You have the option to accept it right away or discuss it over the next seven days.
We'll come to you and remove your junk car for free, plus give you cash on the spot!
As a result, don't spend any more time. If you want to sell your car, Kedzie Cash Junk Cars LLC is a perfect choice.
We pay the highest possible price for your vehicle and make the negotiation process as straightforward as possible. We'll take care of all the paperwork and tow your car free of cost.
How much is your Chrysler worth?
In the Chicago, Illinois area, the average automobile is currently valued at $322, including pickup.
The brand, model, age, missing components, and amount of damage are all elements that determine the value of your car.
A junkyard like ours would generally give you between $100 and $500 for your Chrysler depending on these circumstances.
What is the average time it takes to sell a car?
In Chicago, most automobiles may be picked up in 1-3 business days.
On the same day, we can assist you! As a consequence, we may be able to set up the agreement at a convenient time for you.
It will only take us 15 minutes to pick it up, inspect it, and pay you once we arrive.
What paperwork and items are necessary to sell your Chrysler?
We will handle all of the paperwork; all you need to do is provide:
Your vehicle's title.
A valid driver's license.
Your identification number.
Your vehicle's keys.
You are welcome to come without these items, but you must bring them if you wish to sell your car straight away.
If you don't have the title to your vehicle, don't worry. Kedzie Cash Junk Cars LLC will buy it from you anyway.
All you have to do now is produce the supplementary papers required to prove your ownership.
If you want to sell your Chrysler in Chicago, IL, Kedzie Cash Junk Cars is the place to go.
We provide you with a fair price for your automobile and make the procedure simple for you. Get in touch (773) 985-2515 with us right away!