Kedzie Cash Junk Cars
(773) 9852515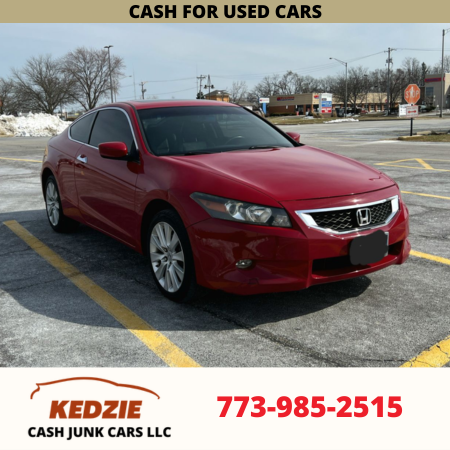 Selling a used car can be a difficult process, but it's worth it when you get the right buyer.
Kedzie Cash Junk Cars LLC offers cash for used cars! We will take your car off your hands and give you cash on the spot.
We accept all makes and models, so whether your car is in good condition or needs some work, we will still take it!
Plus, we offer free towing so you don't have to worry about getting your car to us.
You can get cash for your car regardless of its condition, and you don't have to worry about any hidden fees or charges.
Simply contact us and sell your car today!
When should you get rid of your old car?
There comes a time in every car's life when it's no longer worth keeping.
Maybe the repairs are starting to add up and you're not sure if it's worth fixing, or maybe you're just ready for something new.
If you're wondering when the right time is to sell your old car, here are a few things to keep in mind:
The cost of repairs and maintenance can start to add up over time, so if you're not sure whether or not it's worth fixing your old car, consider selling it instead.
If your old car is starting to show its age, now might be a good time to sell it before the depreciation hits too hard.
If you want to upgrade to a new car, selling your old one can help finance the purchase.
If the car has too many kilometers on it, the engine and other parts of the car are likely to be damaged.
Lastly, if you have any major repairs that need to be done but can't afford them, selling your car can help free up some extra cash.
If any of these apply to you, then it might be time to start thinking about selling your old car.
How to get the most money for a used car in Chicago?
We are the best junk car buyers to sell your used car for cash. We offer a quick and easy process that will give you the most money for your car.
To get started, simply follow these steps:
1. Give us a call or fill out our online form to get a quote for your car.
Call us at (773) 985-2515or fill out the online form on the website to get a quote. We'll ask you some basic information about your car, such as its year, make, model, mileage, and condition.
2. Schedule a time for us to pick up your car.
Once you accept our quote, we'll schedule a time to come and pick up your car. We offer free towing, so you don't have to worry about getting your car to us.
3. Get paid!
We'll pay you cash on the spot when we pick up your car. There are no hidden fees or charges, so you'll know exactly how much money you're getting for your car.
That's it! So don't wait any longer, sell your used car today with us!
How much is your old car's value?
In Chicago, the average value of an old car is $289. However, there are a number of factors that can affect the value of a used car, including:
The year, make, and model.
Mileage.
Body damage.
Internal and external conditions.
If it runs or not.
Missing pieces.
Working pieces.
What documents are required to sell a used car in Illinois?
When selling a used car in Illinois, you will need to provide the buyer with some important documents. This includes:
The title of your car.
The registration of the car.
Proof of insurance.
Your driver's license.
With these documents in hand, you'll be able to sell your car quickly and easily in Illinois.
In case you can't provide the title of the car, you must prove that you're the owner by showing your driver's license, registration of the car and proof of insurance.
What to consider when selling a used car?
When it comes time to sell a used car, there are a few things you'll want to take into consideration in order to get the best possible price.
It is important to know the value of your car.
Look up your car's make, model, and year online and check out the going rates for similar vehicles in your area.
You should know the mileage your car has.
The buyers will want to know how many miles are on the odometer, as this is a good indicator of how much life the car has left.
Be realistic about the condition of your car.
If it needs significant repairs or cosmetic work, it's likely that you won't be able to get top dollar for it.
However, if you sell it to a junk car buyer like us, you should be able to get a fair price even if the car is not in its best shape.
Gather the necessary documentation.
You will also want to make sure that you have all of the necessary documentation, such as the title and registration.
Be prepared to negotiate.
Unless you're selling to a junk car buyer, most buyers will expect to haggle over the price. If you start high, you'll have some wiggle room to come down without taking too big of a loss.
By taking these factors into account, you can ensure that you get a high price when selling your used car.
Sell your used car for cash today with Kedzie Cash Junk Cars Buyers!
Looking to get rid of an old car? We pay cash for used cars! Whether your car is damaged or simply no longer running, we will make you a fair offer for it.
We're a licensed and insured company, so you can rest assured that your car will be disposed of in a safe and environmentally-friendly manner.
We also provide free pick-up and towing, so there's no need for you to worry about getting your car to us.
Simply give us a call or fill out our online form, and we'll take care of the rest.
Don't wait – call us (773) 985-2515 today!