Kedzie Cash Junk Cars LLC 773-985-2515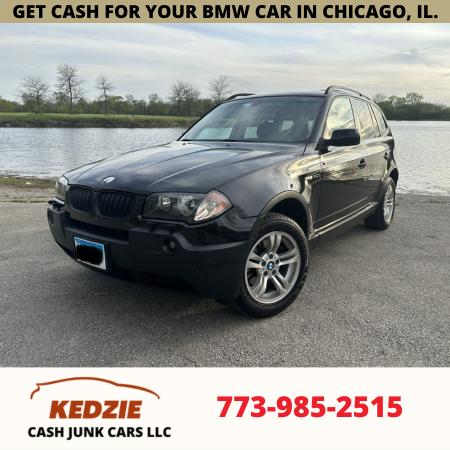 If you're like most people, you probably think that cars are a necessary expense. You need to get from Point A to Point B, and a car is the best way to do that.
But what if there was another way? What if you could make money by owning a BMW?
When it comes to luxury cars, BMW is one of the most popular brands. It's a German car manufacturer founded in 1916. Some of their most famous models include the 7 Series, 5 Series, and 3 Series.
BMW cars are known for their high-quality construction, performance, and style.
There are many different ways you can go about this. You can sell your BMW to a dealership, or you can sell it to a private buyer.
However, that could take a lot of time, and effort and you can make several mistakes.
It's important to choose the option that is best for you. That's why you should contact Kedzie Cash Junk Cars LLC!
We offer top dollar for your car and provide a hassle-free process that is convenient for you.
We are here to assist you if you're looking for a quick and easy solution to earn money for your automobile.
We'll purchase your automobile, regardless of its condition, so you can get the cash you need soon.
Get in touch with us today to learn more about how we can assist you with selling your vehicle!
Kedzie Cash Junk Cars LLC is the best junkyard to sell your BMW!
Kedzie Cash Junk Cars LLC is one of Chicago's best and most well-known junkyards! We are a company with a lot of experience and happy consumers.
We pay the most for used and damaged automobiles in the region, so you can be certain that you're receiving the greatest deal possible.
We also buy other cars, so if you have a truck, SUV, or even a motorbike, let us know and we'll gladly take it off your hands.
You want to make sure you're working with a reliable junkyard when selling your BMW.
We pay top price for all automobiles in any condition, and we always pay cash on the spot.
We never charge any fees, and towing is always free. We also provide same-day service, so you can get cash for your automobile right away.
If you're looking for the best deal on your unwanted car, Kedzie Cash Junk Cars LLC is the place to go.
Call us at (773) 985-2515 right now.
How do you know it's time to sell your car?
There are several factors to consider when deciding whether or not to sell your car.
One of the most important is the condition of your car. If it's in good condition, you may be able to get a higher price for it.
Consider how often you use your car. If you only use it on weekends or only a few days a year, it's best to get rid of it.
Consider how much money you need. If you need cash, selling your car may be the best option. You should consider your car's age. If it's getting up there in years, it might be time to sell it and buy a new one.
If your car has a lot of miles on it, it might be time to say goodbye and get something new.
Look at how often you use your car. If you only drive it on the weekends, for example, it might not be worth keeping around during the week.
You should consider what type of car you want to buy. If you're looking for a new car, selling your old one may be the best way to afford it.
Selling your car can help you free up some extra cash to put towards other things in your life.
So if you're considering it, ask yourself these questions and see if it's the right decision for you.
How to get a quote for your car from Kedzie Cash Junk Cars LLC?
Kedzie Cash Junk Cars LLC maintains a network of junkyards around Chicago and the United States.
Wherever you are in Kenwood, West Woodlawn, or Bronzeville, our junk car buying experts can come to you with the best deals.
All you have to do is simply log on to our website and fill out your form or just give us a call for pricing directly and if you have any questions, we'll be happy to answer them!
We can give you a price in less than 60 seconds, no haggling, no need to stress!
We have made the process of selling your car as simple as possible for you.
We have a long history in this business, and our knowledge has allowed us to create a simple and efficient approach.
How to sell your BMW for cash?
The simplest option for getting rid of a car is to call Kedzie Cash Junk Cars LLC.
Our step-by-step process is as follows:
1. Please clarify a few basic questions about your car and its condition so that one of our local junk car buyers can purchase it. Fill out our online form or call us at (773) 985-2515
2. Get the best price possible on your automobile! You have the choice of accepting it right away or debating it for the next seven days.
3. We'll come to you and tow your junk car for free, as well as give you cash right there on the spot!
What is the value of your BMW?
The typical car in the Chicago, Illinois area is presently valued at $322, including pickup. The quote is estimated depending on these conditions:
The brand and type of your automobile.
Its age.
The extent of the damage.
Missing or working parts.
A junkyard like ours would normally offer you between $100 and $500 for your BMW.
What should you carry when selling your BMW?
All of the paperwork will be handled by us; all you need to provide is:
The title of your car.
Valid driver's license.
Your ID.
Your car keys.
You are welcome to come without these items, but if you want to sell your automobile right now, you must bring them.
Don't panic if you don't have the title to your vehicle. Kedzie Cash Junk Cars LLC will buy it from you.
All you have to do now is show that you own it by bringing the additional documentation specified.
We take pride in our company's reputation, and we always make sure to provide our customers with a fair price for their vehicles.
We recognize that not everyone wants to sell their vehicle. That is why we have come to assist you.
We buy all makes and models of automobiles, regardless of age or condition.
We provide a free quote and same-day pick-up so you can obtain the money you need promptly.
Call us immediately to sell your BMW!