Kedzie Cash Junk Cars LLC 773-985-2515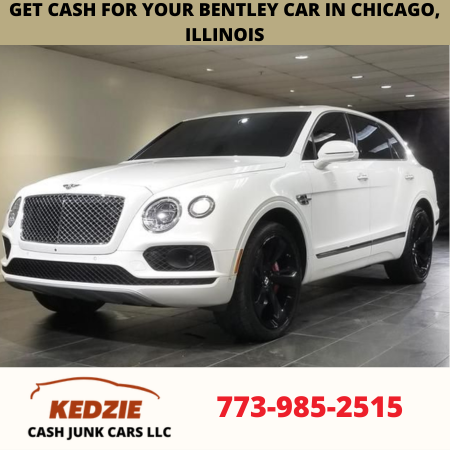 Bentley has been a leading luxury car manufacturer for more than 100 years, and its cars are known for their high build quality, performance, and style.
Bentley offers a wide range of cars to choose from, such as the Continental GT, the Flying Spur, and the Mulsanne.
If you live in Chicago, Illinois, and have a Bentley car that you no longer need or want, we can help you get cash for it quickly and easily.
Selling a car can be a difficult process, but it's worth it to get the right price.
Whether you're looking to sell your car because you need the money or because you want to upgrade to a new one, it's important to get the best price possible.
To do that, you need to find the best junkyard. That's why you should call Kedzie Cash Junk Cars LLC!
If you're looking for a fast and easy way to get cash for your car, we are here to help.
We will buy your car from you, regardless of its condition, so you can get the money you need quickly and easily.
Contact us today to learn more about how we can help you sell your car!
Kedzie Cash Junk Cars LLC – Chicago's Best Junkyard.
When it comes to selling your car, you want to make sure that you're dealing with a reputable company.
At Kedzie Cash Junk Cars LLC, we pride ourselves on being the best junkyard in the business.
We offer top dollar for all cars, regardless of their condition, and we always pay cash on the spot.
We know that selling your car can be a difficult process, so we make it as easy as possible for our customers.
We never charge any fees, and we always provide free towing.
Plus, we offer same-day service, so you can get cash for your car in no time at all.
Kedzie Cash Junk Cars LLC is the place to go if you're looking for the greatest offer on your junk automobile. Call us now at (773) 985-2515
Why should you choose Kedzie Cash Junk Cars LLC?
Kedzie Cash Junk Cars LLC is a top choice for anyone looking to sell their car. They offer fair prices, quick and easy transactions, and reliable service.
Here are just a few reasons why you should choose Kedzie Cash Junk Cars LLC when selling your car:
1. You can get a free quote.
If you try on our online form, our quick assessment system estimates the worth of your automobile based on real-time market data.
If you call us, we can not only give you an offer in less than a minute but also answer any questions you may have.
Our team is friendly and attentive to our customers.
2. Get the best deal.
We'll connect you with our junk vehicle buyer who will pay you the most money.
We offer you the highest price among all the junkyards in Chicago! We guarantee you the best price and no negotiation at the time of pick-up.
3. Junk Car Removal is a simple and stress-free procedure.
You may talk to us as much or as little as you want…all it's up to you.
Our process is easy, fast, and hassle-free. It takes less than 1 minute to give you your offer, and a few minutes to schedule the pick-up.
Once we're with you, it's only 15 minutes to inspect the car, fill out a little paperwork and give you the car.
4. It's completely free for you.
Our service is completely free to use and does not need any payment from you.
To receive the offer, customer service, pick-up, and towing are free! You are the winner in this deal, you will receive cash for a car that you no longer use and is just taking up space.
5. Towing and pick-up services are provided at no cost.
When you sell your automobile to one of our purchasers, you will receive free junk car disposal.
As mentioned above, there will be no charge for towing your car. You won't have to worry about going to the junkyard or paying for a tow. We'll take care of it!
6. We have 5-star reviews.
To discover more, go for Kedzie Cash Junk Cars LLC on the internet or scroll down.
You can search for us on the internet or go directly to Google Maps to read reviews from our satisfied customers!
How will you be able to sell your Bentley for cash?
Calling Kedzie Cash Junk Cars LLC is the simplest approach to getting rid of an automobile.
The following is our step-by-step procedure:
1. Please respond to a few simple questions about your vehicle and its condition so that we can sell it to one of our local junk car buyers. Call us at (773) 985-2515 or fill out our online form.
2. Get the greatest deal on your vehicle! You have the option of accepting it immediately away or considering it for seven days.
3. We'll come to you and remove your junk automobile for free while also paying you cash on the spot!
So don't waste any more time. Kedzie Cash Junk Cars LLC is the best option for you if you want to sell your automobile.
We pay the top price for your automobile and make the negotiation simple. We'll handle all of the paperwork and tow your automobile away for free.
How much is your Bentley worth?
In the Chicago, Illinois area, the average automobile is currently valued at $322, including pickup.
The value of your car is determined by several factors including its brand and model, age, and level of damage.
A junkyard like ours would usually give you between $100 and $500 for your Bentley depending on these factors.
Kedzie Cash Junk Cars LLC is the finest alternative if you want to sell an automobile without a title.
Even if they don't have a title, we're always on the hunt for automobiles to buy. We pay cash for automobiles and don't require titles as long as ownership can be proven.
How long does it take to sell a car on average?
Most cars may be picked up in 1-3 business days in Chicago.
You should be informed, however, that because you chose to sell your car to Kedzie Cash Junk Cars LLC, we are responsible for organizing the collection.
On the same day, we can assist you! As a consequence, we may be able to set up the agreement at a convenient time for you.
It will only take us 15 minutes to pick it up, inspect it, and pay you once we arrive.
Don't miss out on this opportunity to sell your Bentley quickly and easily with us! Please contact us.