Kedzie Cash Junk Cars LLC 773-895-2515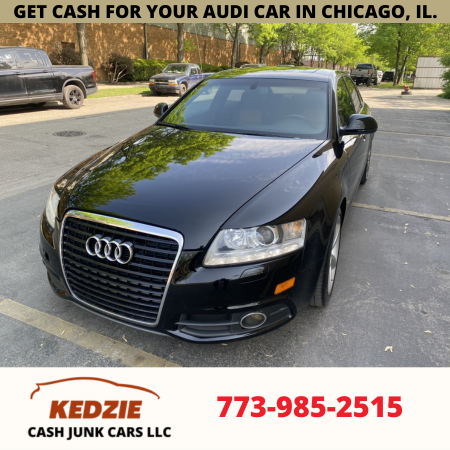 It can be hard to know what to do when you have an old Audi car that you no longer want.
An Audi is a car that is known for its luxury and high performance since 1909. Many celebrities and athletes own Audis, and the company has a reputation for making some of the best cars in the world.
The company produces a range of luxury cars, including the S4, A4, and R8. Audi also manufactures race cars, such as the Le Mans Prototype.
You can get cash for your Audi car in Chicago, IL. There are several different ways that you can go about this, and it is important to do your research so that you can find the best deal for you.
You can try to sell it yourself, but that can be a lot of work and you may not get the best price.
You can also go to a dealer, but they may not give you as much money. Therefore, the best solution is to sell it to a junkyard.
Kedzie Cash Junk Cars LLC is one of the best and most well-known junkyards in all of Chicago! We are a business with many years of experience and satisfied customers.
If you are looking to sell your Audi car in Chicago, IL, there is no need to look any further.
We offer the highest payouts in the area for used and damaged cars, so you can be sure you're getting the best price for your vehicle.
We also buy other types of vehicles, so if you have a truck, SUV, or even a motorcycle, we'll be happy to take it off your hands.
We pride ourselves on being the most reliable and trusted car buyers in Chicago, so you can rest assured that you're getting the best deal possible.
Contact us today to get started!
Why should you sell your Audi?
When it comes time to sell your Audi, there are a few reasons you should keep in mind.
You'll have cash in your hands.
This is the most important advantage of selling your car. You'll get the best price for your Audi when you sell it to us, and the best part is that it's cash.
You won't have to worry about scams or going to the bank to check if you already have the money.
You'll be able to get rid of your vehicle swiftly.
We promise a speedy and uncomplicated deal when you sell your automobile to us.
We will handle all of the paperwork for you and will come to your house or business to pick up your automobile.
You'll save time and money by not having to sell your automobile yourself.
It might be difficult to sell your automobile privately. You must first market it, then wait for possible purchasers to contact you, after which you must negotiate a price.
When you sell your car privately, you typically have to pay for advertising and for transportation to take the buyer for a test drive.
But, when you sell your Audi to us, you avoid all of these costs. Everything will be handled by us!
You'll get a fantastic deal on your Audi.
Our rates are the most competitive, and you'll be able to obtain some additional income fast and effortlessly. To learn more about our car-selling services, contact us now.
We promise a stress-free purchase.
How much is your Audi worth?
In the Chicago, Illinois area, the average automobile is currently valued at $322, including pickup.
The value of your car is determined by some factors: brand, model, age, missing parts, and level of damage.
A junkyard like ours would usually give you between $100 and $500 for your Audi depending on these factors.
What is the average time it takes to sell a car?
In Chicago, most automobiles may be picked up in 1-3 business days.
However, because you choose to sell your automobile to Kedzie Cash Junk Cars LLC, you should be aware that we are in charge of arranging the pickup.
We can help you on the same day! As a result, we may set up the agreement at a time that is convenient for you.
It will take us no more than 15 minutes to pick it up, examine it, and pay you once we arrive.
Don't miss out on this chance to effortlessly and swiftly sell your Audi with us! Call us at (773) 985-2515
How can you sell your Audi for cash?
The simplest way to get rid of a car is to call Kedzie Cash Junk Cars LLC.
Our step-by-step procedure is as follows:
Please answer a few basic questions about your vehicle and its condition so that we can expose it to our local junk car buyers.
Get the best offer for your car! You can accept it right now or consider it for seven days.
We'll come to you and provide free junk car removal as well as cash on the spot
How does Kedzie Cash Junk Cars LLC determine the price we will pay for your car?
When you sell your Audi to us, you can expect a fair price for it. We are constantly on the lookout for used automobiles and will pay top price for them.
We will pay you the top price for your Audi when you sell it to us.
The following details will be needed:
The year, make, and model of the vehicle.
Missing parts.
The bodywork has been damaged.
Are there any issues with the vehicle that we should be aware of?
Is the car's title in your possession?
You must describe your car in full and respond to all of our questions. Every piece of information is vital when producing an estimate.
If you're trying to sell your Audi automobile in Chicago, IL, we pay the most for old and damaged cars in the region. When you sell your vehicle to us, you can be assured that you'll get the maximum money for it. We purchase a variety of automobiles in addition to Audis!
Call us today at (773) 985-2515